Sadness, joy, nostalgia. Music is a delight, a universal language that becomes the soundtrack of our lives but it's also an industry in which knowing about musical marketing is a must to succeed. 
Music is an industry that is transformed by technology that today makes possible things that just decades ago seemed unthinkable. For example, an artist can succeed without the distribution of a record label or can broadcast one of their concerts live for their fans without the help of any television station.
Today the industry is growing but it's mainly driven by digital platforms for streaming music. According to the 2018 Global Music Report which publicizes the current state of the industry, 54 percent of the profits are driven by streaming. It also said the future of the industry will be in the hands of musicians who know how to take advantage of the benefits that technology offers.
Source: Global Music Report 2018
The love for punk music, a divorce and a lot of music marketing—both online and offline—have made Chingadazo de Kung Fu one of the revelations of punk not only in their local Mexican scene but in other Latin American cities, too. They started in 2014 but it wasn't until 2017 when they played at the Vive Latino rock festival which has changed the musical scene of the region over the last 20 years.
Getting there took a lot of networking and marketing through different channels. But the band's main motivation came from an unlikely place: the personal catharsis of lead singer Marino following his divorce.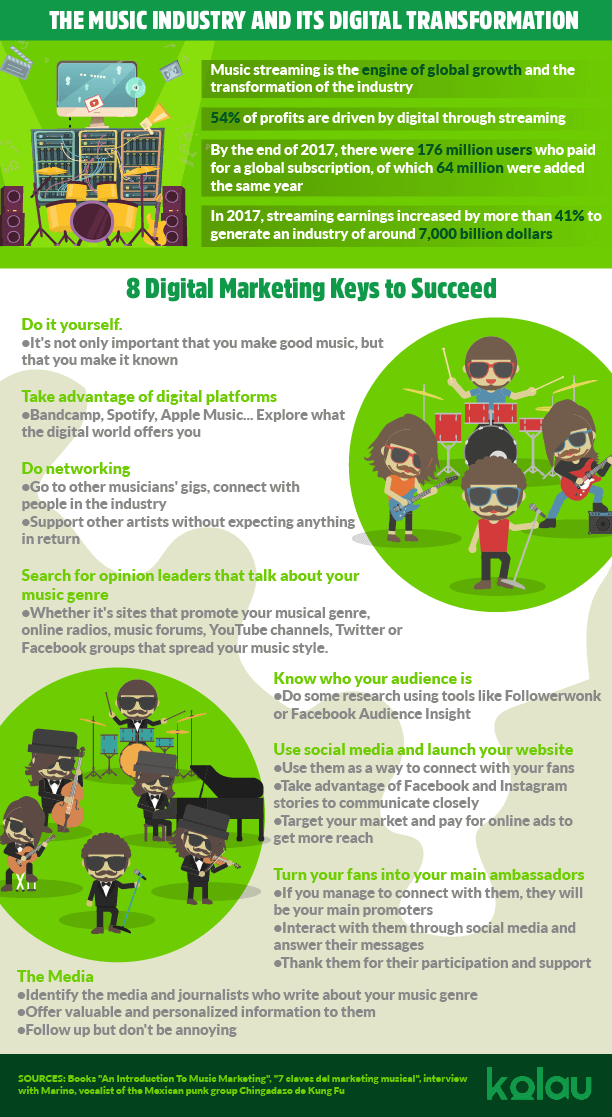 To cheer him up after the breakup, another band member encouraged Marino and another friend (now the band's drummer) to rehearse some covers and some of the old songs that Marino played with another band when he was younger. "The idea was to forget about our adult life full of responsibilities for a while and get drunk to the core, it seemed like a great idea so we decided to get together and rehearse," he says.
From there, the pain stirred memories and helped Marino compose several songs and encouraged him to record a new album with the help of his brother. He then turned to a Mexican musician and producer friend and decided to take advantage of all the post-production resources he could to make the most of what he and band members Beto and Ale already recorded.
Doing the Work
The material came together well and the marketing work began. If you want to make a living as a musician, it's not only important to be a good musician, but you have to know how to sell yourself and your music.
"You can record a thousand songs and have the best album in the world, but if you don't effectively communicate this message to people, it won't be worth anything," explains Shaun Letang, the creator of the site "Music Industry How To" and author of the book "An Introduction To Music Marketing."
Caption: Music marketing can be done online or offline. Ideally, both strategies come together in a harmonious way. 
If you're starting out, you probably don't have the means to pay someone to do the marketing work for your music, so you need to do it yourself. Here, it's essential to take advantage of music's power to create an emotional connection with people.
In his book "7 Claves del Marketing Musical," musician and digital marketing specialist Miguel Galdón says, "The important thing is to get an emotional connection with our audience, that listening to our music is a unique experience and we are able to awaken in our fans an interest in sharing our musical project."
The goal, beyond selling records or singles–which in the end, is what will make you thrive–should be that you connect with your audience. If you do it the right way, it's very likely that the rest will come alone.
Take Advantage of Digital Media
By the end of 2017, there were 176 million users who paid for a subscription to a global music platform 64 million of which were new subscribers according to a study conducted by the IFPI (International Federation of the Phonographic Industry).
This proves that streaming services are the engine of global growth and the transformation of the music industry representing an enormous opportunity for artists. It's a great time for dedicated musicians who are willing to use all available resources to publicize their projects.
Source: Global Music Report 2018
In this sense, Chingadazo de Kung Fu knew they couldn't rely on performing for their friends to become successful professional musicians. Instead, they decided to take advantage of digital platforms to make themselves known on a larger scale.
They uploaded their music to a platform called Bandcamp for $20 which included a thousand free downloads. Bandcamp is an online music store that allows independent artists to launch and promote their music so that it could be downloaded for free by the public.
In addition to Bandcamp, Chingadazo de Kung Fu's album was also available on Spotify, Apple Music and other digital platforms. To be available on these platforms you need a music aggregator to act as a mediator between the platform and you. Simply choose one and follow their specific set up and procedure.
For their next album, the band already knew what to do. "The new album was uploaded to digital platforms a week before the presentation show, there was already a song with over 100,000 reproductions," explained Marino. "People already knew the new material just a week before the show. Fifteen years before that was impossible because you needed to go to a record store and the CDs didn't always arrive on time. Now, this immediacy is incredible."
Networking and More Networking
Ale, Beto and Marino didn't cross their arms at all when their music was uploaded to the first musical platform. It was the beginning stages of promoting their material. As music has always been present in their lives, they had connections with other musicians. 
To make these connections, Marino would reach out to bands from Mexico as well as other countries. He would offer to give them rides when any of them were touring in Mexico (his native country), too. So for years before the band existed, he had created a network that would help them grow as a band.
When the album was ready, they just had to pull those threads. "We spread the word with friends who had other bands or media and, from there, it came to a Mexican rapper who shared it in their networks," Marino explained.
"That gave us some relevance and more people started downloading the album. This is how it came to radio stations, both FM and digital and other specialized music media, where at the end of the year we appeared as one of the top albums of 2015. Those initial $20 helped a lot." 
One of the great lessons that Marino learned at the beginning of Chingadazo de Kung Fu was the value of networking. "You should never be rude or despot with anyone. In the end, you don't know who you can get help from," he said. "Do good things and good things will happen to you. Do good without looking at who, you never know how that can affect the future."
This is important in any field, but in the music industry, it's even more important. Networking is one thing that can catapult you to success. If you add a good digital marketing strategy to that, success will be much easier to achieve. If you don't already have contacts in this area, start making them.
"You have to meet people, attend events, chat with colleagues, learn from their successes and their mistakes… and above all, believe in what you do," explains Miguel Galdón. "In the age of the enterprising musician, you must be proactive in finding opportunities and maintain a positive attitude in any circumstance."
Find Opinion Leaders in Your Musical Genre
Find sites that can promote your music and that can help you establish relationships to get you known on a larger scale. Letang lists several:
Sites that promote your musical genre
Online radios that broadcast the type of music you play
Facebook and Twitter groups and pages that are dedicated to promoting your genre
"These sites have two things in common," he says. "There are people who like your type of music watching them and have a greater reach than you alone. People who listen to these channels and read these websites respect what their owners have to say. Therefore, if an owner of any of these platforms tells his followers that you are the best option, you will surely receive an influx of people who will visit your website and take note of you."
Searching for presentations is another excellent way to promote yourself. You don't need to do it in a large auditorium, you can start looking for small bars and cafes. There are many sites that are dedicated to promoting talent in the making and that will be happy to listen to your demo and give you a chance.
Who Listens to You?
If you don't know your audience, it's time to start researching. You need to know who they are, what they like, what sites they go to, what social media they are most comfortable with, what other music they listen to, how often they listen to music and other specific details. If you have social profiles, analyzing them is a great way to get to know your followers.
Tools like Followerwonk allow you to analyze your Twitter followers and know their language, sex, religion, location, age, number of followers or frequency of publication. For Facebook, you can use Facebook Audience Insights which is a free tool that lets you find out demographic information such as age, sex, marital status or level of education.
All of this information can help you narrow down your main fanbase so you can better understand them and cater directly to them instead of the general public.  
Use Social Media
Social media are a great channel to connect directly with your fans. If you already know who listens to you, what they like and in what social channels they use, it will be much easier for you to do this. Being a musician, you are a music lover so think about your favorite artists and how they communicate through their networks. What do you like to know about them? When you have it clear, you can share content with your followers.
Don't forget to target your market and pay to have a better reach among a certain audience. You don't need large amounts of money, you only need to get close to the right people so knowing your main audience is important.
"Thanks to social media, our most listened to song on Spotify and Youtube has, in sum, more than one million reproductions," explains Marino. "When I had my first band it was impossible to think a song of yours could be heard without the support of a transnational label or MTV."
In addition, social media allows you to have much closer contact with the public, who will be happy to follow the day-to-day events of their favorite artist. For example, Instagram stories are an excellent tool to publicize the recording processes and offer more intimate details of a band. This will inevitably bring the band or artist closer to their fans who will grow more invested in them.
IG stories have become like watching television and allow you to develop a much more personal bond with people since they think that in some way they know you and you are close to them because you invite them to see your daily life," Marino says. "It's amazing because when people come to talk to you at shows, they don't do it as if you were unattainable but as one more friend. That generates a nice inertia and has given us a very special connection with our audience."
While social media is a great tool for musicians, you have to remember that these networks shouldn't be used as a sales platform. "If your goal of having a presence on social media is to sell more tickets or discs, you will only find the frustration of not achieving it, however, if what you want is to connect with people interested in the musical style that most identifies you and communicate with them, you will be able to establish a connection with them and maybe they will see your next performance," Galdón explains. 
It's very likely that you can't sell your music through social media, but if you manage to connect with your audience, they will surely come to see you at your next performance. This is best achieved by following the 80/20 rule.
80 percent of what you share on social media should be valuable content to your followers and 20 percent should be self-promotion.  
You also need a web page that can function as a reference site for your followers, will inspire confidence, collect all your information and monetize it as best suits you, explains Galdón in his book.
"It [Your web page] will be the place of reference for your followers," he writes. "You will find any information related to your upcoming concerts or tours, the release of your new album, even the merchandising of your band."
Make your Fans Your Main Ambassadors
If you can connect with your fans on a deep enough level, they can promote you and your music for you. In marketing, word of mouth is the most effective channel. Imagine if thousands of people like your music: The first thing they will do when they meet up with their friends will be to put on one of your songs. To achieve this, you need to get involved and interact with your fans. 
"It's not about you answering each of your fans personally for every little thing, but you must make an effort to thank them in the updates of your social profiles," recommends Letang. Social media is an excellent tool for this.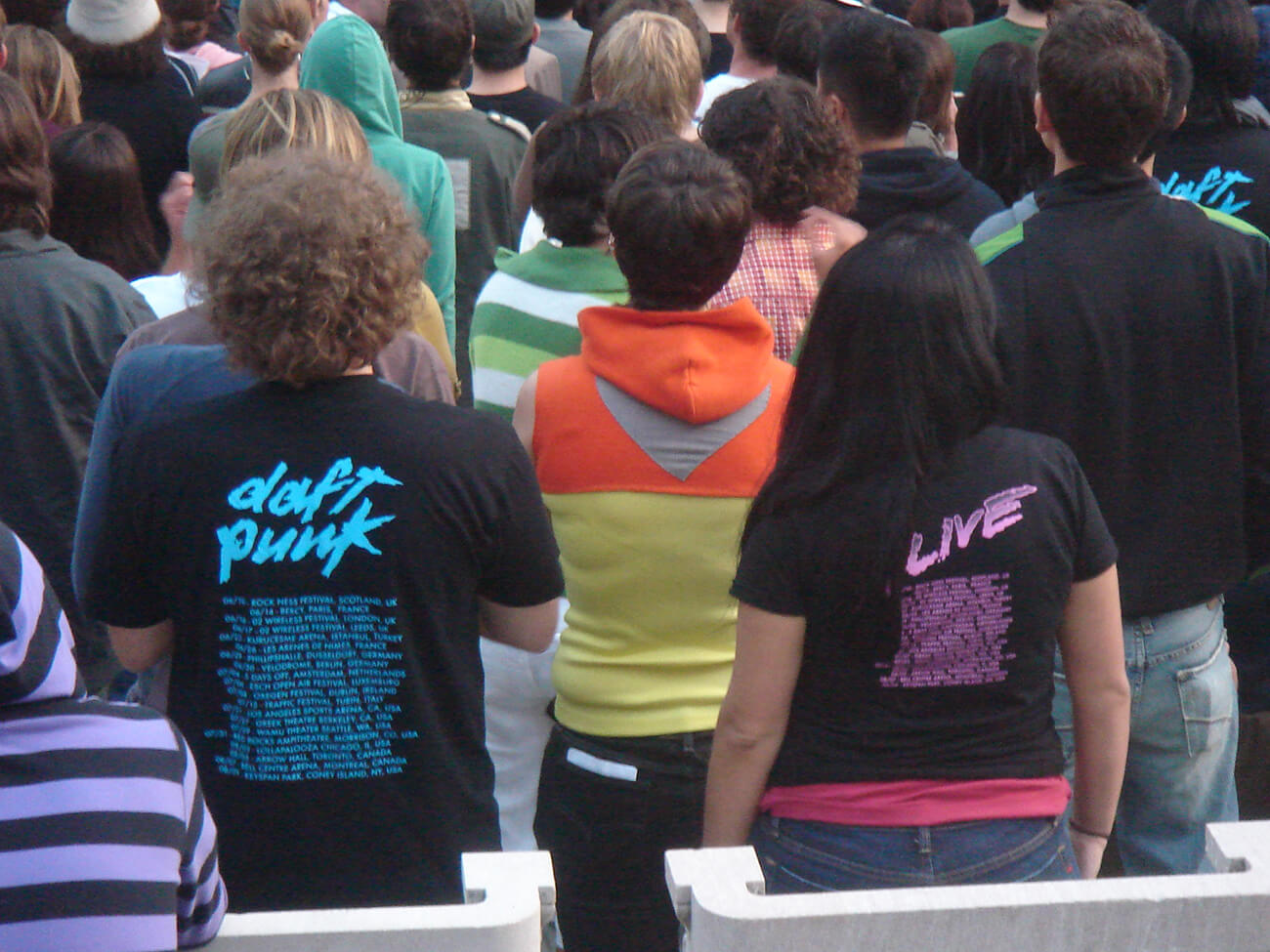 The Power of the Media
Using the media is a great way to gain popularity, too. If music is a long-term career goal, you'll inevitably want the recognition that the media can give you. It's not about sending them information once a year in a press release.
You have to be present periodically and relevant to provide them with useful information that is valuable to them in some way. They'll begin to recognize you over time and will seek you out eventually.
Reaching out to media outlets isn't complicated. First, make a list of media related to the music industry, including those that deal specifically with your genre. Next, go to each article and note who wrote each one.
Usually, there are several reporters or opinion leaders who are immersed in your specific genre. They'll sometimes include their email addresses in their article byline making it easy to reach out to them. You can also search for their name on Google and it will probably give you more details about that person including their contact information.
You can use their social profiles to reach out to them, too. The idea is to make a list as complete as possible of the people who can help promote you before you begin actually contacting them.
Be careful not to send information in a generic way. While it's much more comfortable and takes less time, remember that you are a brand and are promoting that brand. Send personalized information that is useful to that particular person. This will help increase the chances of them taking note of you and can make them more inclined to get in touch with you.
Don't forget to make a press dossier about yourself. This is a document that contains information about you such as your biography and discography. Of course, don't forget to include videos, albums and materials so they can listen to your music. Send it along with the information you want to get to the media.
Galdón suggests the following tips to do well here:
Learn to write press releases. Look for examples that can help you make your own and be sure to proofread it for proper spelling and grammar.
Pay attention to the design. This won't necessarily help you get interviews but it will give the journalist a good impression of you and, in the end, first impressions count for a lot.
Don't be a nag. Follow up accordingly but be careful not to write too frequently as this can be annoying and will hurt your efforts.
Caption: Central 11 is a program on Mexican public television especially designed for young people where Chingadazo de Kung Fu appeared as they grew more popular. 
Hopefully, these musical marketing tips have given you a new perspective on promoting your work. Remember, it takes more than talent to make it in this highly competitive industry. Use these new ideas to brand yourself properly and make your mark in the music world.