[COVID-19] To help mitigate COVID's impact on small businesses, Kolau is waiving the fee to create a FORBES Award-Winning website with e-commerce enabled for laundry and dry cleaners businesses.
---
Businesses that offer laundry services face a challenge. With more than 3 million competitors, standing out among the other local laundry service businesses is no easy task. While this poses an obvious problem, the solution is simple: create an innovative marketing plan specific for laundries and employ the right strategies to convince your potential customers that your service is just what they need.
Utilizing the most innovative and modern marketing strategies is crucial to stand out among other businesses and to make your business more visible. According to an analysis by the US Federal Bureau, in the last 10 years, the laundry industry has grown a total of 6.6 percent on average every year, so future forecasts remain optimistic. 
With this in mind, an effective marketing campaign is the key to ensuring success in the future. Here, you'll find some effective innovative strategies for approaching your clients and growing your business.

# 1 Advertise your laundry services with Google Ads
If you were someone who wants to find a laundry service in the area, where would you start? There is no doubt that today all searches start in a search engine with Google being the most popular of all. Google has more than 3 billion online searches a day and an 80 percent projection in the advertising market of search engines for 2019.
With so much traffic, any business looking to gain publicity would be foolish not to take advantage of it and work to have their business appear within a Google search results page. However, because Google is so popular, it can be a challenge for laundries to get a position on the first results page. 
Due to the high level of competition in the organic section (the non-paid results that appear naturally) the first strategy worth implementing is advertising your business through Google Ads. An effective ad will allow you to position yourself among the first results of this giant search engine.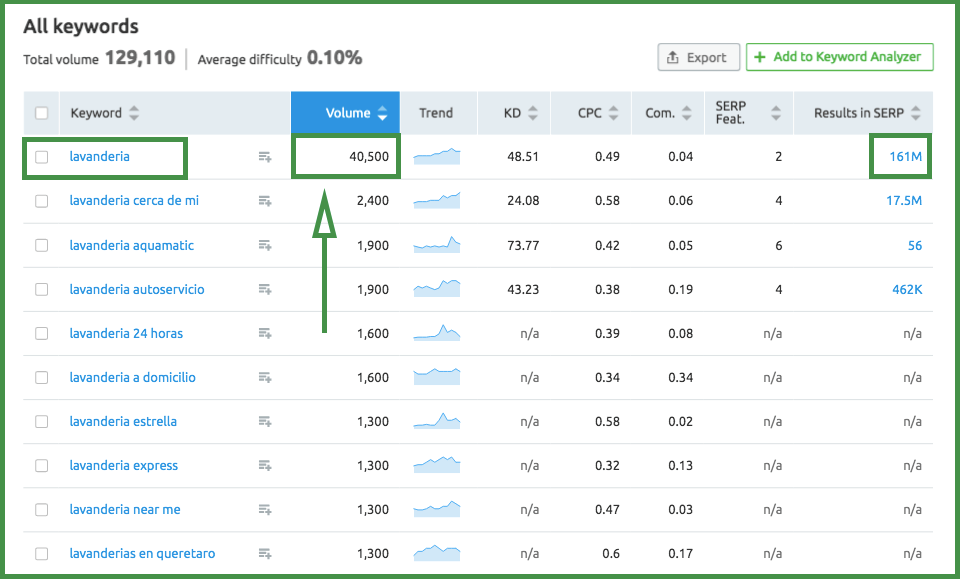 For example, you can see that during the last 12 months, the average number of monthly searches in Mexico related to "laundry" has been more than 40,000. It's a growing trend, but there are 161 million similar results with that keyword. To be able to stand out among so many organic results, you need to use Google Ads effectively to achieve more visibility without spending too much.
Advertising on Google gives you more control than other types of advertising since it allows you to direct the ad to a specific and local audience. This means that you can target the ad to the location of your business where your potential customers can be found. Defining the location when creating your ad with Google Ads is essential to get a better return on investment. 
The type of ad you choose to make and use is also important. As of now, text ads are the most effective ads in Google for your business.
Text Ads
Google's text ads are displayed above and below the organic results on a Google search page. These are composed of a title, a visible URL and a description. The title and description must be developed according to the keywords that the user would search for to find an advertised service. 
As mentioned before, any action taken by a potential client starts with a search. The user types in words or phrases related to what they want to find. For example, "laundry service home delivery in Barcelona." In Google Ads, these terms are called keywords.
Keywords or key phrases are those that best describe the service or product offered by your business. The best option is to create a list with different relevant terms, taking into account what your potential customers would likely type into Google to find your services. By doing this, you can reach people who are really interested in what you offer and increase the likelihood that they will click on your ads and request your services.
Google's algorithm dictates the results based on an auction in which all advertisers take part. It uses that auction to determine the ranking of the ads and is influenced by different aspects. Those aspects are: 
The advertiser's offer

: how much you're willing to pay per click on the ad.
The quality of the ad and the landing page

: Google takes the relevance of the ad in terms of the search and the importance of it into account. It also penalizes the advertiser if the landing page is not properly designed for users. For example, if it is too slow or is not optimized for different devices, you can be penalized.
Limit of the ranking

: the ad must meet or exceed the minimum requirements indicated by Google to pass their quality tests.
The context of the search

: Google takes the search phrase or words used by the user, its physical location, the device used, and even the other ads and results similar to yours into consideration when ranking ads.
Ad extensions

: additional informational features in the ad, such as the contact number or some other link for specific pages on your site. Google estimates the impact of these extensions on the profitability of the ad.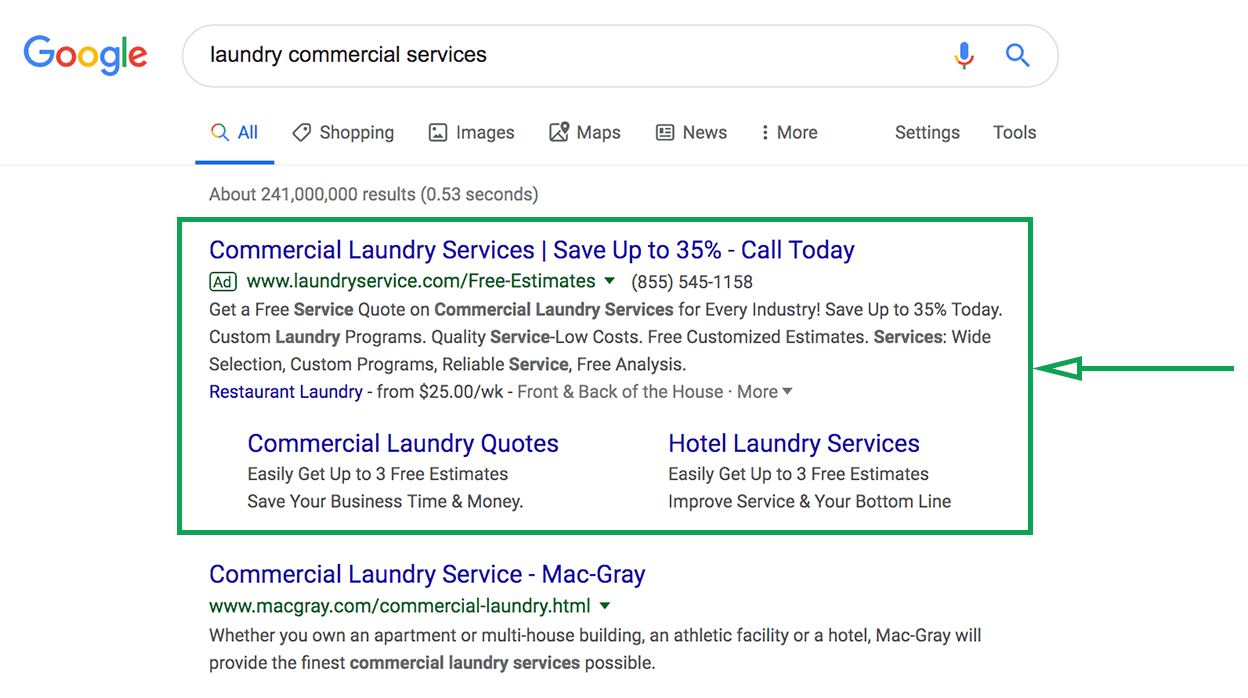 This ad highlights the most striking benefits of the company ("Save Up to 35%" and "Free service quote") in the title and the description, and shows their phone number and the price thanks to the ad extensions. Its components are attractive, informative and compelling so it's probably an effective ad that gets clicks.
According to WordStream, a good ad should be focused on what the potential client wants to achieve with the help of the service offered.
Here are some tips to create effective text ads that will allow you to get more clicks:
Highlight the most striking benefits

especially the ones you consider unique including discounts in volume or home delivery. 
Use convincing language

that encourages your potential customers to take action.
Make the most of the character limit

to occupy as much space as possible.
If possible,

add numbers

like a minimum price per weight.
Make the ad compatible with mobile devices

. For that, you can add the location of your business and a contact number that can be quickly used from a mobile device.
Finally, the ads must be optimized according to your business's location and your potential customers to avoid clicks from users who are not in the locality and therefore can't use your services. When optimizing the ad for a certain location, you must make sure to select the proper option when creating your ad so that it is only shown to people who are in the same location.
If you want to know more about the types of ads that Google offers and how to use them to win more customers, check out this article about what Google Ads is and how it works.
#2 Get more Customers through Email Marketing
Did you know that, according to Hubspot, more than half of marketers say that email marketing is the most effective way to generate profit? It is not a surprise that this is also true for the laundry business. Even with all of the latest innovations in marketing, email is still one of the most effective ways to communicate with your customers. 
Create a monthly newsletter and maintain contact with your regular and potential customers to generate interest and stand out among your competitors. It's a good strategy because it works to get more visibility. If the content you develop is relevant and high quality, it will be more likely to be shared to give you more exposure.
Email marketing opportunities in the laundry industry are quite limited, but they are still great. You will see below how to achieve a strong customer base and what kind of content you should focus on to do so.
Offer Incentives
Keep your customers interested in your business by offering small incentives, both in the store and in your weekly newsletters. A good way to create a strong customer information base and get a list of personal emails is to offer customers coupons or discounts within the newsletter in exchange for their email address. 
In this example, you can see good use of the bulletin spaces to generate interest. Mrs.R's offers continuous promotions for loyal customers where it allows them not only to save time by leaving using a laundry service but also to save money by choosing their establishment.
Create Content of Excellence
One of the biggest mistakes when using this marketing tool is to approach potential customers with too much content with little substance. As you saw in the previous example, Mrs. R's newsletter promotes offers, contains coupons and similar beneficial opportunities to make the customer's experience memorable and positive. 
Share topics of interest and strong ads with your potential customers and take advantage of email marketing to inform them about a unique offer during the year. For example, to take advantage of the start of the summer season and the end of the cold weather you could present your potential customers with an offer to wash quilts or their winter coats with a 20 percent discount.
Offer a Referral Program
According to the New York Times, 65 percent of transactions come from a recommendation. That is, two-thirds of the population take action regarding a business because someone else recommended it.
There is nothing as valuable as the favorable word of a client. On average, according to an article by The BrandonGaille:
Laundry businesses lose up to 55 percent of their customers for lack of good service.  
So, to count on the recommendation of your clients to their acquaintances, it is key to offer a quality service.
But, instead of waiting for the service to succeed and your customers to feel comfortable recommending it, you can offer them incentives to recommend your business to their acquaintances. Within the newsletter, offer them the option to join a referral program where they can earn rewards every time they bring a new customer into your business.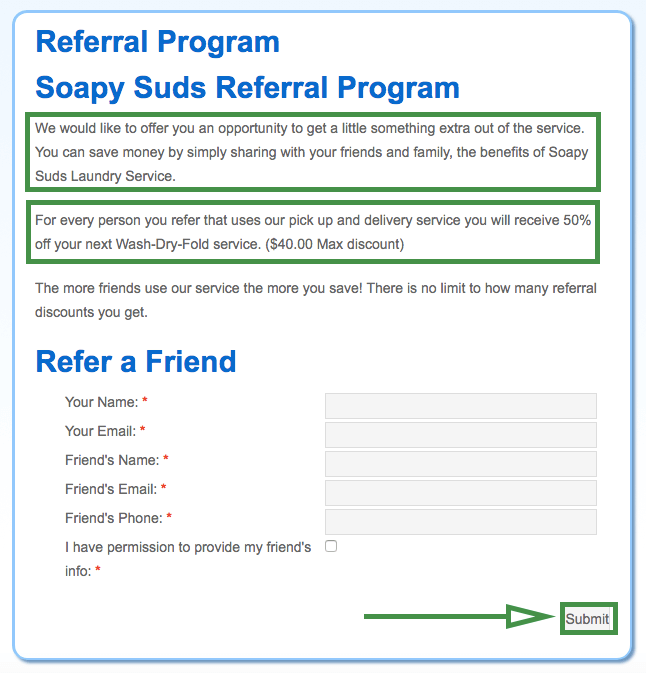 In this example, Soapy Suds offers its clients the opportunity to participate in their referral program and earn something in return. They have no limitations regarding the number of people, on the contrary, they encourage the client to invite as many people as possible to save more when using their services. 
Now, for both the first and second strategies to be effective, you will have to focus on the next step.
#3 Optimize your Online Presence
Even if you've followed the first two steps perfectly,, if you don't have an attractive and simple website for your potential customers to use, they may not close the deal. 
Jeff Wile, owner of a marketing agency for laundries in Florida, says in an interview:
"If your strategies direct users to your website and it does not load, it loads slowly, it's not optimized for mobile devices or the navigation is not easy to understand, then it's as if the entire marketing process in which you invested time and money would not have happened." 
Currently, a quarter of the population is millennial, so marketing strategies have changed based on their needs. Overall, any internet user, including you as a business, needs the ability to browse an attractive website that is easy to use. Without this, your efforts to reach a larger audience in your area would not make sense.
There are many laundry businesses, so it is important to know how to stand out from the competition. Increase your visibility with a web page that adapts to different devices. This should be your focus whenever you start working on a new website or optimizing the one you already have. 
A potential customer who has heard about your business will most likely do a little online research before taking action and having a website optimized for all types of devices will guarantee that they will have the best user experience no matter how they access your site.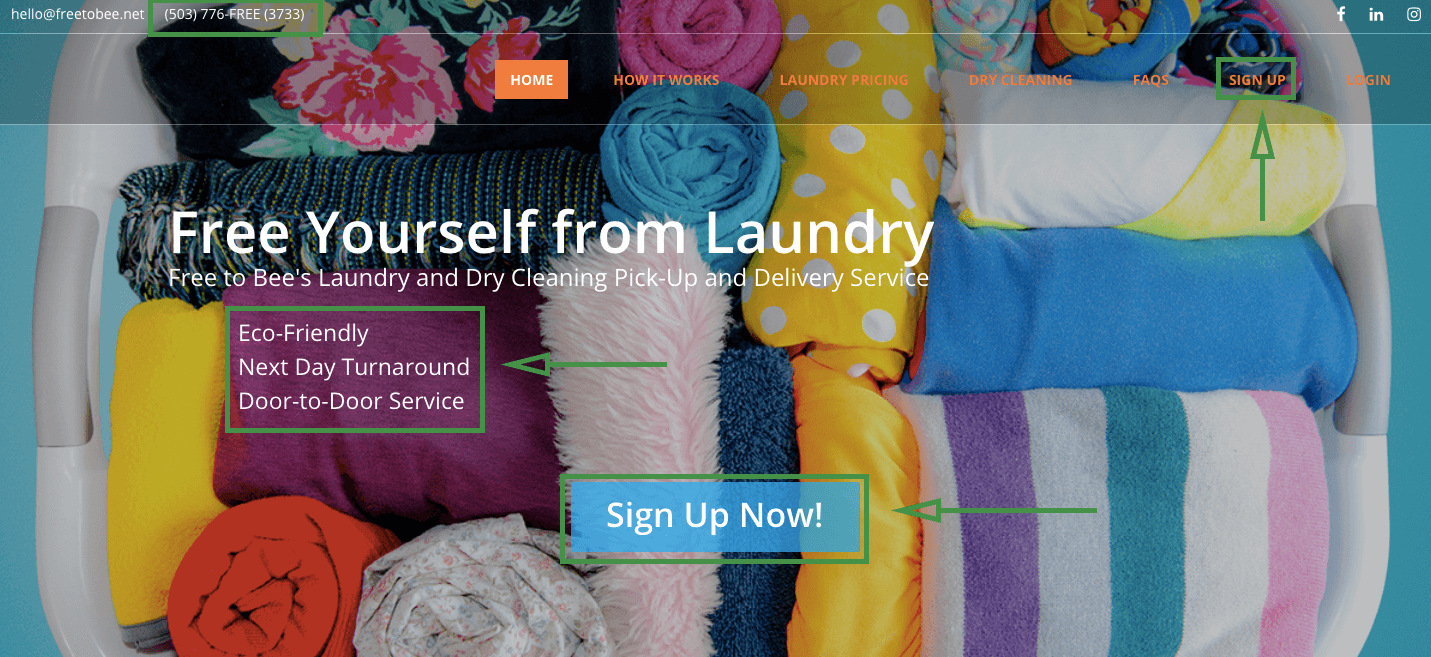 Take a look at the Free to Be website. The design is simple but striking. It loads quickly and adapts both to users who visit the site from a computer or from a mobile phone. The best thing is that you have the option to subscribe in all the sections so a user won't have to navigate away from the page they're on to do so.
Another positive feature of this website is the ease that potential customers have to communicate with the business. Your business's web page should have your contact information visible and accessible, especially if it is optimized to be used from a mobile phone. According to a study conducted by Huff Industrial Marketing, 44 percent of people leave a website if they can't immediately find the contact information. 
Optimizing your website for users browsing from their mobile phone is essential to offer the best service and stand out from your competitors. According to an analysis by ComScore, the use of the internet through mobile phones has grown by 78 percent. So if you do not do this, you will lose opportunities to connect with as many potential customers as you could.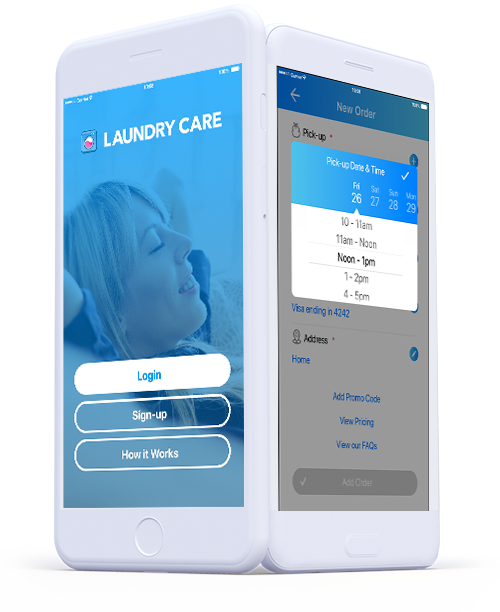 This Portland dry cleaning business, Laundry Care, has a clean, fast and mobile-friendly website where they invite the user to create an account to use the services, or to learn how it works.
As you navigate, you'll find information about who they are and the different services they offer. In addition, they feature different positive reviews from satisfied customers. This is a great example of how you can get credibility with a good web design.
It's important to have an attractive and modern web page that covers users' needs especially as a laundry service since beating the competition is crucial. If you want to learn how to create one, don't miss our article about how to create a professional website.
#4 Create a Presentation Video
A lot of smaller businesses don't understand the importance of video marketing in this day and age. According to a trend analysis by HubSpot, 54 percent of consumers want to watch videos from businesses. While this used to be a large undertaking, you no longer have to be a large corporation with a six-figure marketing budget to create quality presentation videos or commercials. 
Today, creating a presentation video for your company is more feasible than ever. The resources have become more accessible and you can create quality videos without investing much money. A camera (or even a smartphone), a tripod, creativity and proper planning is all you need to create a good video with appealing content to leave a good impression on viewers. 
A presentation video's goal is to tell the viewer about the characteristics of your business including what your business does, what benefits it offers, what makes it unique, etc. It is a great opportunity to promote your company by getting closer to the consumer and differentiating yourself from your competitors.
It is a convenient way to gain visibility and build trust among your potential customers. With a good presentation video, you can share what makes you proud of your business and your vision. You can take this opportunity to put a face to all the information you already put online through your website. It's best to do this in a short and entertaining way so you hold your viewer's attention throughout the video. 
In this video from Pilgrim Dry Cleaners, viewers learn about the characteristics of their business and how to use their home delivery service. Since they know that their clients look for comfort, their video focuses on that idea. They have detailed what they offer and why it is so special in a video that is just 1 minute and 24 seconds long.
Before producing your presentation video, think about the features that make your business unique and the benefits your customers can get. You want your video to transmit information but also to convince viewers to use your services, so let your creativity take the reins and have fun doing it.
Once your video is ready, you can upload it to different video platforms like YouTube or Vimeo. These platforms will allow you to optimize your video to achieve more visibility from your objective audience based on their location. In addition, they will allow you to share it easily and quickly on your web page in the "About Us" section.
# 5 Use Print Advertising
While digital marketing strategies are important, you can't forget the traditional marketing strategies available to reach your target audience. Offline marketing can help round out a successful marketing strategy, especially for local businesses like laundries.
For traditional and local businesses, connecting with the local community and gaining their support is essential for success. This makes reaching out through traditional marketing important. 
Send Postcards to the Community
Design flashy postcards that advertise your business and send them out to local residents to introduce yourself to the community. It is a small but effective investment since you can reach all potential customers who live close to your business. 
Make sure to add some kind of incentive to convince those who receive the postcard to contact your business. For example, you could add coupons in the ad for a 25 percent discount for new customers or offer a seasonal discount like a percent off washing and caring for blankets and quilts.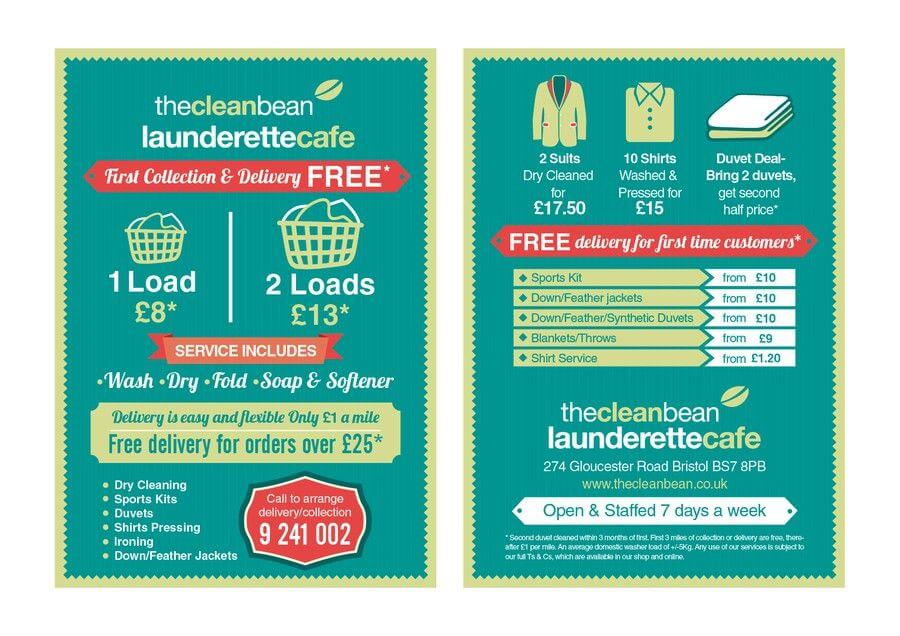 This is an example of an attractive and eye-catching postcard from a local laundry business. In this case, it is a simple presentation strategy to let the community know what services they offer. In it, they include the hours of operation and their contact information, but the most striking things are in red: they offer one free service to new clients. 
Look for inspiration in other businesses that have used this strategy to design a quality postcard. After all, you don't want it to end up in the trash. Overall, it's important to create a neat, eye-catching design complete with incentives that invite the potential customer to choose your business over others.
Create Business Cards
Laundry is one of the many inevitables in life so it's worth investing in at least 500 business cards. Keep them in your business and on your person to hand out as you see fit. It is an ideal way to network and let anyone who crosses your path know the services you offer. 
Numerous studies claim that business cards are one of the most powerful tools when it comes to marketing. It is a way to create genuine personal connections since it allows you to establish direct contact with potential clients. In this type of business, you can find potential clients at any time, so taking the opportunity to present yourself personally increases your chances of gaining a new customer.
The business card's design is essential for leaving a lasting impression on potential customers. Consider it as the first impression of your business, it is a crucial moment that can create or completely break a potential lasting business relationship.
A business card designed to impress will not only allow you to create a first good impression, but it is also a good way to break the ice with potential clients. Besides promoting your business, you can use the space to add a small incentive to use your services.
For example, you could design the back of the card with spaces to fill each time they visit your establishment, where they'll get a stamp for every visit and will receive one free. For example, you can have your business care say something like "the sixth visit is free."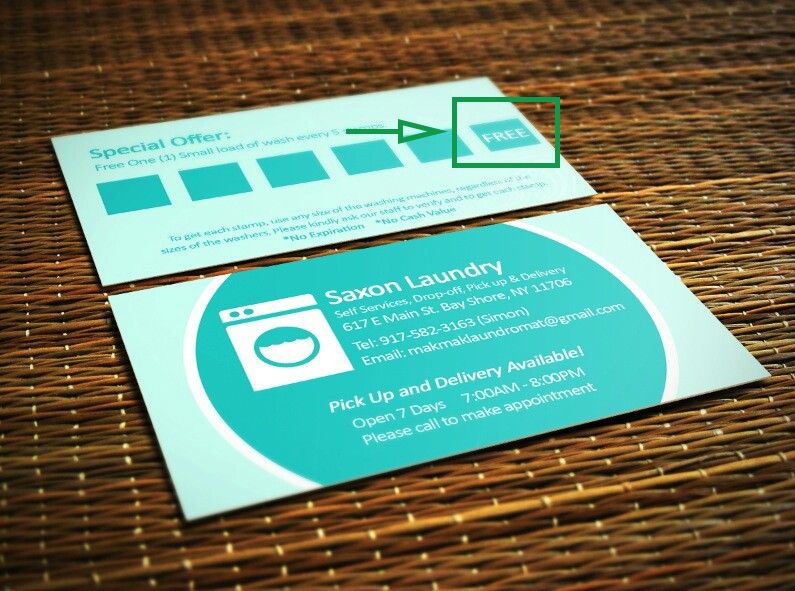 This is a great example of a creative and effective business card. On the one hand, it has all the necessary contact information and a brief description of the business's services. On the other, it has a special offer that invites those who have the card to use their services six times to get the sixth visit free. In addition, it is a clean and modern design that draws attention.
These 5 marketing strategies for your laundry business will allow you to start your marketing plan and find an effective way to stand out among your competitors in order to get more customers. In such a competitive environment, your creativity along with your new marketing knowledge will allow you to strengthen relationships with your customers and grow your business within the community.