[COVID-19]

To help mitigate COVID's impact on real estate businesses

, Kolau is waiving the cost of creating a FORBES Award-Winning website with e-commerce enabled.
---
Calling yourself a homeowner is a dream that many of us have. It gives us tranquility and social status while also being a great investment. As the renowned writer Mark Twain said:
Buy land. They aren't making it anymore.  
Being a real estate agent means that you sell more than property, you sell dreams. While this is a great sentiment, getting clients in real estate isn't always easy. To make this a little easier, you need to figure out the best marketing strategies to attract more customers. Before you do that, you should familiarize yourself with real estate industry trends that can help you in your efforts.

#1 – Advertise on Google with Google Ads
In the last decade, our world has increased in terms of technological advances and the real estate market has not been left behind. According to The Digital House Hunt, 90 percent of home buyers used Google to start their search. Similarly, searches related to the real estate industry have grown by 253 percent in recent years.
Due to the high level of competition in the organic results in Google, your first strategy to get customers should be to do so using Google Ads. This will allow you to position your ad within the first results on Google through a simple but highly successful technique: pay-per-click.   
Google Ads works for real estate agents because it allows you to target the ad to a specific and local audience, something that will be discussed in detail later. Follow these simple steps to effectively use Google Ads to earn more customers while spending less money.
Create campaigns using geo-targeting:

Like any good real estate agent, you should always keep in mind "location, location and location." No matter how good your ads are, they will not be as successful as they could be if they don't appear in the right place. With the geographic segmentation of Google Ads, you can target your ads to specific areas where you are more likely to find the right customers while simultaneously restricting it in areas where you are less likely to find them. In this example we can see that when we want to target our ads to Dallas, we have several options, each with a different potential reach: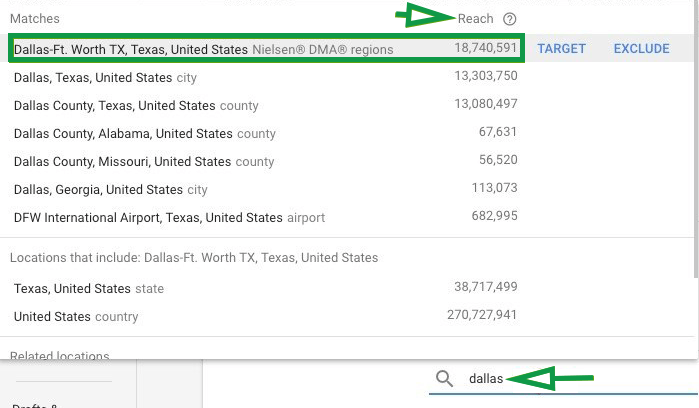 Keep in mind the type of device:

89 percent of new home buyers use a mobile device for their initial research so it is very important to optimize your ad keeping that in mind. For example, it's a good idea to add a clickable phone number to the ad to make it easy for the user to get in touch with you.
Create an attractive copy:

The text of your ad and what will generate that important first impression on the right customer should be creative and appealing. While writing engaging copy for an ad isn't always easy, the results are always worth the effort. But what makes a good ad? Simply put, the content! For good content, you must achieve three things:
Find out the need of your target audience

Put yourself in their mind and speak their language

Be convincing and prove your value 

Use VERY specific keywords:

After taking into account who you want to reach with your ad, you must write your copy using specific keywords so the wrong people won't see it. Why? Because you're paying for the click. To mitigate risks, use exact keywords and phrases to get the right traffic to your ad and website, such as:
   

Two-bedroom apartment for sale in Downtown Portland

   

Affordable country house for sale in Hillsboro

   

Best real estate agents in Portland
As a real estate agent, the online competition of moguls like Zillow and Trulia is immense. By avoiding using general terms, you can distinguish yourself from this competition. If you do happen to use generic terms, you'll be in the middle of that competitive pack and won't attract customers the way you want to.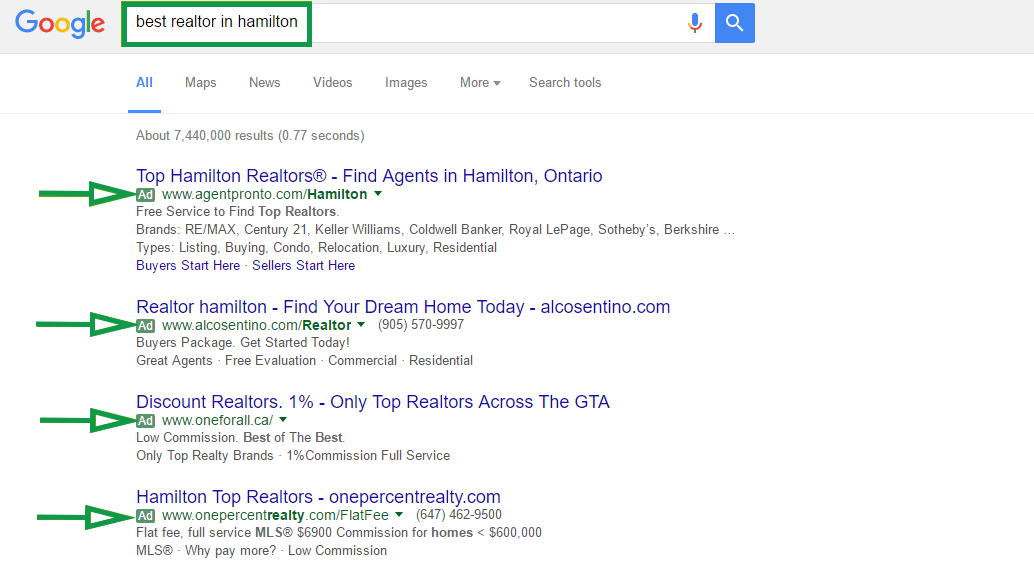 #2 – Make Quality Videos
Producing videos of your properties will help you stand out among your competitors and connect directly with your customers. According to a study conducted by the National Association of Realtors (NAR), it was found that only 11 percent of sellers use videos of their property to market it despite the fact that 61 percent of homebuyers believe that the videos are a useful feature to utilize while searching for their ideal home.
To get the best results using this tool, create short and simple quality videos to better grab the attention of those who see them. The shorter and more direct, the better.
Become a real estate superstar by creating quality and eye-catching content to keep potential buyers interested in what you have to say. It is quite common to see videos with more than one message. While this might seem efficient, it actually confuses viewers and drives them away. Do not repeat those mistakes! 
Divide your content into different videos making sure that you have one overarching topic in each. Consider these popular kinds of real estate videos:
Introductory Video
Consumers want to know you so they can assess if you are the right person to guide them in what is likely to be the most important purchase of their lives. A biographical video is a perfect opportunity to do this. 
According to Alice Soon, Marketing Manager of Pillar to Post Home Inspectors, the branding experience is literally the way a customer lives and experiences your brand and how it feels to interact with you. With an introductory video, you can make your representative brand an intrinsic part of the client's real estate purchase process.
Use the time of the video to explain who you are, your background, certifications, achievements, sales history, mission, etc. See it as your opportunity to connect on a more personal level with the client.
When viewers can hear your voice and see your face, they automatically feel much more connected to you and your brand. In fact, it is so important that searches such as "find an agent" have increased by 46 percent annually on YouTube. An example of a good video presentation is this one by Julia Warren: 
This introductory video of just over a minute and with more than 5,000 hits shows the viewer the kind of person Julia is, makes her look accessible and also shows her passion and effort she puts in her business.
Testimonial Films
Create genuine testimonial videos that highlight positive stories from clients who have had a pleasant experience working with you to buy property.
This type of testimonial can do more to show you're an ideal choice than any written review can since they can visually analyze how authentic the person giving their review seems. This video will help your potential clients figure out what they can expect to experience when working with you based on a real client's experiences. 
Highlighting a happy and satisfied customer is one of the best ways to promote your business. Obviously, you should not force a client to make a review, but if you manage to establish a good professional relationship and the client is happy with their results you can ask them if they'd like to help you.  
Prepare questions that will show off their positive experiences and show prospective clients why they should choose you. 
Ask questions like, "Why did you choose me as your agent when purchasing your new home?" "How was your experience working with me?" and "how did I help you find your home?" These questions will ensure that the testimonials convey the messages you want them to while also streamlining the videos so they don't run too long or have too much irrelevant information in them.
This video by Greg Guinto is a great example of how a video testimony should be made. It uses music to generate positive emotions, it's short but direct and manages to capture the happiness of the buyers and generate confidence for potential customers. 
In the video, his previous clients highlight the qualities of Guinto that made their real estate experience more than satisfactory.
Neighborhood Videos
A key factor that homebuyers take into account when making their final decision to buy a property is its location, namely the neighborhood and the community around the home 
The property for sale could be perfect in every way: it could have a kitchen with marble tops, spacious rooms, a huge garden and a swimming pool, but it is useless if the surrounding community does not match the needs of your target clients.
A video in which you showcase a desirable neighborhood is a great way to advertise a specific property. Create a clear picture of the location in question where you cover all aspects that may be important to your customers such as nearby attractions, schools, nightlife or transportation to get potential buyers to imagine living there.
Use the opportunity to provide interesting data including its history and architecture, transit options, etc. Then the viewer can explore what their daily life could be like in that neighborhood.
Richard Silver, a Toronto real estate agent, made a great video about the popular neighborhood Rosedale. In less than two minutes, it shows what the neighborhood offers in depth. This includes the type of families that reside there and local businesses and schools. In addition, it manages to show one of the most popular neighborhoods in the country as an easily accessible one.
The way in which he addresses the spectator is soft and friendly, making the clients feel that he not only knows what he is saying, but that he is an open and caring person. His approach to potential buyers and his good use of digital marketing have positioned him as one of the best agents in Toronto.
Video of Property Listings
Finally, you can make a video to show off the property you want to sell. Investing in a high-quality video to show your listing to potential clients will make you stand out among your competitors and is the perfect opportunity to show buyers the key aspects and characteristics of the property for sale.
Many agents believe that selling a property is like selling a lifestyle. The Partners Trust real estate agents in Los Angeles understand that the success behind a good listing video is in a great narrative. In this video, we can see how they take advantage of this marketing technique as few do in the real estate industry:
They have created what could be considered a professional short film complete with aerial shots and impressive drone movements and scenes in slo-mo that tell a great story. The video not only shows the essence and beauty of the property but also the lifestyle and status that it can bring.
They create an opportunity for potential buyers to transport themselves to the moment they open the doors for the first time and imagine themselves as the owners of the home. It is an impressive production full of great visual and emotional content. They use the video information section on YouTube to describe the type of property, location and design then they let the video tell the rest of the story.
Now that you know what kind of videos you should create, let your creativity take over and highlight your brand to outshine your competitors.
#3 – Use Social Media like a Pro
Social media is a very effective way to interact with your current customers and new prospects, improve the perception of your brand and attract more traffic to your website. It also allows you to establish your online presence, advertise your properties for sale and set yourself up as an expert on the channels. The trick is to know who your objective audience is and how to get to them.
Use social media as a communication link between you and your customers to optimize your online presence. Leigh Brown, president of the Council of Residential Specialists and agent of RE/MAX Executive Realty in Charlotte, says that in addition to presenting you with a good platform to show off photos, you must have conversations with your followers, be visible and be present in all interactions.
Next, we will talk about the most effective channels among the agents that will allow you to reach the largest number of potential clients and your objective audience.
Facebook
We all know Facebook as a place to connect with old friends and family. But it is also an excellent platform to connect with potential customers and generate greater business opportunities with less out-of-pocket costs to you.
Your professional Facebook account should be filled with valuable content that captivates the visitor and invites them to interact with your publications. This will allow you to take advantage of this powerful marketing tool to get more opportunities to advertise and sell your properties. 
There are two ways to advertise on Facebook, free organic publications and paid publications.
This publication is a great example of how you can use free organic publications to showcase a property and make it look exclusive while inviting the potential buyer to take action.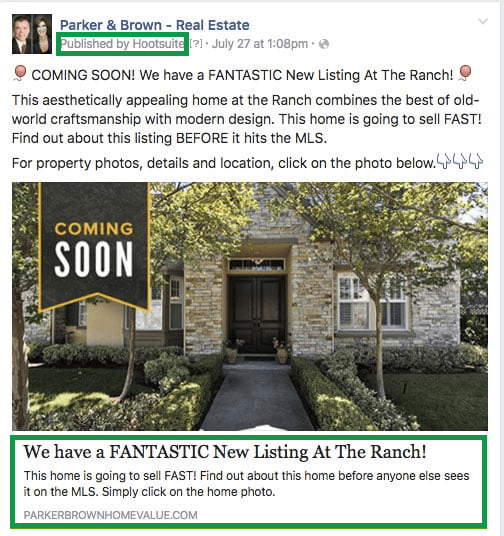 Facebook is a great tool to create paid ads with quality content and clear calls to action that can attract potential buyers, similar to how Google Ads works. However, Facebook's algorithm is quite different.
This social network allows users to filter their searches in more precise ways, such as by price, size, etc., but it also lets you generate optimized ads and direct them to your target audience.
The best way to generate optimized ads oriented to the right audience on Facebook is through the Marketplace. Here you can create a catalog of your products, in this case, your property listings.
The Marketplace is an excellent way to advertise your business and the different properties you have in a single paid publication. Dynamic Ads for Real Estate allow you to display more than one property and invite potential customers to take action by calling you or visiting your page to find out  more, as we can see in this example: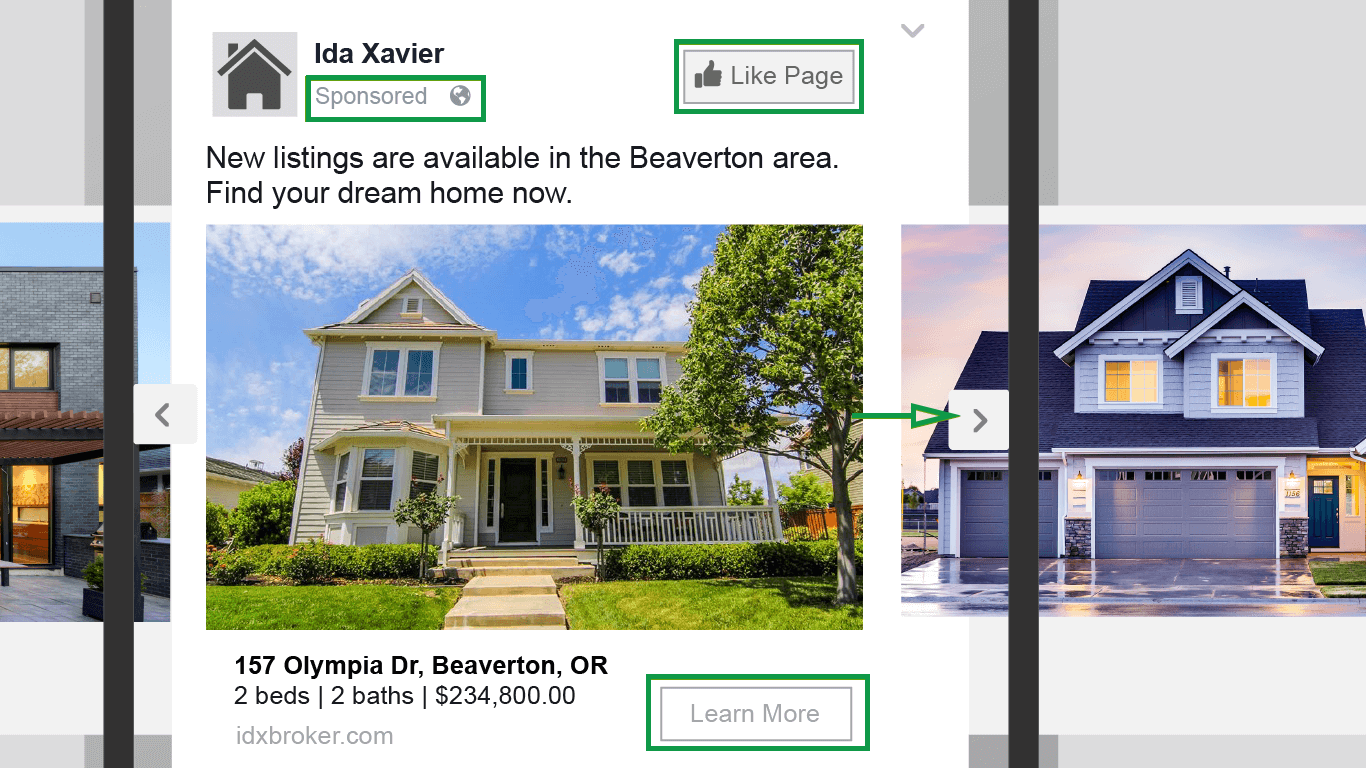 Pinterest
Pinterest is the fourth most used social media platform and is a great tool to promote your listings. It allows you to show off your best photos and visuals of the property and connect with quality prospects quickly.
Your listings should be shown through appealing photos that create an emotional connection with potential buyers in order to drum up interest and get them to inquire about the property and eventually visiting it in person.
On Pinterest, you have the opportunity to create "boards" with multiple listings of different properties, posts about the neighborhoods where you are focused, interior design features, and even one about your personal life to introduce yourself to potential clients.
This is a perfect example of a Pinterest profile of a real estate agent in Denver where he has used the platform to display not only the listings of properties he has for sale but also part of his personality and present himself as someone quite accessible and trustworthy.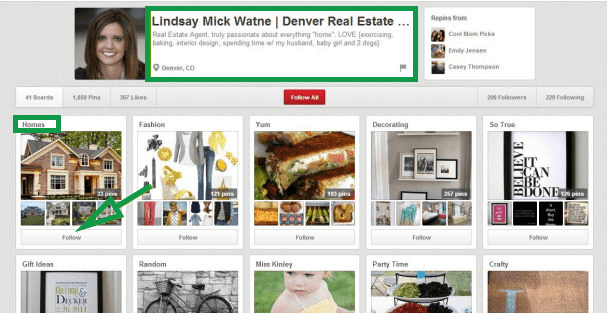 Yelp
Today, users rely a lot on reviews from others and the ratings they give a business. Since buying a home is one of the most important experiences in a person's life, it is to be expected that people will base their opinion of a potential real estate agent on the positive and negative opinions of other buyers.
Yelp is the most visited review platform in the world. Here, users have written more than 142 million reviews. As a professional agent in the real estate industry, positive reviews can boost your position in search engines and help elevate you over your competitors so it's important to focus on providing the best service you can and establish strong professional relationships with your customers. 

At the same time, Yelp can also work as a search tool, so keep your profile updated to remain visible and make it easy for users to locate and contact you. Here's a Yelp guide on how to add the call feature to your profile.
#4 – Start a Real Estate Blog
According to HubSpot, companies that publish more than 16 blog posts a month got 3.5 times more traffic than companies that did not publish anything. Despite that, only 11 percent of real estate agents have a blog.
Having a real estate blog could improve your odds of positioning your company on the first pages of Google and get you closer to your target audience. You just need to use your blog to create and promote the right content on a consistent basis.
To turn your blog into a successful marketing tool and attract more customers, find a topic that is of great interest but also connected to the phrases or keywords that your ideal buyer would look type into a search engine.
For example, if you sell houses in Salt Lake City you can write about the things that make that city a great place to live and why it should be considered when looking to move.
Dan Bhrom, an agent in Salt Lake City, and author of the blog SearchSaltLake.com knows very well that having a blog attracts a lot of potential clients. In this case, the person searched "moving to Salt Lake City" on Google and Bhrom's blog post was listed as the first option. 

Dan hasn't dedicated his blog to the listings of properties he has for sale, but he has managed to optimize it so that it appears for the right people in order to connect with potential buyers. 
#5 – Take Advantage of Real Estate Services and Websites
According to the National Association of Real Estate Agents, multiple listing services generate at least 32 percent of qualified customers so we also have to talk about how you can use that service to get more customers.
This marketing strategy is necessary in order to remain relevant in the technological world in which we live. This is especially true since there are giants like Zillow and Trulia leading the digital platforms. However, they are not the only ones. There are around 800 MLS (Multi Listing Services) that share ad information and invite other agents and brokers to collaborate.
Sellers benefit from greater exposure of their properties while buyers benefit because they can get information about all properties listed in the MLS while working with a single broker. 
According to the National Association of Realtors, two-thirds of real estate agents have their own web pages but report that they list the properties they wish to sell on multiple platforms, including REALTOR.COM, Google, Zillow and Trulia.
#6 – Create Newsletters
It is not surprising that more than half of merchants believe that email is one of the most effective channels for generating profit. 
Maintaining a weekly newsletter to send out to your regular clients allows you to remain relevant while sharing all the content you have already been creating on your social media platforms with them. This will generate interest and, if it is relevant and provides value, will be shared with their friends, family and contacts. Hopefully, those people will then go and subscribe to your newsletter or, better yet, contact you and become a potential client. 
To make your marketing strategy successful, you must follow certain patterns:
It must have relevance

: You must segment the emails that you send to adapt them to different audiences that subscribed to your newsletter. Sending relevant marketing pieces to your audience is a critical technique to ensure that your message is effective. A study by MarketingSherpa found that:

 
4 out of 10 subscribers reported that they marked the emails as spam simply because they were irrelevant.  
Must be goal-oriented

: Sending a newsletter should be aimed at a larger goal, namely to generate an even larger customer base. Identifying the purpose of each email will help you decide how that email should look and also measure whether it was successful or not.
It must contain quality content

: Creating quality content is not just something you should do, it is what the receiver expects you to do. The subscriber subscribed because they trust you will provide them with something valuable and interesting. Put yourself in the receiver's shoes and ask yourself if your content is something you would like to receive, don't think about selling; instead, give them quality information.
Examples of Good Content for a Newsletter
Content that is interesting and informative:

Share topics of interest based on your experience as an agent or the current times. For example, you can share bathroom remodeling ideas based on features in your favorite properties or you can share interesting developments concerning the current state of the real estate market.
Show some of your best properties:

Since the goal of everything is to gain more clients, you should take advantage of your newsletter and use it to promote the most interesting properties that you have at the time.
Use your videos:

Share one of the videos that you have produced about the neighborhood that generates the most interest to educate whoever reads the newsletter about interesting draws or popular restaurants in the area.
Keep them connected with your brand:

Finally, email marketing allows you to keep the content from all of your platforms together in a single click. Write an enticing invitation for them to follow you on all your platforms and to refer you to other potential buyers through incentives in order to maintain relevance and attract more customers.


These 6 marketing strategies for the real estate industry are effective and we can prove it. Following these steps, you will increase your customer base and position yourself as a great real estate agent. As you know, the industry is quite competitive so it's essential to use the right strategies to obtain the best results.