[COVID-19] To help mitigate COVID's impact on real estate agents, Kolau is waiving the fee to create a FORBES™ Award-Winning website with e-commerce enabled.
---
If you've been in real estate awhile you've probably heard the debate surrounding Facebook and whether or not you should be using it for your business. And maybe, even if you've decided to use it, you're finding yourself asking: how do I make sure I'm not wasting my time and money on marketing strategies that don't work?
If you were someone looking to rent or buy, where would you start? I know, every time I've looked, I've started online and I'm not the only one. The National Association of Realtors reports that, in 2017, 51% of buyers found the home they purchased on the Internet. That's definitely enough to justify having an internet presence but does it mean you have to be on Facebook?
Let's look at some simple, solid reasons you should try to reach people on Facebook.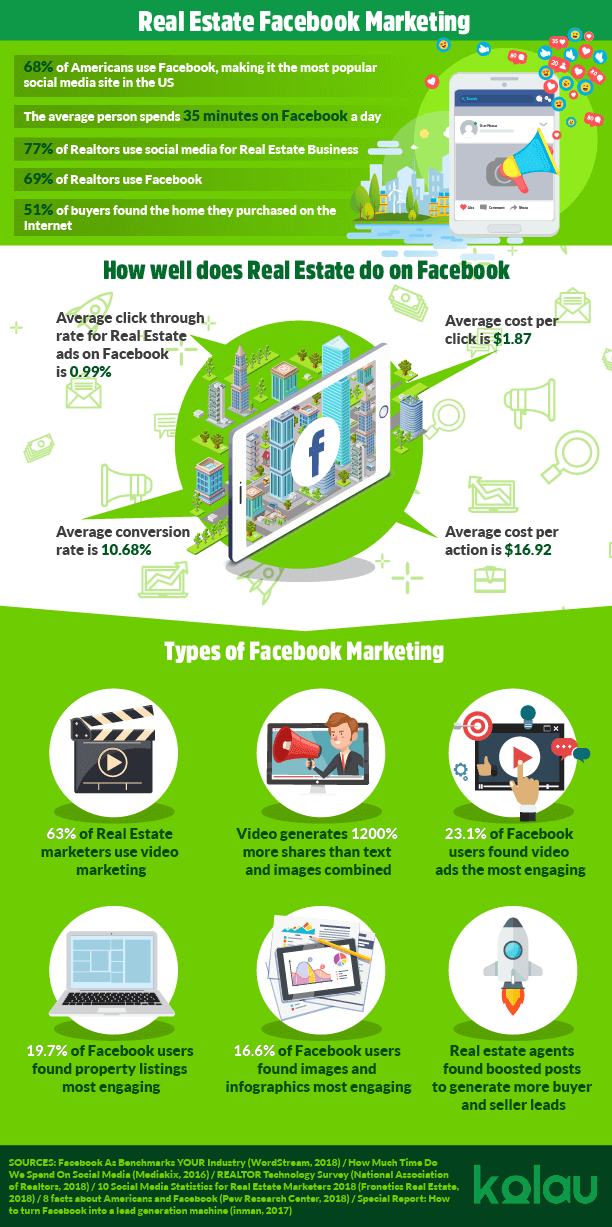 Why Facebook?
How many times a day do you open up Facebook? How long do you spend scrolling through your feed? As you probably expect, Facebook is extremely popular, beating out Instagram and Twitter by a long shot.
After YouTube, Facebook is the second most used social networking site in the U.S. 68% of Americans use Facebook and the average person spends thirty-five minutes a day on the website. That means there's definitely an audience to reach there.
There's an advantage to advertising to people on a platform they enjoy being on. It's like meeting them in their space, somewhere they know how to navigate and feel they can control to some degree.
It appears most Realtors have already discovered this:
77% of Realtors reported using social media and 69% of them reported using Facebook in particular for business purposes.
So, not only is Facebook great for finding leads, but it's also great for networking.
You could join a real estate Facebook group or follow real estate agents who give good advice or keep up with real estate trends. Networking as a marketing strategy can be slow-going but it can create great opportunities for more deals. Not only can you receive great advice from a connection you can also receive referrals! Just make sure to return the favor when you can.
Putting Facebook's popularity aside, the numbers also show it's a particularly effective place to market your real estate business. Real estate is alive and thriving on Facebook. Take a look at WordStream's article on Facebook Ad averages organized by industry. It goes over average click-through rate, cost per click, conversion rate, and cost per action for seventeen industries.
Click-through rate refers to the percentage of people who click on one of your ads while conversion rate refers to how many of those people become clients. The higher the number the better in both cases. On the other hand, you want to keep the cost per click and cost per action low as they refer to how much you have to pay for each click and how much you pay for a conversion respectively.
Real estate is between the best and the worst for most categories but definitely leans towards the good. Real estate's average click-through rate isn't the highest or the lowest (0.99% while the highest is 1.61% and the lowest is 0.47%) but the conversion rate (the number of people who take action after seeing your ad) is 10.68%, making it one of the top industries for finding prospects on Facebook (the fifth top industry, to be exact). 10.68% is a significant number, going above the Facebook average of  9.21% for all industries.
The cost-per-click, referring to how much you pay to Facebook every time someone clicks on your ad, for real estate is slightly above the Facebook average of $1.72 at $1.81. So it's important you do everything you can to make your ads count. The average conversion rate is good for real estate but it's only the average. With a good marketing strategy, you can increase your number of clicks and maximize your return on investment.
The Facebook Marketplace
Facebook's Marketplace has a category for "Housing" which you can use to list the homes you have for sale. Though still somewhat new, the Marketplace for real estate is already making a splash. It's got the reach of Craigslist without the anonymity, which means much less spam and scams.
It's easy to set up. All you have to do is click the "Sell Something" option under the Marketplace menu on the left. It will lead you through the steps necessary to set up a listing on Facebook. You can set the location as well so that only people looking for your location will see the listing.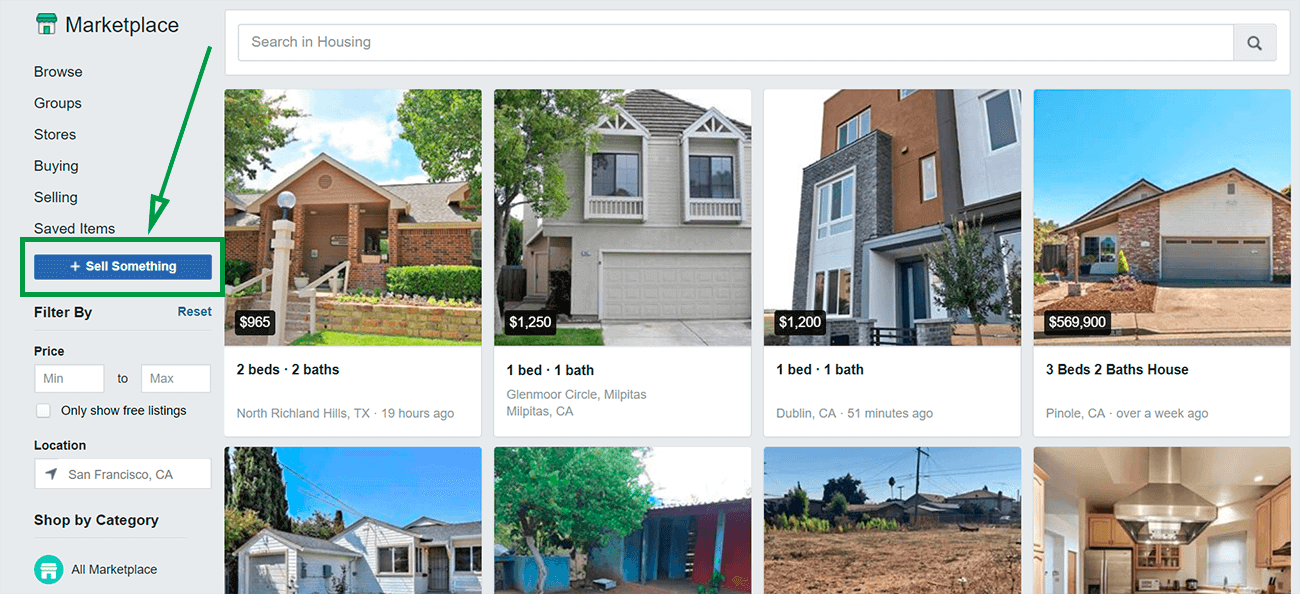 People will message you if they're interested in one of your listings and you can discuss money or arrange for them to see the home or answer their questions or talk about any other small details. People can't purchase anything over the Marketplace (which is probably for the best), only inquire about details.
The Facebook Marketplace is huge because Facebook itself is huge. Not only that, Facebook makes setting up a listing for something extremely accessible and easy. Facebook is widely used and neglecting to put your listings on the Marketplace could lose you a lot of opportunities for leads.
You can also set up ads to show up in the Marketplace (in addition to the News Feed) which could be especially beneficial if you catch someone actively looking for the kind of home you're selling.
Marketing Strategy #1: Your Facebook Business Page
Your Facebook fan page is like your home page. If someone clicks on your business name at the top of an ad, it'll take them to your fan page where they can see your business information. It represents your business as seen on Facebook and we want it to look simple but attractive.
Include a cover and profile photo. Without these, your page will look incomplete. Fill out your about page too. Provide information about what kind of real estate you work with. Clarify your location to avoid confusion, like in the example below.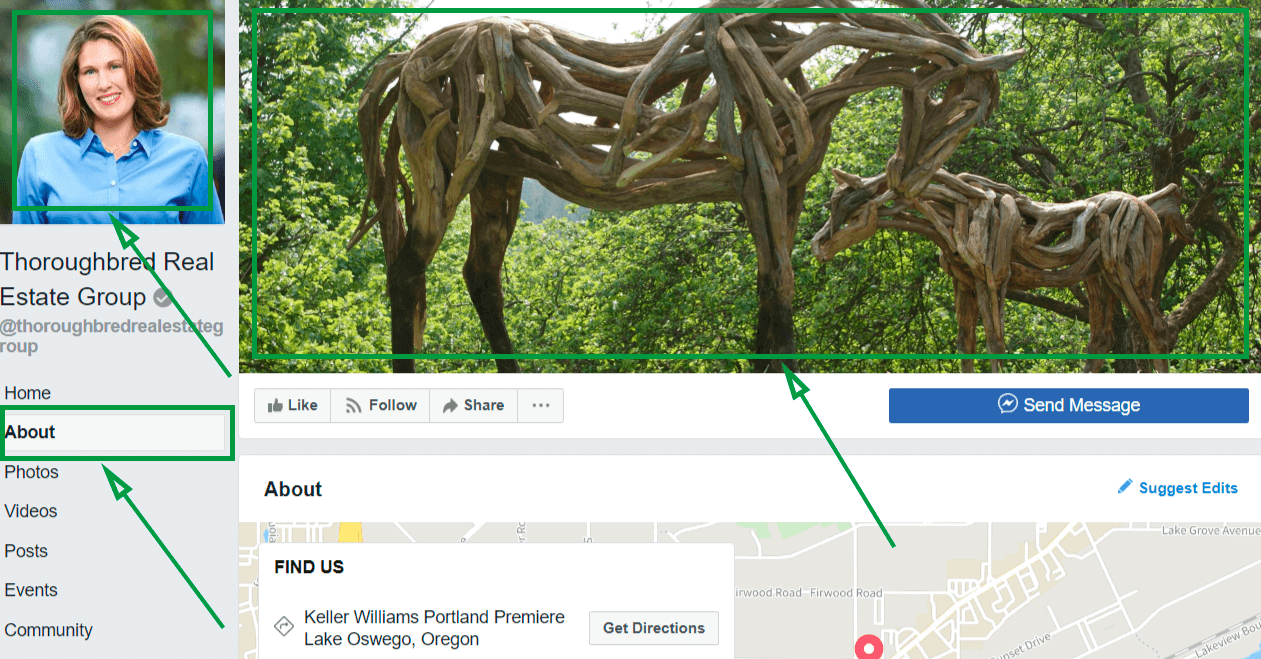 On this Facebook about page, they clarify what their location is and have a cover image that relates to what kind of real estate they work with (equestrian property).
Make it easy for people visiting your page to see what is unique about you and your business. Specificity is good. It makes it easier to attract the sort of clients you're looking for and it saves you time and money dealing with people who would not be interested in what you're selling.
That said, you don't have to overcomplicate your page by adding every bit of information you can think of. You can link outward for listings so don't feel the need to list them on your Facebook and clutter your feed.
When a particularly nice listing appears, it's fine to make a post about it to let people who like or follow your page know about it, but your Facebook page needs to include more variety than just listings. Post articles or tips related to real estate. Try to stay active and post at least once a day to stay visible on Facebook.
Keep in mind that the time you post is also important. If you want to find out what are the hours in which you'll get more engagement, take a look at our article on the best time to post on Facebook.
Things you can consider putting on your page are reviews. Have you received multiple five-star reviews? Definitely show it at the top of your page.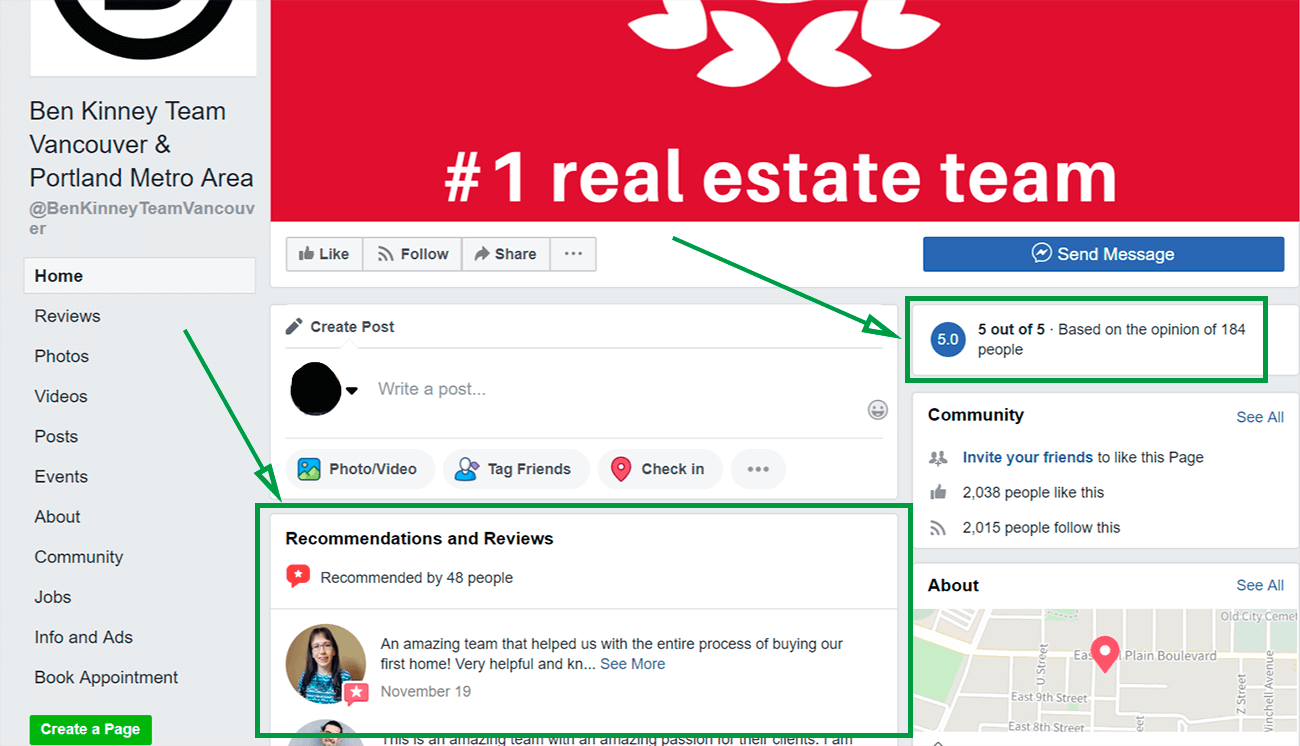 Notice how this Facebook page shows that 184 people have given them 5 out of 5 ratings. Lower down, you can see the section for "Recommendations and Reviews," emphasizing the positive ratings even more. Showing that thousands of people like and follow the page under the Community section also looks good.
People are more likely to use your services if you have positive reviews. It makes you appear reliable and trustworthy. The Spiegel Research Center found that showing positive reviews can increase the likelihood of a purchase by 270%.
Also, emphasize how easy it is to contact you. Notice how in the screenshot above, the page has the typical "Send Message" prompt but it also has a link for booking appointments in the sidebar. If you prefer people email rather than send you a message through Facebook, or something similar, let them know!
Marketing Strategy #2: Facebook Ads
Facebook allows you to use ads in a multitude of ways. You can go as simple as a typical image ad or you can make videos or slideshows. Let's take a look at what kind of ads Facebook offers and how you can use them for your business.
Types of Ads on Facebook:
The single image ad is probably the easiest to create. All it consists of is a photo, a caption, and a link. It's important for all ads to have interesting imagery and attractive captions but even more so for one that attracts attention only using those two things.
Most likely, potential clients will notice the picture first. As they say, a picture is worth a thousand words but make sure the picture is relevant and eye-catching. Advertise your most beautiful listing or show how happy your last client was with their home.
Always include a call to action—something that gives whoever is interested in the ad direction. Ask them to click to sign up for more listings or instruct them to call for information on a particular home. Every word counts here.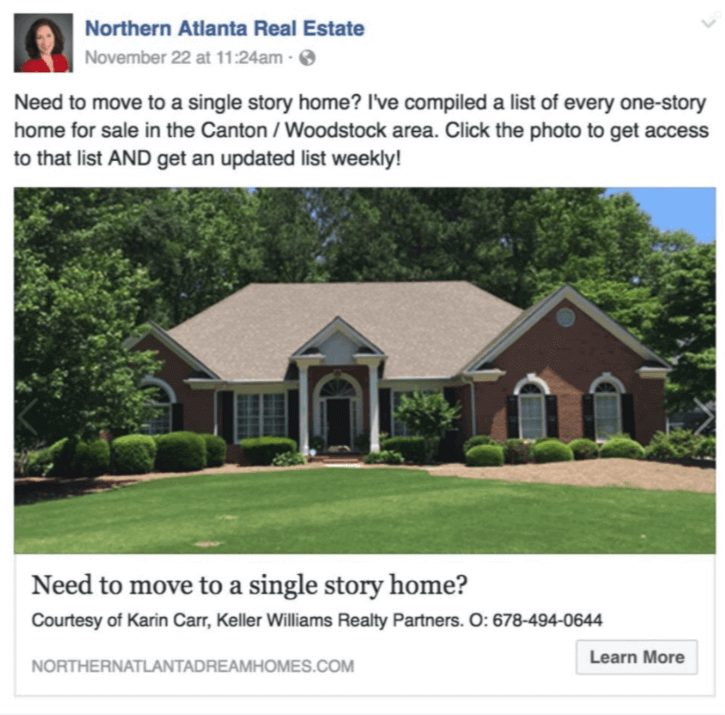 Source: AdEspresso
In this example, Northern Atlanta Real Estate uses an image to showcase one listing but includes a call to action (clicking on the picture). Not only do they prompt viewers to click on the ad but they also tell us what we'll get from clicking.
According to Hootsuite's 2018 social media trends study, video ads have been shown to be the most effective kind of post for engaging users on all platforms. This is probably why YouTube is the only website found to be more popular than Facebook.
People love watching videos, especially on their mobile phones. So one of the best things you can do is create an ad that instead of a picture has a video attached.  All of the same suggestions apply for the caption. Don't forget to include a call to action. But what kind of video should you post?
Walkthroughs of homes or interviews of past clients with positive things to say are a few things you could do. Take a camera through a new listing to show your audience what it looks like on the inside. You could also use videos to incorporate content marketing into your marketing strategy.
Make how-to videos or give advice to people looking to buy or rent or share your opinion about some recent news. You can make a video about anything related to real estate. You can do this with organic, non-ad posts as well.
Slideshow ads can be made with a collection of images or a video. The name is pretty self-explanatory. The collection of images or the video you choose make a slideshow a few seconds long to tell a story. This kind of ad is perhaps a bit easier to do than a video ad and it has the advantages of engaging moving pictures.
Carousel ads let you choose up to ten images to showcase in a single ad. Facebook users can scroll horizontally through one ad to see the multiple pictures. As Facebook themselves put it, you can
"highlight different products, showcase specific details about one product, service or promotion, or tell a story about your brand…"
This would be a great way to highlight multiple positive things about a specific listing or to show what listings you have available in a particular location all through one ad.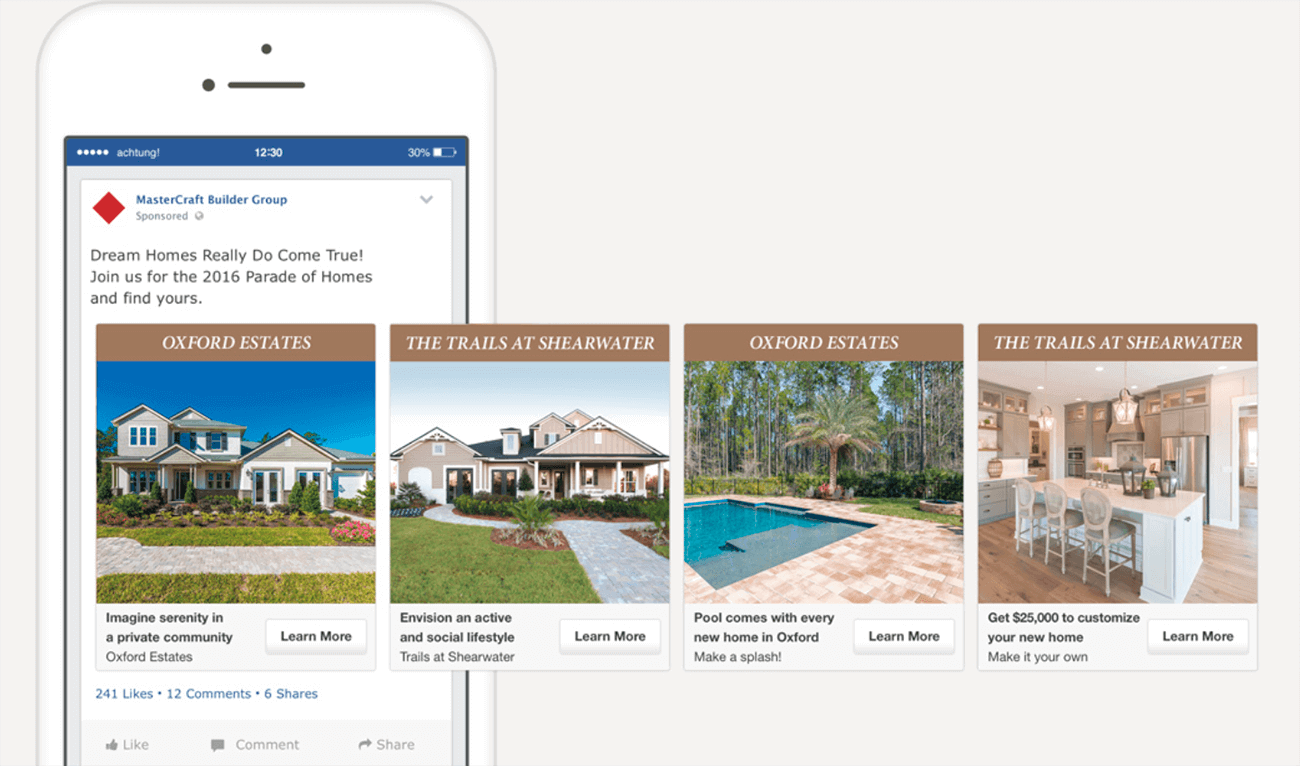 Source: Wishpond
In this ad, the real estate company showcases two properties and includes two photos for each one. Showing what it looks like on the outside and giving a peek to the listings' features (the pool and the kitchen) garners interest and emphasizes some of the homes' attractive aspects.
Collection ads are more interactive than some of the other ads on this list. You can use them to showcase, in the case of real estate, four listings at once underneath the main image or video ad. These kinds of ads are meant to accompany another type of ad.
For example, you could have a video ad showcasing a collection of your most recent listings and underneath it an interactive, clickable display of the actual listings themselves.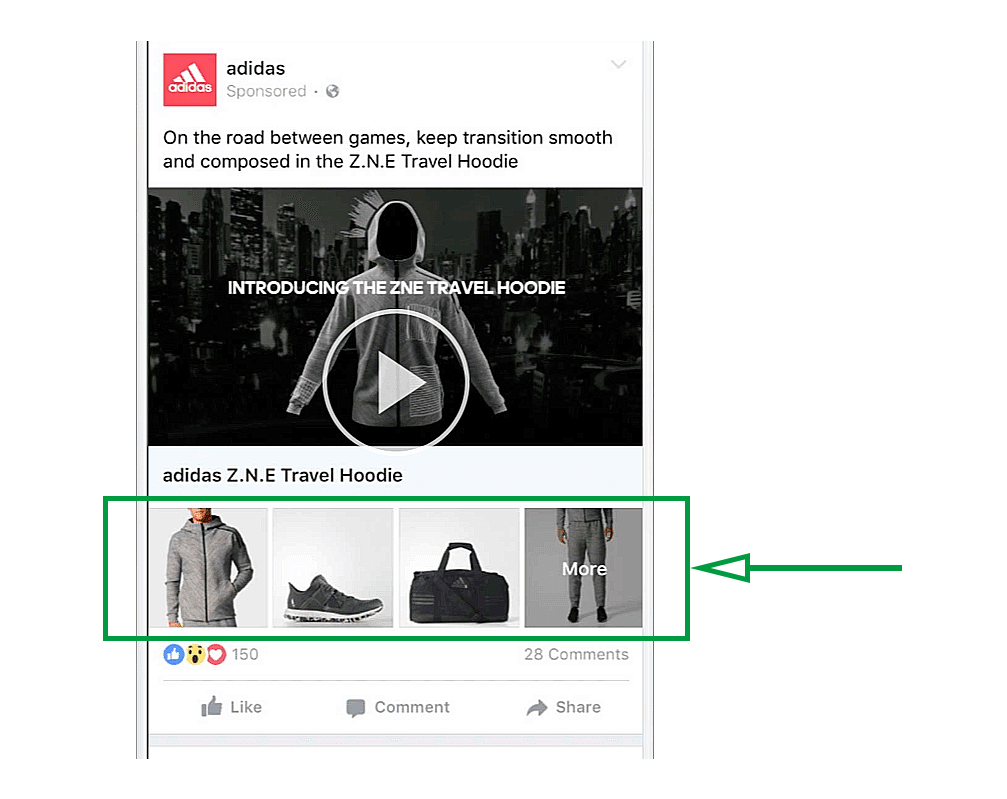 The ad above shows how you can click on a regular video ad and also see four showcased products from Adidas.
Messenger ads let you market yourself on Facebook messenger. Facebook has a different app for their messenger system and so making sure you're advertising there can expand your reach. If someone clicks on your ad, you can send them where you choose, be it your website, page, a particular listing or even into an automated conversation with your business, according to Facebook.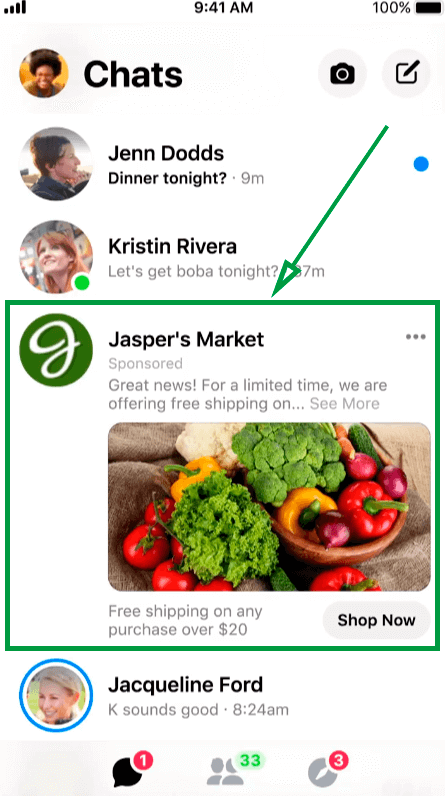 Sending them into a conversation does away with all the extra steps they would have needed to get there without your ad (e.g clicking on your business page and clicking through to get to your messages). That makes it as convenient as possible for them to contact you.
Canvas ads can only be viewed on mobile devices. When someone clicks on your regular ad, it'll bring up the ad in fullscreen. You can design this part of the ad like a storefront, contact form or whatever you would like (think of a condensed webpage).
You can see how clicking on the ad brings up a whole new webpage, where you can scroll through to view their listings and take a virtual tour.
According to Statista, as of January 2018, 95.1% of Facebook users worldwide accessed Facebook through their smartphone. The fact that the vast majority of people use their smartphone to access Facebook makes it that much more important to focus on making some or all of your ads translatable to mobile. Canvas ads were made for mobile devices and could prove to be a great way to produce more leads.
Ad Formats to Enhance Your Ad Types
Dynamic ads can be used to automatically create ads tailored for the person viewing them. Instead of manually making individual ads, you just make a template that will create the ads for you. They don't look any different from non-dynamic ads.
Before you set up a dynamic ad you have to create a catalog. A catalog is made up of three things, the catalog itself, the data feed, and product sets.
The catalog itself contains all of your products.  In the case of real estate, your "inventory" can be made up of the listing you want to advertise.
The data feed is where you put all the information you have on each of your products (pricing, availability, etc.) The last requirement of a catalog is product sets.
Product sets allow you to choose what products (listings) appear in a particular ad by category. You can include all your listings in one product set or you could organize them by type of home, location, price, etc.
After setting up your catalog, you can set up your dynamic ads. In the words of Facebook, dynamic ads automatically promote your inventory to people who have expressed interest on your website, in your app or elsewhere on the internet.
Lead Generation Ads: AKA Sign Up Now Ads
Facebook lead ads are made for mobile, designed to make signing up on forms easy. When someone clicks on your ad on mobile, a form will pop up asking them to give you their contact information. Because Facebook already has their information, it'll just auto-populate, making it that much more convenient for your potential client.
Facebook claims:
Lead generation ads increase lead generation by 2.8x.
This type of marketing can be especially beneficial to real estate agents, considering how real estate functions. It's not as simple as someone going online and buying a house. With lead generation ads, you'll make it easier for people who want to and have to contact you for one of your listings to do so.
Marketing Strategy #3: The Importance of Targeting
Because of the information users provide to Facebook (interests, location, education—the list is endless), Facebook is very good at targeting the right people. It's up to you to make sure you give Facebook the information it needs to utilize it's targeting system.
Want to target people in a specific area? You can tailor your ad to only show for people who live in that area. Looking for newlyweds or families with kids or grandparents? Facebook knows who those people are. You only have to indicate you want your ad to target them.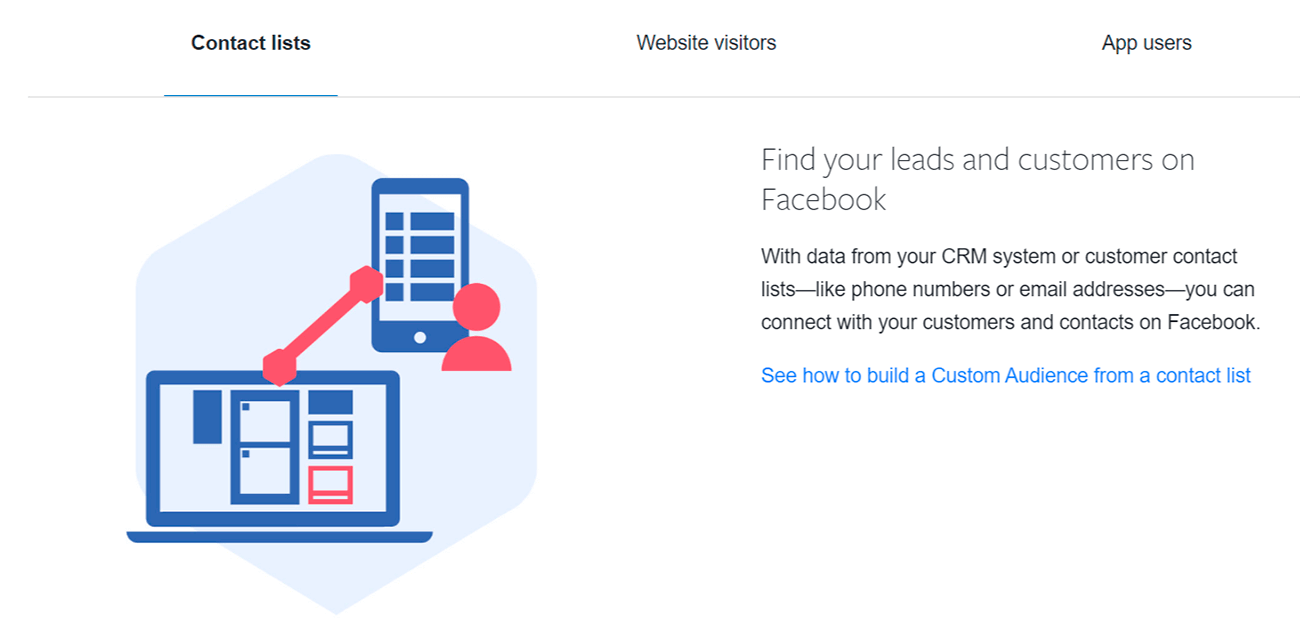 Be Niche
Remember when we said the average cost per click for real estate ads was higher than the Facebook average for all industries? Facebook, just like Google, bases whose ad gets seen by who wins the bid for that spot. Unlike Google, you're bidding for the spot on a Facebook user's feed. Facebook bases this partly on who you're targeting and that's why aiming to reach a niche group of people can be very effective and save you money on clicks.
Remember the real estate agency specializing in Equestrian property? Their specialty is a good example of a niche target.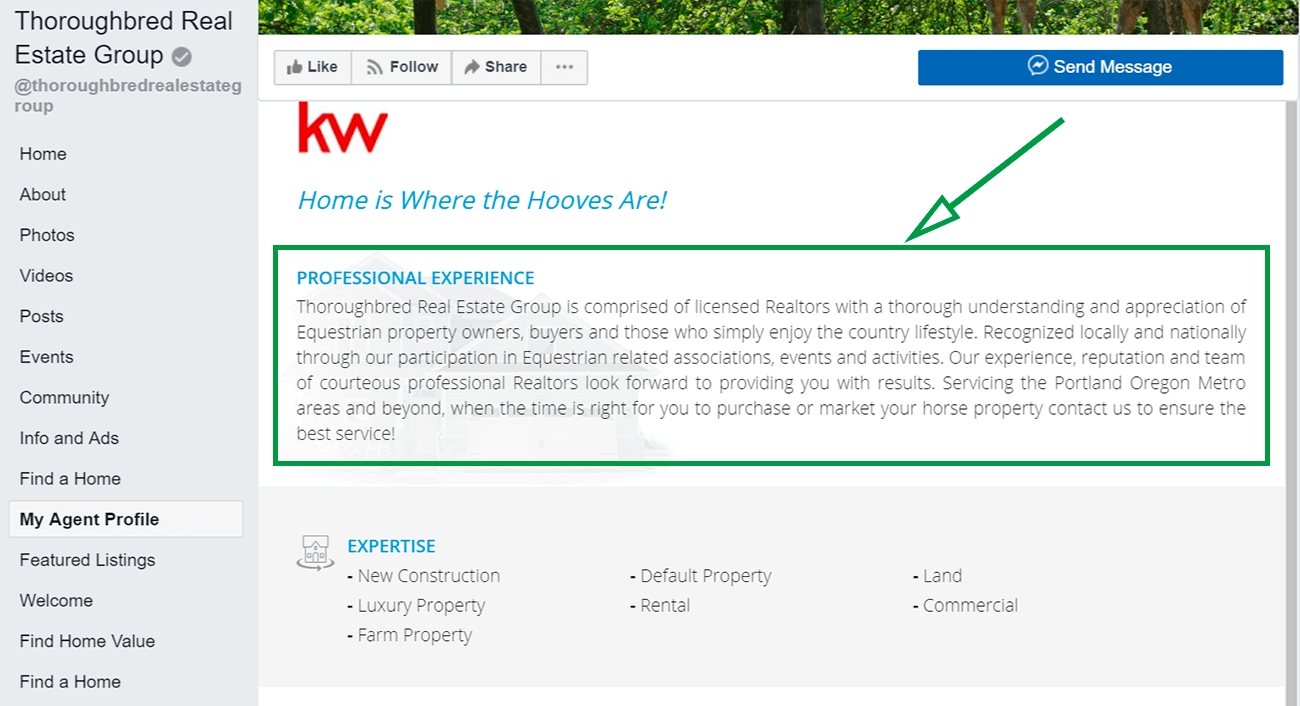 The real estate group has built their entire identity around Equestrian property to the point that their slogan also references horses. This is a good example of a niche specialty that will pay off for their business because they're targeting a very specific group of people. The competition will be low and the cost-per-click will cost less. The more specific you are in who you're looking for the more significant your results will be and the less money you'll spend on clicks with no return on investment.
Take a look at your listings and think about what kind of person would be looking for them and why. Maybe you have a listing for a small one or two bedroom home right outside downtown Portland, OR. You could target middle-class newlyweds who spend a lot of time in downtown Portland and would be interested in living nearby, for example.
Marketing Strategy #4: Get More Eyes on your Posts and Ads
There are a few options to be aware of when you're posting content on your timeline or creating ads. Facebook provides certain features for businesses meant to either widen awareness of your brand, increase engagement for your ad, or prompt their users to take action. Here are things to consider when using Facebook.
Boosted Posts
If you make a regular post and you want more people to see it, you can easily make it into an ad by pressing the "Boost Post" option on the post. Boosted posts are not the same as Facebook ads. They are not created in Ads Manager and are less customizable but it still uses Facebook's targeting system by prompting you to pick who you want to see it, your max budget and how long you want the ad to run.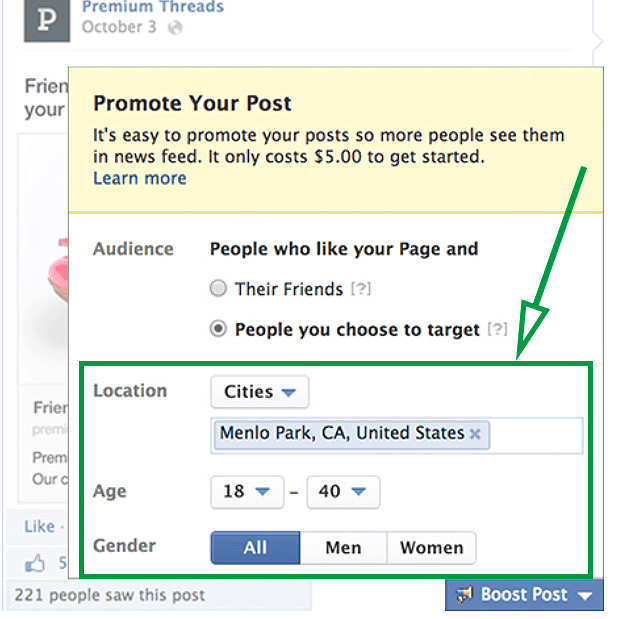 So, if you make a video that you're particularly proud of and think would get you a good amount of leads if more people saw it or maybe the post isn't getting as much attention as you hoped, you can press "Boost Post" and make it into an ad. This is a good way to increase brand awareness and engagement with your post.
Event Posts
You can utilize the "Boost Post" option to make an event post, like an open house, into an ad. This allows you to reach more people who might be interested in attending an open house and increases the number of RSVPs for the event.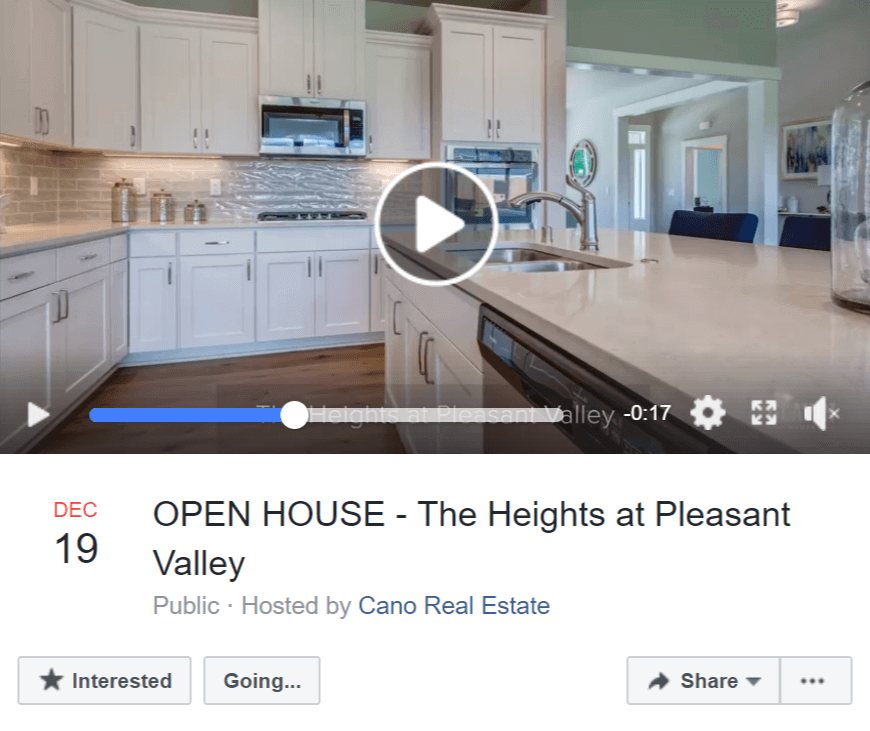 Marketing Strategy #5: Remarketing
Have you ever clicked on something you thought you might buy, decided not to, and then found the product followed you from website to website? Say you browsed through a website looking for two-story houses, clicked on one and then clicked out. Later, when you've left the website and are browsing through your favorite social media platform, that house you clicked on is there again in the form of an ad. That's remarketing.
Facebook Ads (Like Google Ads) use cookies to track you around the internet and remarket the product you've already shown interest in. On Facebook, there are a few ways you can remarket to your audience. When you go to create a custom audience, Facebook will offer you five options: customer file, website traffic, app activity, offline activity, and engagement.
The first on, customer file, relies on a contact list. You can choose to remarket to your contact list with personalized messages. You just need to upload a list of information such as email addresses or phone numbers and Facebook will find their profiles and market your ads to them.
You also can remarket to website traffic, those who have visited your website and through engagement, meaning those people who somehow engaged with your content or clicked on your Facebook ad.
Offline activity finds people who have come into a store or called your business before. The app activity option is only relevant if you have an app as it remarkets to people who have interacted with your app.
Once you choose your audience type, Facebook will lead you through the steps necessary to create a remarketing campaign. It will ask you to upload your contact list or choose what kind of engagement you want to prioritize. For example, you may only want to remarket to people who clicked on an event or on one of your ads.
To reduce cost and market to more relevant people, use Facebook's targeting system to remarket to a smaller contact list. It'll save you money on cost-per-click and you'll likely get more conversions because you're reaching out to the people most likely to be interested.
The Last Steps
Organic Posts
We've talked briefly about content marketing and posting on your Facebook timeline. We've mentioned how making videos, sharing articles, or giving advice can keep the users who like your page engaged and aware of your existence.
The more active you are, the more visible you'll be on Facebook and the more likely your followers will continue to follow and like your page. There's no substitute for quality posts and you'll benefit from having a social media schedule that reminds you what and when to share content.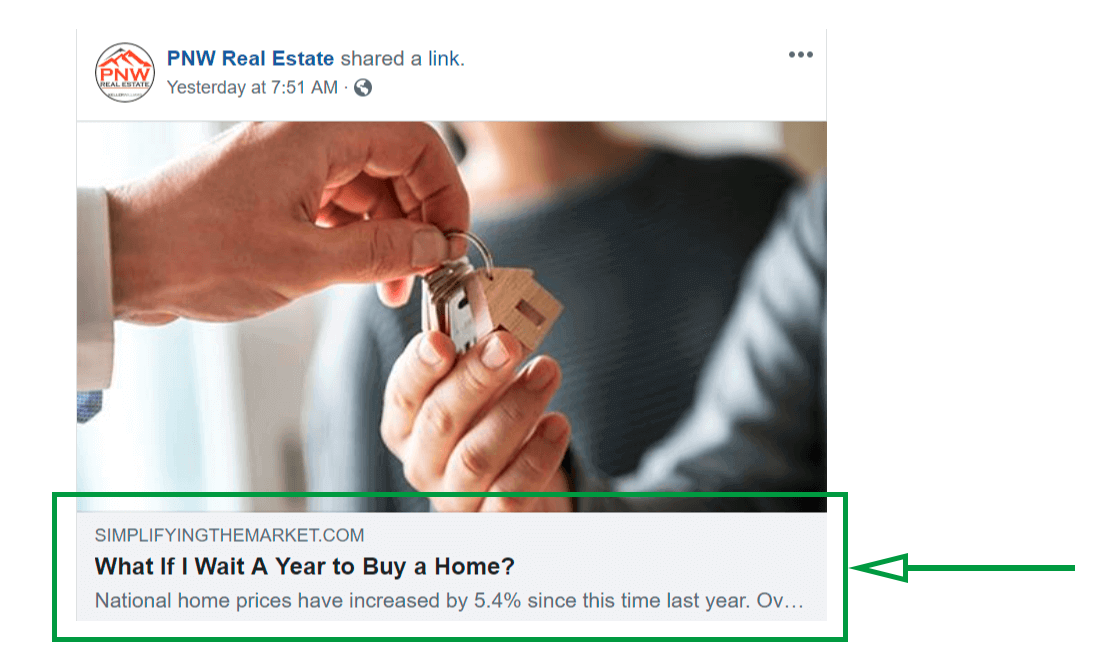 In this example, PNW didn't write their own content but they shared an article related to real estate that their audience might find useful. Though it would be more beneficial to make your own content, when it comes to sharing organic posts, anything related to real estate that you genuinely find useful or interesting is a good way to go.
You don't have to limit your posts only to housing and real estate, though. In fact, it would be a good idea to expand somewhat to keep your posts unique, useful, and interesting. Give advice that has to do with decorating your home or saving money while moving.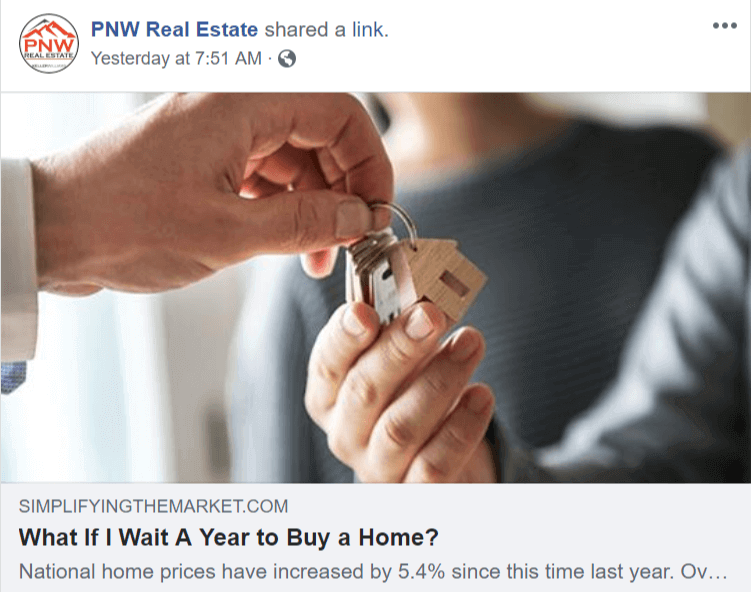 ABODO keeps their audience interested by sharing articles that would be useful even for those who have already found a home or apartment through them. This is a good way to keep current clients interested and encourage them to go to you first when they're ready to move again.
Post about your community too. Share articles and news that talk about what's going on in your city or why it's a great place to be. If you keep up with what's happening in your area, you'll become a go-to source of news and updates.
Follow Up with Clients
Be timely with the clients who reach out to you. At this step, you've already gotten the conversion—the Facebook user has taken action and it's up to you to take care of the rest. Don't give them time to find another agent or property listing.  Your online marketing has paid off and it's time to begin the real sale.
Now you know the potential of Facebook for real estate agents and how to make the most of this social media platform to win more clients. Do you dare to put these strategies into practice?