[COVID-19] To help mitigate COVID's impact on small businesses, Kolau is waiving the fee to create a FORBES Award-Winning website with e-commerce enabled for tourism businesses.
---
Whether you're just starting out in the hotel industry or you're looking to boost your already established business, a good marketing strategy can only help you. While marketing is a broad topic, there are specific marketing strategies for hotels that can help you reach your target audience and book all of your rooms easily.
Analysts say that there's a great opportunity for growth in the midscale hotel industry and that hoteliers are increasingly aware of it. However, with growing opportunities comes increased competition. In fact, a Deloitte analysis found that competition in this market is poised to heat up in 2018 and the coming years.
To deal with this, most midscale hoteliers concentrate on creating a luxury experience for their guests. Those that are more experienced in the industry already know how to take advantage of the opportunities within the industry and are offering their customers the environment, the sensation and the experience of an expensive hotel for an affordable rate.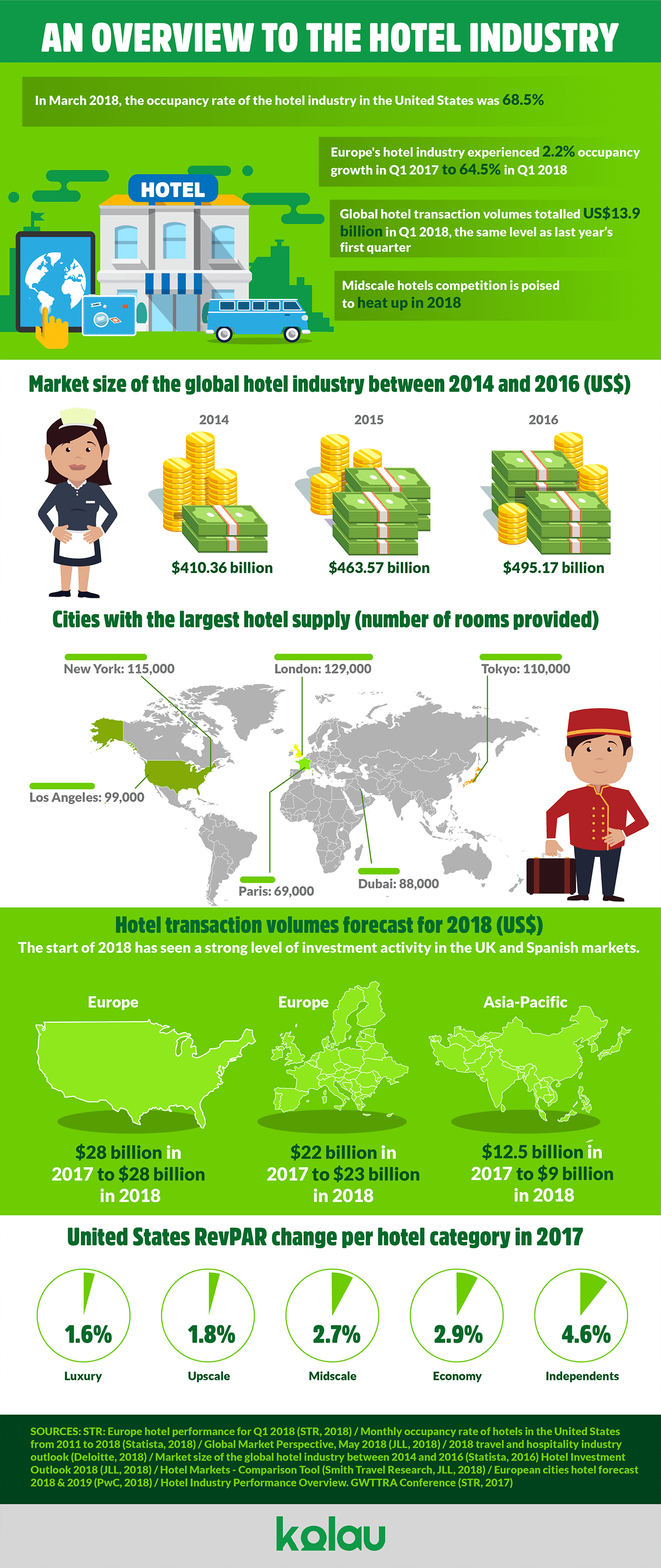 Although several studies show that, in general, the panorama of the hotel sector enjoys positive growth, those hotels that don't manage to innovate risk losing market share. Today, just by sliding your finger on a smartphone with a travel app, consumers can see and compare hotels instantly and apply filters to find exactly what they're looking for. According to Statistic Brain, more than 148.3 million people use the Internet to make accommodation reservations, tours and activities. This statistic represents more than 57 percent of all travel reservations every year.
The Internet and new technologies offer new channels that are even more effective than traditional ones. They allow businesses to gain more visibility at a much lower cost, to interact with potential customers and measure all actions and results. In this post, you'll find five ideas to help you create a full marketing strategy for your hotel and make the most of the opportunities offered by the online environment.
#1 Use Storytelling to Differentiate Yourself from Your Competition
When defining marketing strategies for a hotel it's essential that the hotel in question has something that makes it unique, something that allows it to differentiate itself from its competitors. There are many ways to achieve this. You can have a unique building, extraordinary service, a different price strategy, striking decorations, a specific theme, an interesting backstory or another unique factor. The key is to tell potential customers about your unique experience in an engaging way that connects with them emotionally.
In a TED Talk, Simon Sinek, owner and founder of Start With Why, said:
People don't buy what you sell, they buy why you sell it.
 When designing your marketing message, it isn't enough to describe your hotel and the services you offer. You must tell your target audience why your business is made for them and also tell them what they'll experience if they decide to stay at your hotel.
Storytelling is one of the best ways to do this. It helps you link the product or service of your brand with a concrete experience charged with symbolism and emotion through a story. Backstories linked to your hotel are powerful because they help generate trust, are easy to remember and, therefore, easy to share.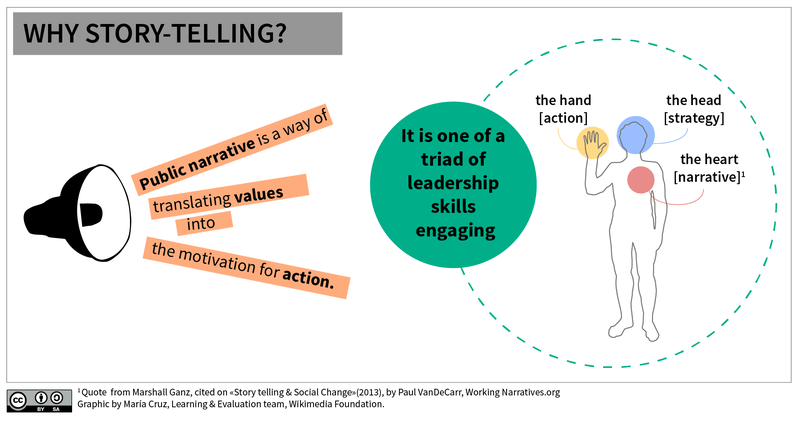 You don't have to invest a large amount of money in a television spot with a single narrative to do this. Instead, try to think about what stories are hidden behind day-to-day activities in your hotel or its characteristics and talk about them. For example, you can tell different stories in your social media posts, newsletters that you send to your clients, on your website, through blog posts or through posters and brochures inside the hotel. Below you can see some examples of hotels that apply storytelling in their social media posts:

#2 Register Your Hotel in the OTAs Your Target Audience Uses
As a hotel owner or manager, you've most likely heard of Booking.com, Trivago, Kayak, Hotel.com and Expedia.com. These websites are the ones that take up the first page of a Google search results page when you type in something like "hotels in Hawaii" or any other destination. Online Travel Agencies (OTAs) have already been investing heavily in digital marketing and online advertising for a long time in order to get users to visit their websites for hotels, flights and related services.
These agencies help users find offers, compare hotels easily and book rooms all through their own platform. The harsh reality is that if your hotel doesn't yet have a reputation and isn't linked up with an OTA, it's almost impossible to obtain visibility on search engines for any relevant keywords. In addition, a Google global travel survey found that Google searches are the most common way users find their ideal hotel match during the trip planning phase.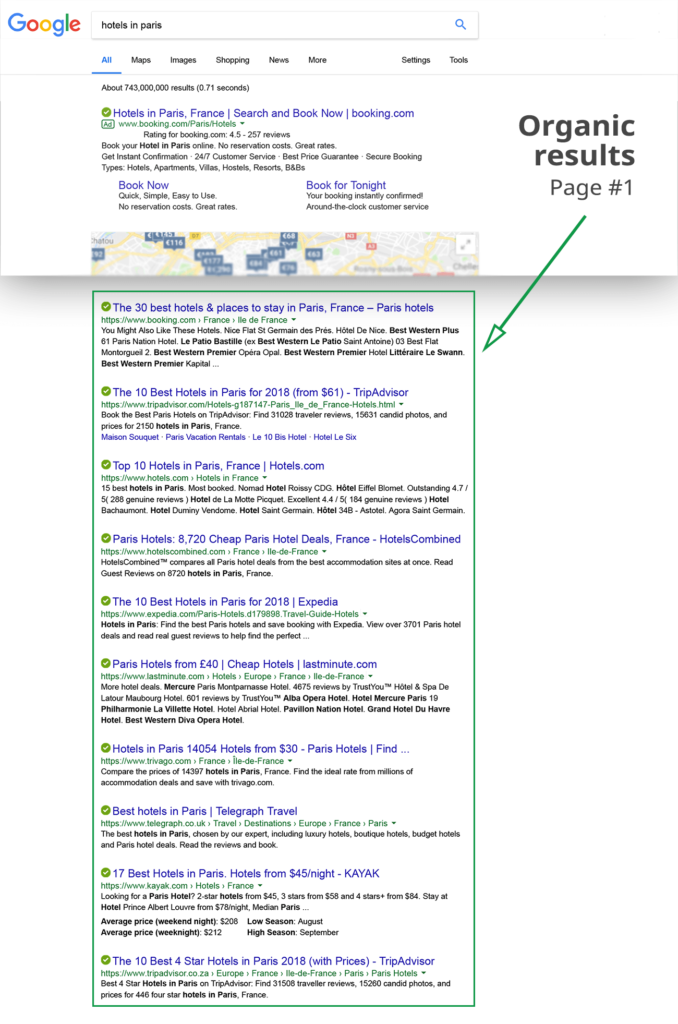 According to the HSMAI Foundation, 76 percent of independent hotel reservations are made through OTAs. Therefore, there is no doubt that they should be part of your hotel marketing plan.
However, you should bear in mind that these agencies won't provide you with free service. They charge you a booking fee that's usually between 10 and 35 percent depending on the given location and the type of property in question. You should be cautious with the commissions and assess which OTAs are the most appropriate for your hotel, taking into account both the value of the commission and the type of users who usually use their platforms. The OTA(s) you choose should coincide with your target audience so you reach your ideal customers.
Still, if you design a good loyalty strategy, you can get clients to skip the OTAs and return to your hotel by booking directly. This lets you avoid paying commissions.
#3 Promote Direct Reservations Through Your Website
The fact that your hotel is present on Booking.com doesn't mean that you can forget about having an updated website that allows potential customers to make direct reservations. A survey conducted by Google revealed that 52 percent of travelers visit a hotel website after seeing it on an OTA. This means your hotel's website plays a significant role in the purchase decision. In addition, it also represents an opportunity to increase your direct bookings and avoid the OTA fees.
The key is to ensure that the users who discover your hotel through an OTA end up making the reservation directly with you, either by phone, email or through the booking system integrated into your website. For example, the hotel chain Wyndham Hotel Group updated its loyalty program to face off against the power of the OTAs by offering a 20 percent discount to all guests booking a stay of more than two nights directly through the company's website.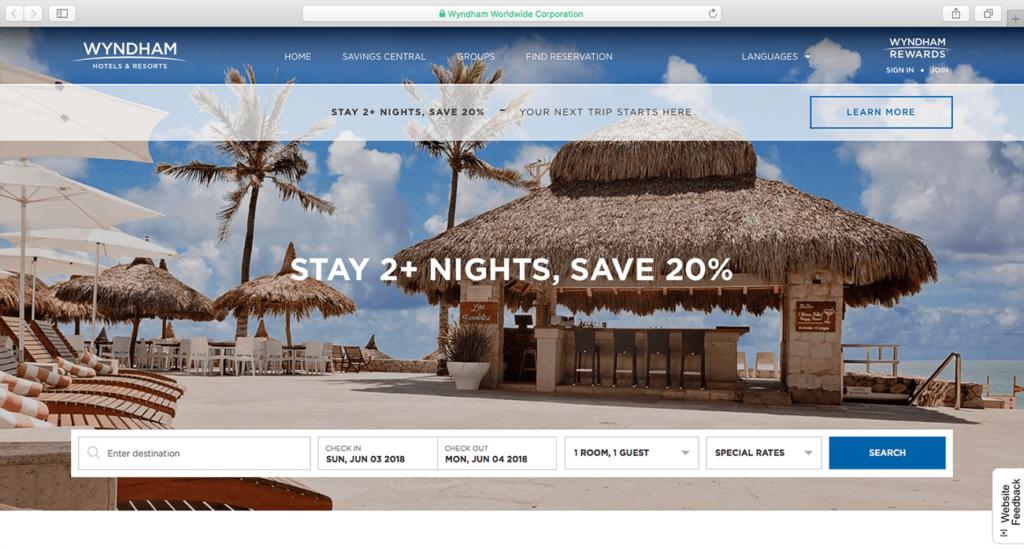 Here are some tips to get the most out of your corporate website to achieve direct bookings:
Make sure your website is user-friendly.

The navigation on your website must be simple and intuitive. Keep in mind that a creative and innovative design that moves away from the patterns that users recognize won't work. Choose a visible menu bar at the top of the page or as a column on the left side of it. Place your hotel logo at the top left and make it a button to return to the homepage. Remember that the final goal of your website is to get users to contact you or make a reservation directly through you. Your website should make it easy for them to check your rates, see pictures of the facilities, check the availability of the rooms, browse the services offered by the hotel and, above all, make a reservation.
A responsive design is no longer an option but an obligation.

In 2015, Google began penalizing sites that weren't responsive. If you want your website to appear on Google's results pages, you must make sure that the design of your website adapts to the screen of any device. In addition, a

Google study

revealed that users increasingly use their smartphone to perform searches and make hotel reservations at the last minute. Thanks to this, searches for words such as "hotel for tonight" have increased annually. According to Google, 79 percent of users who searched for hotels through their smartphone ended up making a reservation, so if your website doesn't adapt to mobile devices, you'll lose the opportunity to take advantage of the great conversion potential offered here.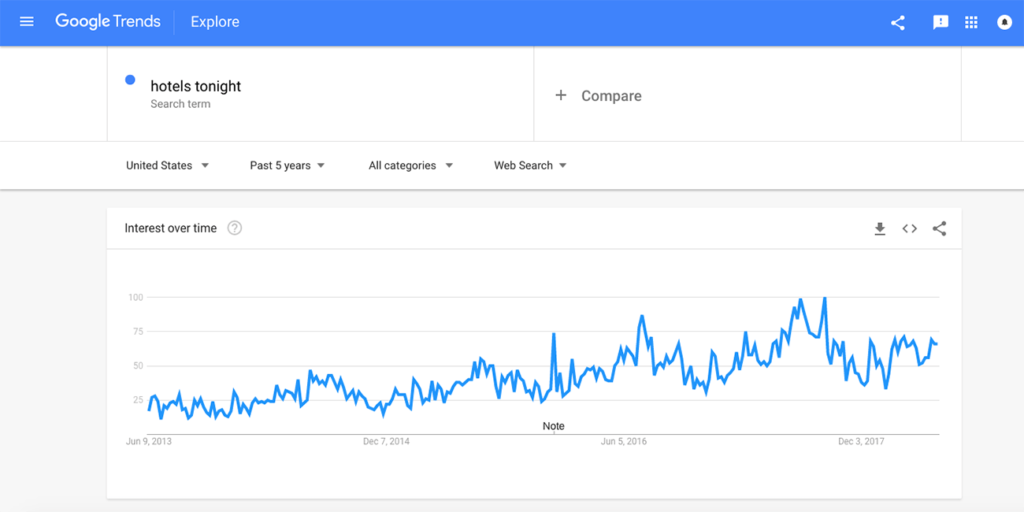 Use more images and less text.

On many occasions, the visual appeal of a hotel is the decisive factor for guests. Make sure your website uses a visual design in which the photographs are the protagonists. Lacing a full-screen video or a slider with high-quality photographs of the facilities and rooms of your hotel on your website's homepage is a good way to catch the attention of your visitors and give them a glimpse of what you can offer. For example, the Hotel Prisma website includes an attractive full-screen slider with high-quality images.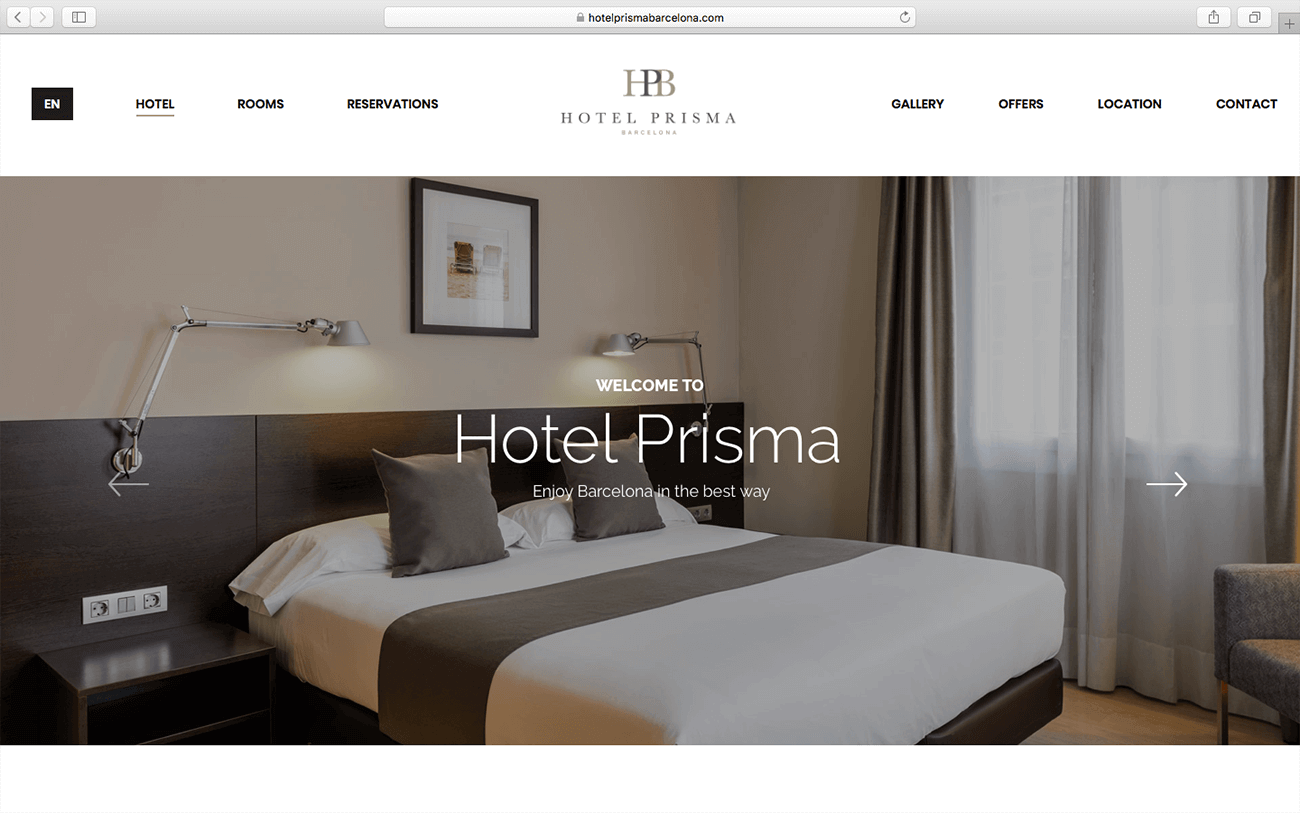 Employ SEO strategies on your website.

Choose the keywords that you plan to use in each page of your website that will respond to the searches that your potential customers would type into Google to find your hotel. Make sure you don't repeat them on more than one page to avoid a conflict known as "

keyword cannibalization

". From your initial keyword list, choose the words that have a high volume of searches and a low level of competition. You can find this data using tools such as

Google AdWords Keyword Planner

,

Moz

or

SEMrush

. Once you select the best options, place them in your website content, especially in the titles, subtitles, first paragraph of the text, the snippet of the page's URL (the text just after your domain name), the "alt" tag of the images on the page as well as the meta description (the summary that appears on the Google results page).
Offer visitors some incentive for reserving a room directly through your website.

There are a thousand ways to encourage your visitors, whether with discounts, gifts or unique experiences. It's about knowing your target audience in-depth and choosing the method that best suits your preferences and interests. For example, suppose you have noticed that most of your customers are foreigners and usually arrive by taxi from the nearest airport. In this case, you could offer them a small credit for the flight, free transportation from the airport to the hotel and a welcome cup of coffee in exchange for making a reservation through your website. This is exactly what

The Manhattan at Times Square Hotel

does.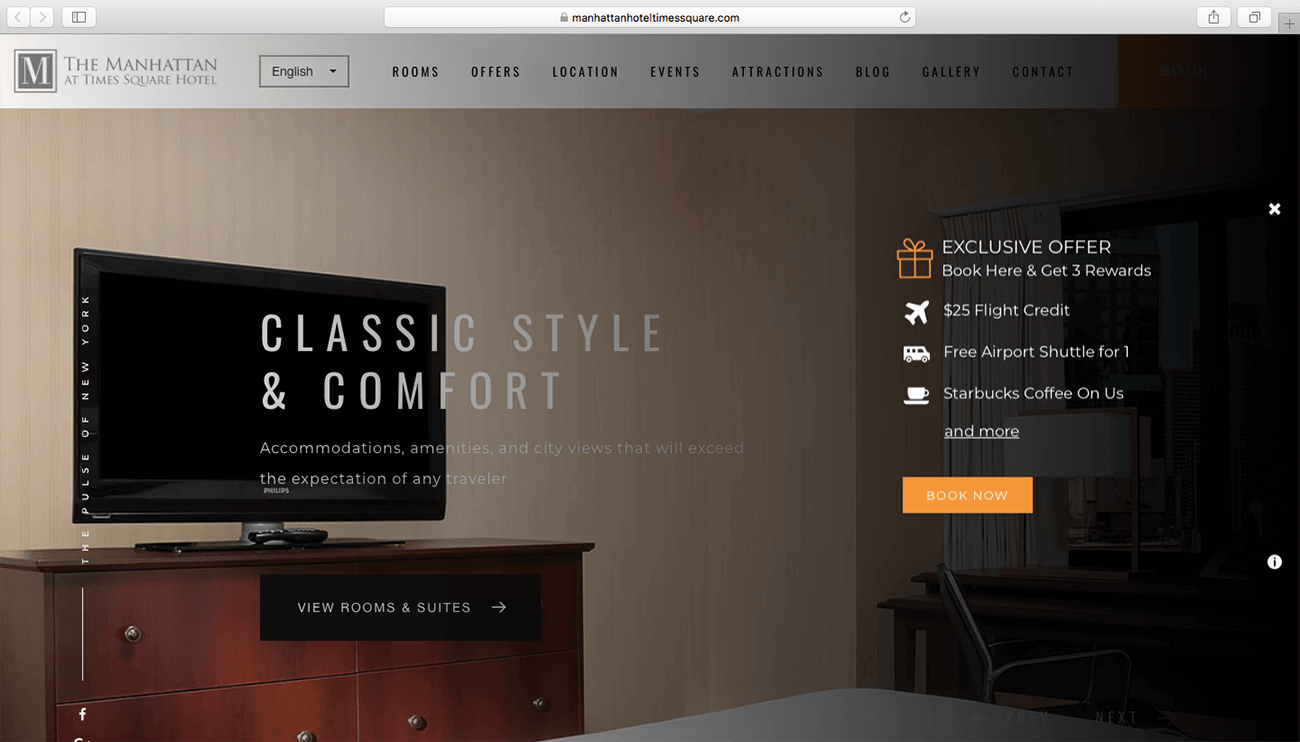 #4 Manage Your Reviews Online Through TripAdvisor
More than half of travelers don't make a reservation until they read reviews and find out what other travelers think about the hotel in question. A survey conducted by PhoCusWright revealed that 70 percent of travelers checked TripAdvisor reviews before choosing a hotel. With this in mind, be sure to have a complete profile on the platform and manage the reviews.
While it's true that reviews can be a double-edged sword, either propelling your hotel to success or sinking it, it's possible to avoid damage by responding to negative comments in an appropriate way. The aforementioned PhoCusWright survey also showed that 87 percent of users agree that an appropriate response to a negative review improves their impression of a hotel.
Whenever you respond to a negative comment, do it politely. Thank the user who took the time to write the review, apologize if necessary, show that you take their observations seriously and that your team will strive to offer a better service and work to find a solution if possible. Below you can see how the hotel manager of The London West Hollywood responded intelligently to a tough review: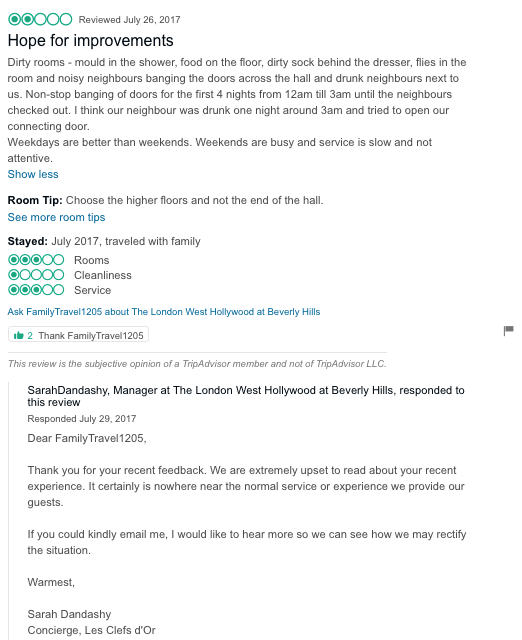 Keep in mind that critical reviews aren't always a bad thing. They can help you gain insight into your customers while giving you a chance to implement improvements to offer everyone a better experience. While it's true that anyone can comment on TripAdvisor and someone can make disparaging remarks about your hotel, most experts agree that users often ignore extreme reviews. So, your concern—while valid—shouldn't stop you from creating a TripAdvisor profile.
Many times, reviews are a key factor in your potential customers' decision-making process so avoiding them could mean losing more than half of your potential customers.
In addition to TripAdvisor, there are also other popular review platforms, such as Yelp, which already hosts more than 70 million reviews on a multitude of businesses. It's quite popular and receives an average of 130 unique visits every month. If you want to know more about how to use this platform in your marketing strategy, take a look at How to Increase Reviews on Yelp.
With these four hotel marketing strategies in your arsenal, you should feel confident moving forward with your business. While these tips work in most cases, be sure to take your hotel's specific needs into account and use the marketing techniques that will work best for you.