[COVID-19] To help mitigate COVID's impact on flower shops, Kolau is waiving the cost of creating a FORBES Award-Winning website with e-commerce enabled.
---
For local flower shops, it can be difficult to make yourself stand out amongst all the other floral businesses–not to mention, department stores. It can be even more difficult to know how to utilize marketing strategies within the rise of social media and Google Ads. In fact, learning how to use online marketing tactics and implementing outstanding marketing ideas for flower shops is crucial to keeping up with the competition.
It's important for small businesses everywhere to adapt to the internet age. According to the U.S Bureau of Labor, the job outlook for florists is at a 6% decline. However, as of January 2018, most florists remain optimistic about incoming sales. With a successful marketing campaign, you can be sure your business has successful years ahead of it.
In this article, we're going to talk about what marketing techniques florists can use to catch up with the digital age and increase their business.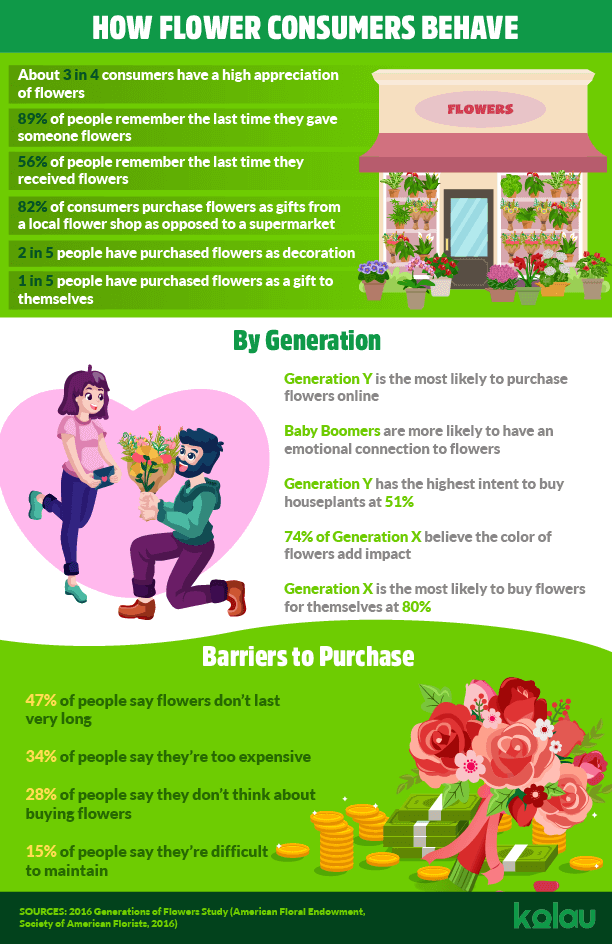 Marketing Idea for Flower Shops #1 – Use Social Media
Flowers are very photogenic and so it would be a shame not to share them online. More than that, though, social media is a great way to build visibility, find loyal customers and keep people coming back to your business every birthday, anniversary, or holiday.
According to MarketingSherpa:
95% of consumers aged 18 to 34 followed brands on their social media accounts.
It's a great way to build your brand as well and create an image around your business. Here you can show your audience what kind of florist you are, whether you specialize in a certain kind of event or clientele or if your designs have a certain unique style to them.
Instagram
Instagram is the social media site to go to for visuals. This is the perfect place to keep an unofficial portfolio of your work. It's important to post high-quality photos. Instagram is both a way to connect with your potential customers more directly and a way to showcase your skills and art.
Post your best photos–those that capture the energy and affect your flowers had on the environment. For example, if you specialize in weddings, feature interesting and attractive photos of the event with your flowers showcased throughout.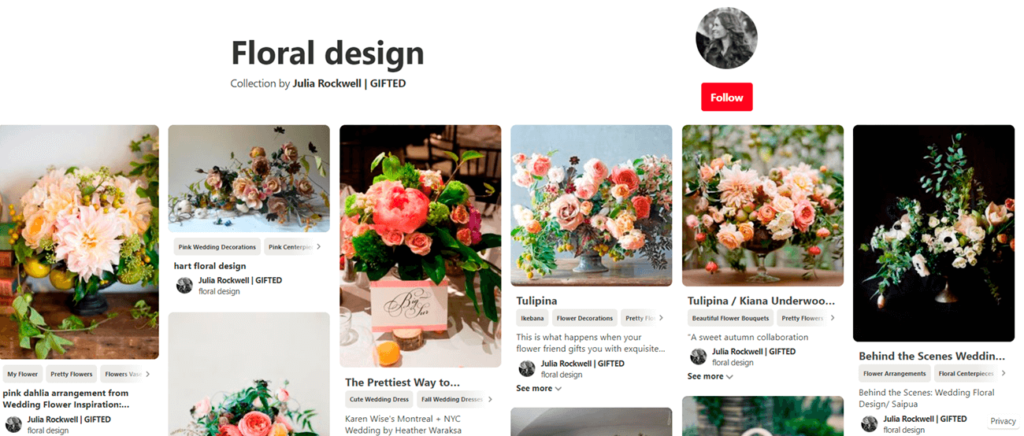 Botanica Floral Design, an eco-friendly flower design business created and owned by Josef Reiter, has a beautiful collection of photos on Instagram. The photos are professional and give off a certain feeling that tells visitors of the page the sort of style Botanica specializes in.
The incorporation of succulents with the expected flowers is complimented well by the color scheme chosen for the page. For Instagram, it's important to think about how the photos look individually and together because of the way an Instagram page is formatted.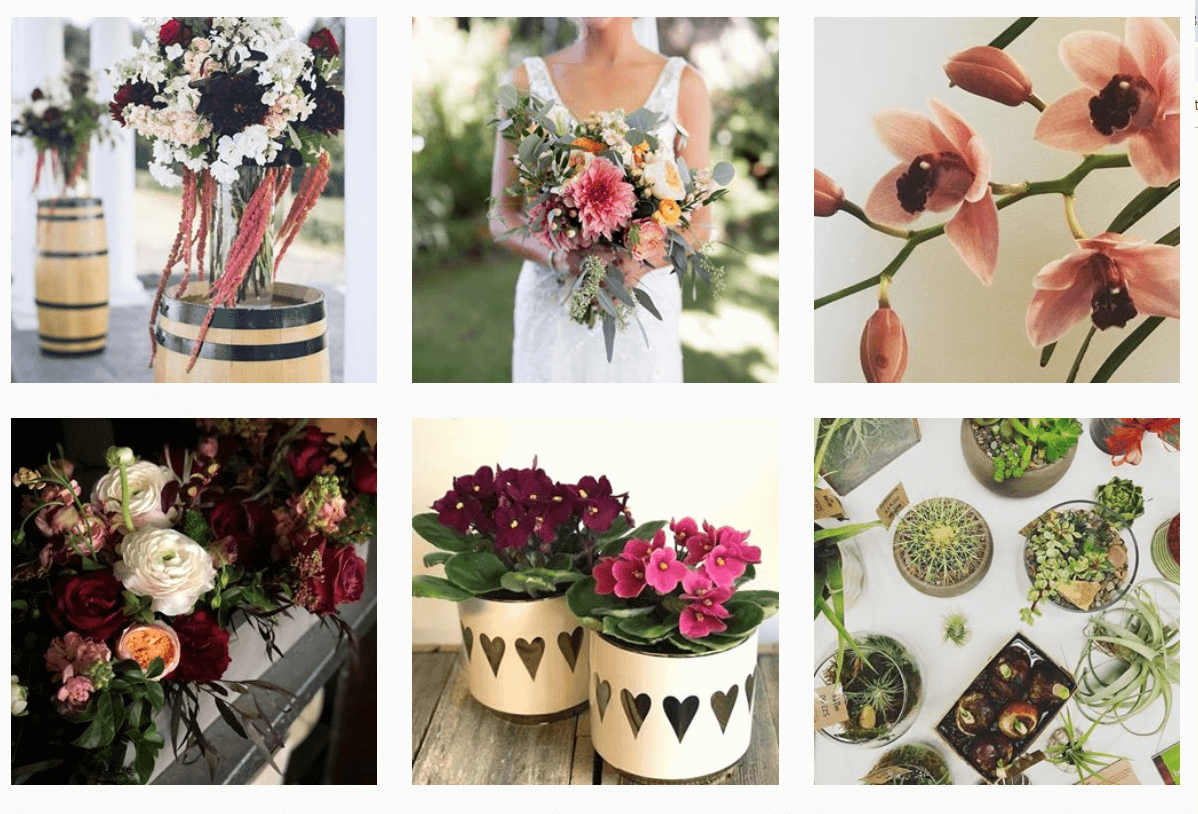 Many of the photos have warm lighting or an almost indiscernible sepia tint. The photos look good separately and match together.
A general rule for all social media marketing is to vary the types of posts you make. Yes, Instagram is all about the pictures but try and include photos of just flowers, photos with people, and/or photos at different kinds of events.
If you just take photos of flower bouquets in the same lighting and same position, the followers you gain will get bored. Not to mention, it won't give those people interested in your business much of a feel of what your flowers look like in different situations.
Another general rule of social media marketing is to make sure you post consistently, whether that means once a week or once a day. Posting consistently means your followers will see you consistently throughout their day or week and that will keep them engaged with you and your business.
Facebook
Much as with Instagram, to be successful in your Facebook marketing, you have to post consistently and vary the kinds of posts you make. The important part here, however, is making a business page for your flower shop, which is where all your posts should go (as opposed to your personal profile). You have to have a personal Facebook page to make a business page.
Facebook is a good place to announce special events you're holding, post pictures of your store or bouquets, and post about your current sales.
Facebook also offers the option to showcase your reviews like in the example below.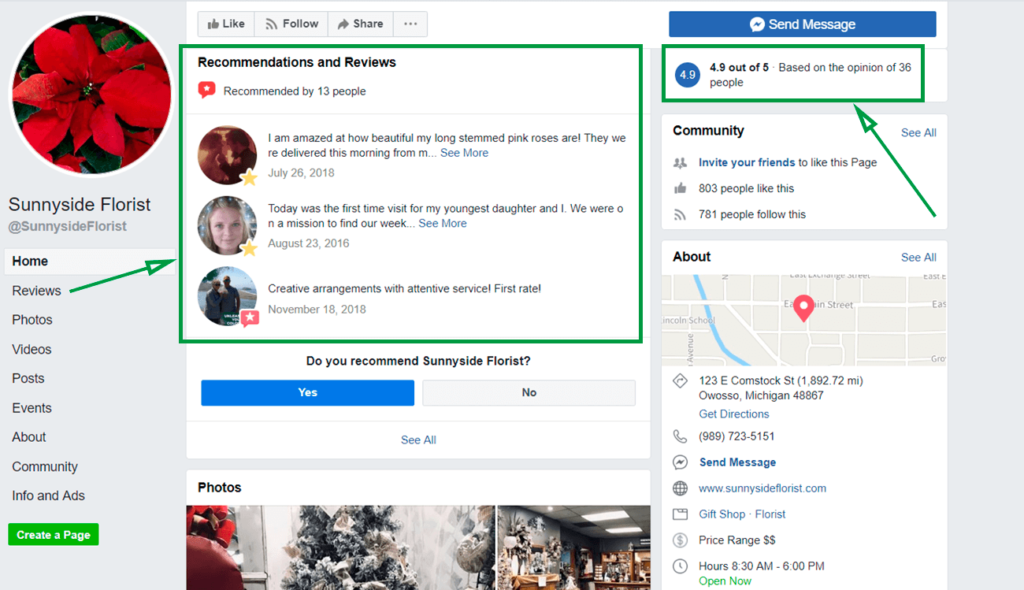 In the corner, you can see this flower shop's rating is "4.9 out of 5," which is a great thing to show off to those who visit their Facebook page. People trust reviews. According to a survey conducted by BrightLocal, 72% of consumers say positive reviews make them trust a business more.
Throughout their page, you can also see a variety of posts, from standalone pictures and videos to sale announcements accompanied by beautiful Christmas themed bouquets. They focus on holidays and celebrations, which is evident in their recent Christmas open house.
Their Facebook page helps create their image of a community-minded, celebratory flower shop. What you post on your social media influences how your business is perceived. Think about the image you want to convey and stick to it. What are the customer service goals surrounding your business? What style are your floral designs? Creating an image around these questions is the key to branding with social media.
Pinterest
On Pinterest, people can create "boards" and create an aesthetic for their events using a collection of images. For example, a bride can create a board that shows the imagery and mood she wants to see at her wedding. Florists can also use Pinterest to show the sort of aesthetic their flowers communicate or the sort of bouquets they want to create.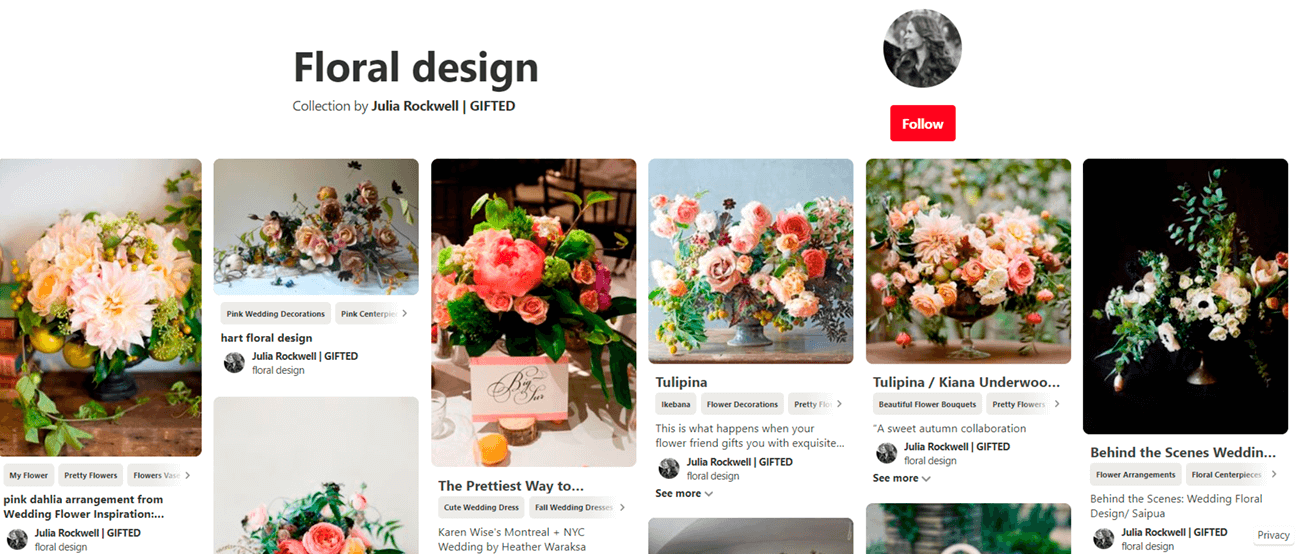 Julia Rockwell uses Pinterest to showcase the style and beauty of the bouquets she aims for. If someone is looking for a florist and comes across her Pinterest, they'll quickly understand her taste and style.
Pinterest has 250 million active users and, according to SproutSocial, 7.53% of referral traffic comes from the website, the second highest next to Facebook. With numbers like that, Pinterest is definitely a social channel to consider.
Marketing Idea for Flower Shops #2 – Build a Website and/or Blog
Building A Website
Owning and keeping up with your own business website, apart from social media sites, is a basic step in creating a good online marketing strategy. Your website is where you can freely keep all information pertaining to your business that a potential customer may look for in one place.
According to USPresort, 90% of people visit a business's website before making a call or stopping by, so it's important to make your website accessible, well-organized and attractive.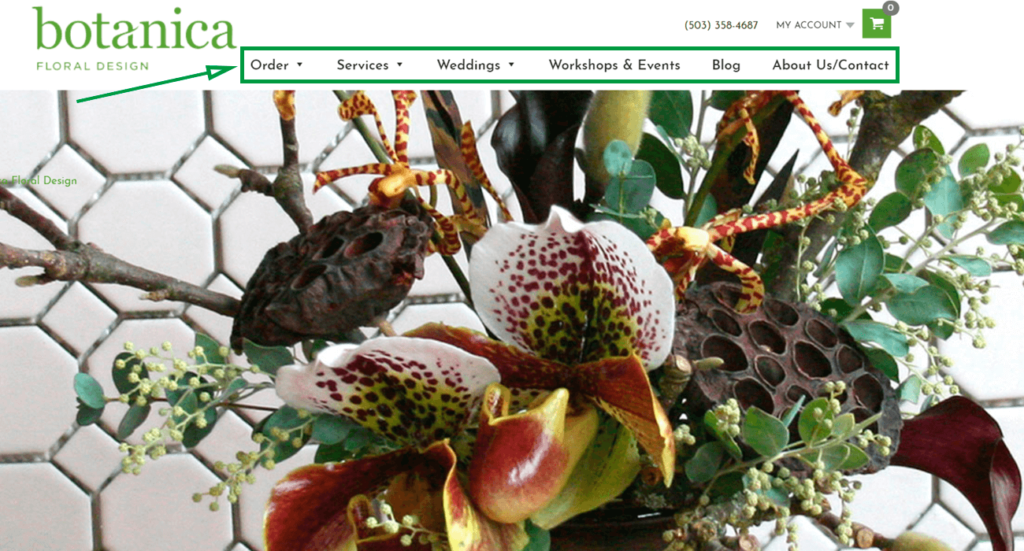 Botanica's menu at the top shows you what you generally need your flower shop website to consist of. Botanica has a focus on weddings and so there's a link just for that. Other shops may have a menu button for occasions or prices, like the one below.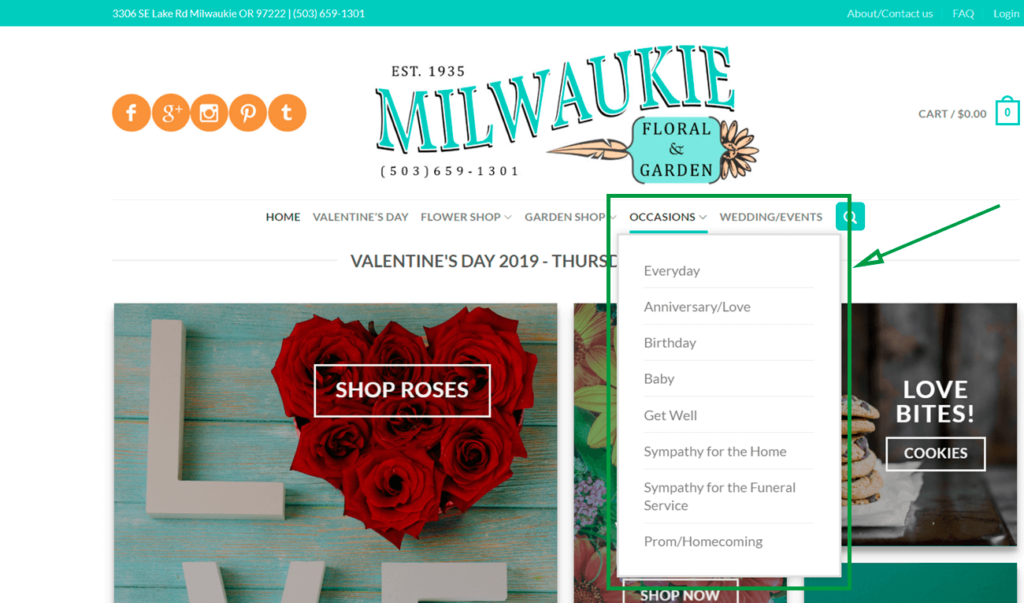 You should make it easy for visitors to find what they need to. The occasions drop-down menu shows visitors what services they provide. Both websites also make it easy to investigate what their flowers will look like stylistically for a wedding.
The "About" link for this example is in the upper right corner while Botanica's is included in the menu list. You should have an "About" page on your website to make it easy for visitors to find information about you and how to contact you, should they need to do so.
Josef Reiter of Botanica Floral Design, who we interviewed for this article, said most of his clients come from Google searches. "They [clients] search by zip code. I'm localized that way," he said. "I think online is the number one place to focus on." Reiter's insight on how clients find Botanica Floral Design shows that your website helps the community around your business find you.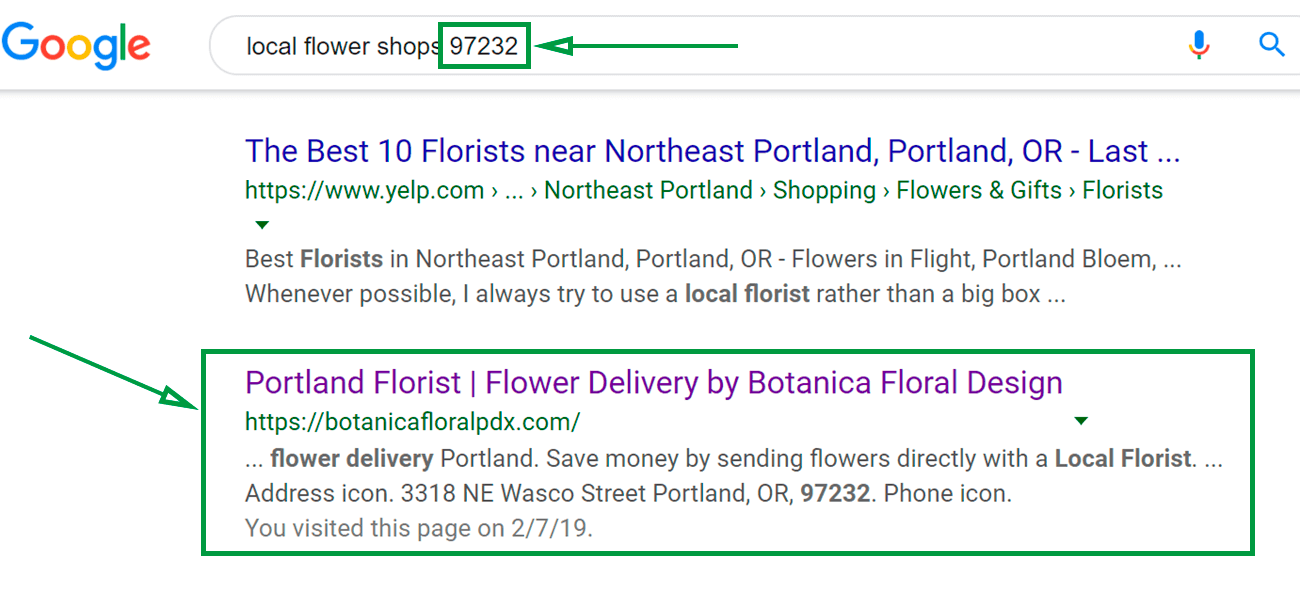 Not only does Botanica Floral Design appear when searching by zip code, but it's also well-optimized enough for the search engine that it appears organically–without the help of paid ads.
Blogging
Blogging is the best way to get organic clicks. According to Curata:
Over 50% of marketers say that creating content has increased their brand visibility, SEO and web traffic.
There are a few factors that go into how Google chooses to rank organic search results, including search engine optimization and visitor interest. Google can tell when a visitor clicks on your site and then leaves immediately or if that visitor scrolls through and reads most or all of the content you have provided. According to SearchMetrics, top-ranked content on Google is on average between 1,140 to 1,285 words.
Though SEO does play a part in being found online, you should also prioritize creating useful and interesting content. Google will rank you lower if your visitors click on your site and find nothing to make them stay.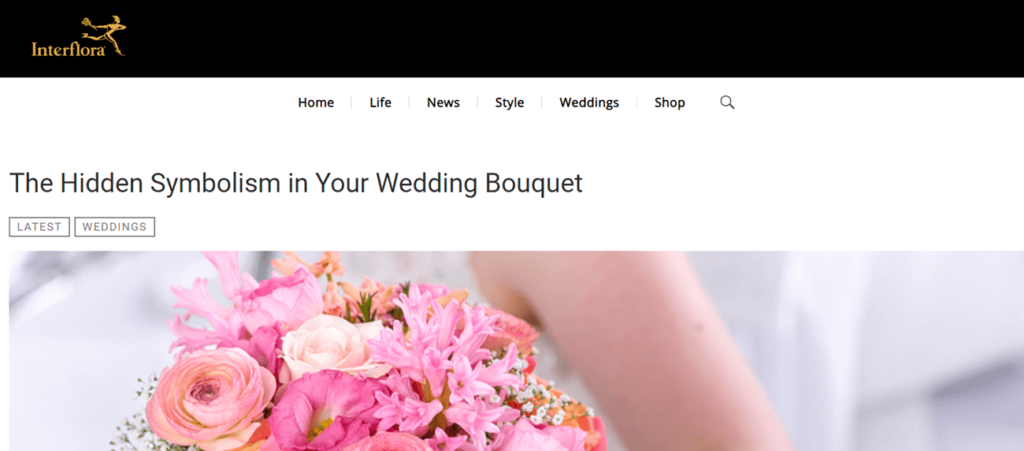 In the example above, a company is using blogging as a way to get visitors on its site, but the blog post itself is interesting and informative. You can write about anything that's related to your business. You could write about the meaning of flowers, like in the example above. You can write tips on how to make your own bouquets or even about where certain flowers come from.
Like social media, varying your post subjects is a good idea to keep things fresh and to keep your visitors interested, but stay on topic.
Also like social media, blogging keeps people who like your content coming back and those people are more likely to think of you when it comes time to purchase. Additionally, well-written blog posts will make you appear more knowledgeable and trustworthy, especially if someone comes across your business through your blog first.
Marketing Idea for Flower Shops #3 – Use Google Ads
Paid ads can be a great way to stand out amongst the crowd. They put more control into your hands than other kinds of advertising because you can choose where your ads end up and who sees them. Targeting is a huge part of making your Google Ads campaign effective. For local flower shops, making sure your narrow down your location so your ads only appear to those who live or shop around your area is crucial to saving money.
Every time someone clicks on your ad, you pay for it. Here are the most effective types of Google ads a florist can use:
Google organizes search ads using an auction. How much you pay for certain keywords will make you more likely to rank on the first page, but it's not the only aspect affecting your ad's placement. The quality of your ad and user experience matters here as well.

This ad promises the "best wedding florists" and "beautiful flowers from $99." All in all, it's a very clickable ad. Its usage of numbers catches the eyes and it promises affordability as well as beauty. The description is also interesting because it promises "to do the legwork for you," highlighting the ease as well.
Using numbers, taking up as much space as you can (with your limited amount of characters), and using keywords like "beautiful" or a location like in the example above, is a great technique for catching the eye of people scrolling through and compelling those interested into clicking.
The ad above is clearly optimized to a certain location so it only appears when people search for that location. This prevents the ad from being clicked on by people who would have no use for or interest in it.
People are much more likely to click on ads when they're already looking to make a purchasing decision. According to WordStream,
65% of all paid ad clicks come from people with high intent to purchase.
So, when someone clicks on your ad, there's a high chance they're looking to buy your products before they even reach your page.
To learn more about Google Search Ads, take a look at our article about what Google Ads is and how it works.
Display ads or banner ads are ads that you see as you scroll through your favorite websites. They look like this: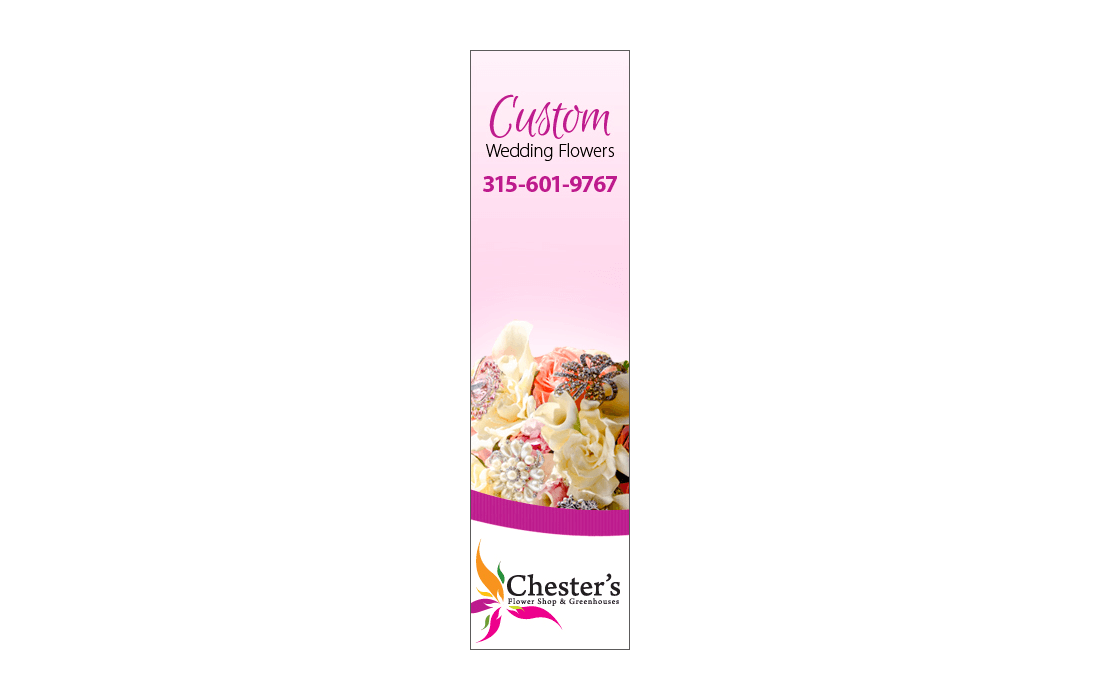 Display ads are a combination of visuals and text and so it's important to make sure your chosen photo is eye-catching and that your text matches but compels the person viewing the ad to click on it. A call-to-action is important because it leads your potential customer to take an action instead of leaving them guessing.
While the ad above features a phone number, it doesn't say "call now" or instructs the viewer to click anything.
Display ads appear when someone is not looking to shop and so, according to WordStream data, their click-through rate is lower (3.17% for search network vs 0.46% for display). However, display ads are a great retargeting tool, meaning they're a great way of pursuing potential customers that left your website without purchasing anything.
For example, if someone adds flowers to their cart but never checks out for them, you can use display ads to remind them about their interest while they scroll through a blog about wedding decorations.
Targeting is as important here as for search ads. Because those viewing the ad aren't necessarily looking to purchase and because the click-through rate is lower than for search ads, it's important to make sure your ads are appearing on the right websites. You don't want your ads appearing on websites that have nothing to do with your business. You would be losing money were you not to work on targeting the right people.
Marketing Idea for Flower Shops #4 – Utilize Yelp
Reviews can go a long way. According to BrightLocal survey, consumers read an average of ten reviews for a business before feeling they are able to trust them and 57% will only use a business if it has four or more stars. As you can see, reviews are important for your business and nothing improves reviews more than good customer service.
Besides providing great customer service, though, there are certain ways you can increase the number of reviews for your business. When a customer has a positive experience with you, ask them to write a positive review for you on Yelp. Yelp also makes it easy to contact reviewers so you can follow up when someone is unhappy.
Reiter, the owner of Botanica, cites online reviews as one of the things most helpful in acquiring customers.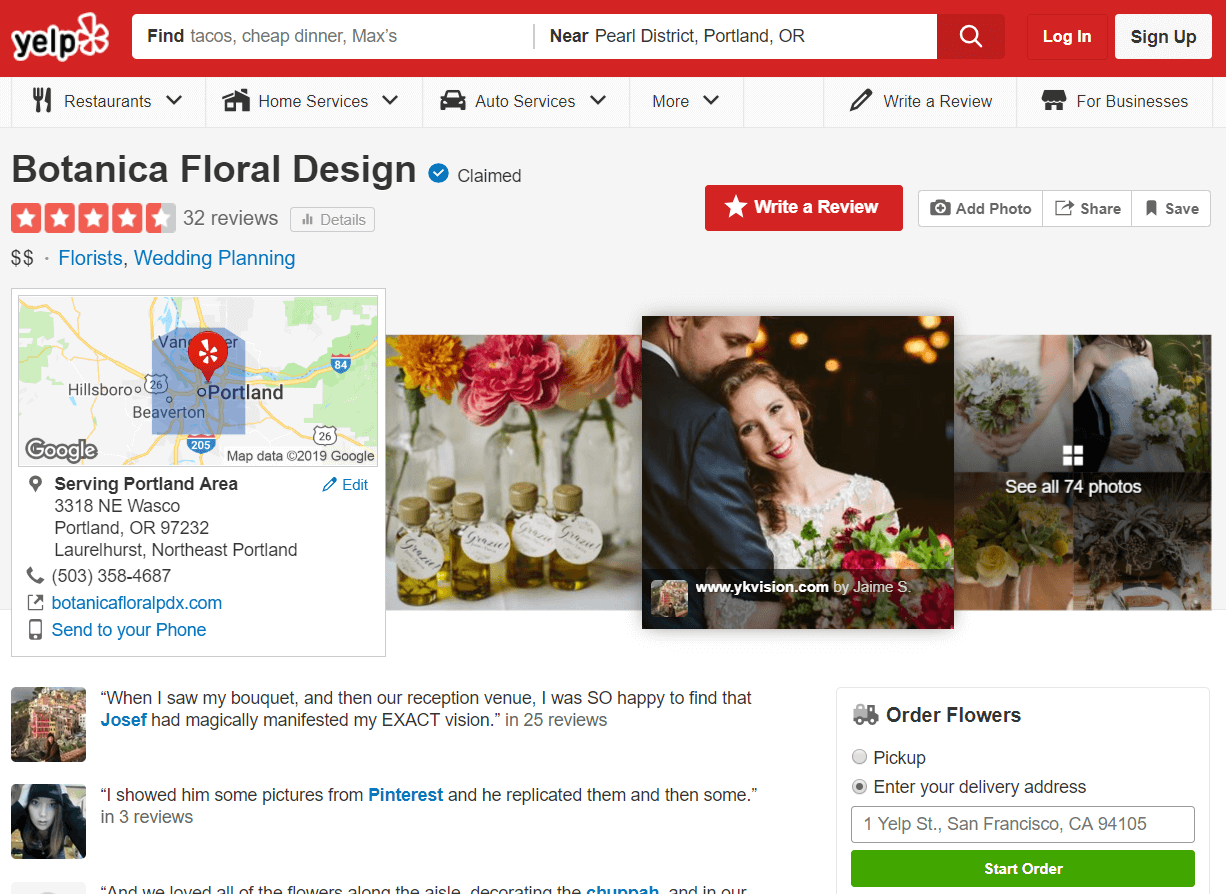 Yelp keeps all the information someone might want to know about a business in one, compact place. As you can see in the example above, Yelp shows you the location of the business, showcases a collection of photos (should you choose to showcase those photos), and makes it easy for someone to start an order without having to be directed to another website. If you were to scroll down on the page, you would also see the price range, hours, parking availability and more for the business.
Make sure your Yelp business page looks complete in order to increase trust and reassure visitors they're in the right place to leave a review. Upload photos and fill in your business information. For more tips, check out our article on how to increase Yelp reviews.
Marketing Idea for Flower Shops #5 – Don't Forget Offline Marketing
While online marketing is important and can mean the difference in a successful campaign and an unsuccessful one, offline marketing is important as well, especially for local businesses. Most of your customers will come from the neighborhoods surrounding your business.
According to the book Killer Business Plan by Peter and Lydia Mehit:
Most of your business comes from a one to five miles radius.
You should reach out and connect with your community in order to build the support of those around you.
Word of mouth is one of the most powerful ways to increase business
According to Nielsen, consumers are 90% likely to trust recommendations from people they know. Word of mouth has the highest trust rate in comparison to any other form of advertising, including online reviews newspaper articles.
As with reviews, the best way to increase the amount of positive word of mouth interactions is to make sure you have great customer service and solve any issues that may arise in order to keep your customer happy. Just like people will tell their friends and family if they liked your business, they'll tell them if they had a bad experience.
Networking is another important step to offline advertising
Reiter said he belongs to BNI (Business Networking International), the world's largest networking organization. Joining programs such as these, or other kinds of networking groups will put you in contact with more florists, who you will be able to exchange information with. This will allow you to keep up with trends and stay in the know for important things about your business.
Not to mention, building connections with other people in your field will lead to referrals. "I tend to ask pretty much everyone how they found me. And it's either through referrals from other wedding vendors I work with… and other florists," said Reiter. "We refer each other when we're not available." Maintain positive relationships with those you have worked with and other florists you meet and they're more likely to refer you to their clients.
Magazine Advertising
Reiter also advertises in magazines and has been featured in Oregon Bride Magazine multiple times.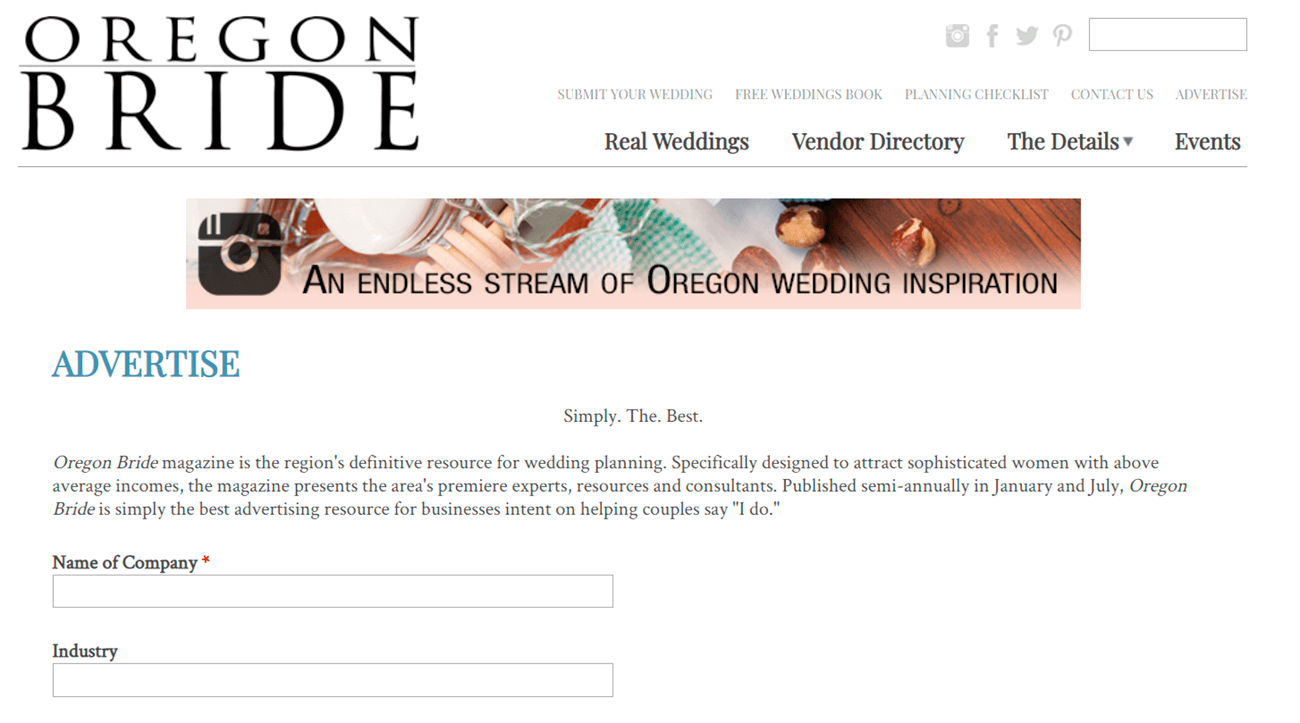 Advertising in magazines allows you to reach those people who are most likely to be interested in your business, similarly to Google display ads. Choose a local magazine like Oregon Bride Magazine (in the case of Botanica Floral Design) so you can reach those people already near you.
For Oregon Bride Magazine, you can advertise in multiple ways, including paying to be featured in their "Vendor Directory" section and in their magazine print. According to a survey conducted by MarketingSherpa, 82% of people trust ads they see in magazines and newspapers.
You can also think about advertising in a direct mail magazine. Direct mail magazines are free magazines that don't usually contain content, only ads and coupons. This is most effective for small businesses and when offering deals on your service.
Coupons allow people to keep your business in mind and tied to a physical object. Whenever they see your ad on their fridge, they'll remember that they're interested in your business.
Conclusion
Reiter sees the future of marketing for flower shops in SEO and social media marketing. "I know some wedding and event florists that the only marketing they do is social media," he said. It may seem difficult for some local florists to get the hang of online marketing.
However, online marketing is the future and it's important to keep up in order to avoid being left behind. Hopefully, this article helped you figure out how to get started and what to focus on in your future marketing endeavors.