[COVID-19] To help mitigate COVID's impact on mental health clinics and businesses, Kolau is waiving the fee to create a FORBES™ Award-Winning website with e-commerce enabled.
---
Let us guess. You've decided to set up your own psychology office, and you're looking forward to having more patients enter through the door and, most importantly, to return. Everything is possible if you decide to do it and if you apply the 4 strategies of marketing for psychologists that we propose in this post, but before we start, let's analyze the sector a bit.

The rise of awareness about mental health problems has helped to increase the number of patients in the sector and the demand for psychology services has remained high in recent years, which means that there is an opportunity to boost and grow your business – according to an IBISWorld report, the annual growth of psychology services in the US has been 4.7% between 2013 and 2018.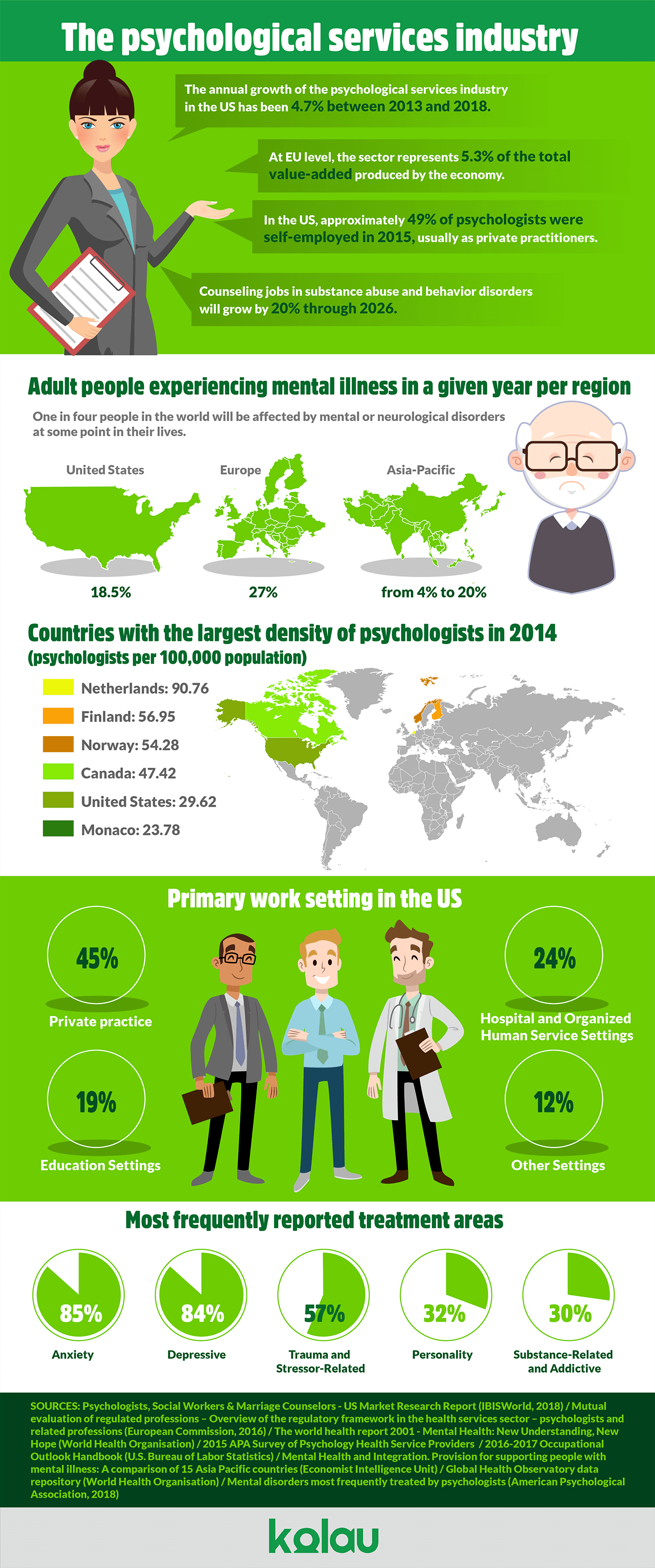 A survey by the American Psychological Association reveals that about half of psychologists are self-employed, which means that they must find their own patients, pay a monthly fee to the State and live without knowing what will happen tomorrow.

By applying the appropriate marketing strategies, you can reduce this uncertainty and get someone every day to ask you for a psychotherapy session. Do you want to know what marketing strategies for psychologists are the most effective? Open your mind and don't miss what comes next.


#1 Marketing Strategy for Psychologists: Use content marketing to gain visibility and attract customers


If your psychology office or center still doesn't have a website, it's about time you hire a developer to help you build your online presence, and we don't say it just because – according to a  GoDaddy survey, 83% of SMEs that have a website feel that they have a competitive advantage over those that don't have a website. It's a powerful channel to give visibility to your activity, which will also act as a base for you to develop a complete digital marketing strategy. We delve deeper in another article into what it takes to rank on the first page on Google.

Did you know that, according to an Ascend2 survey, 72% of marketers say that the creation of relevant content was the most effective SEO tactic? Here are some ideas for you to create a content strategy concerning your website to improve your SEO positioning, attract relevant visitors y capture leads – the leads are contact data of users interested in your activity.
Integrate a blog on your corporate website and publish valuable content for your patients

. When we say valuable content, we refer to non-commercial content, which focuses on satisfying the interests and concerns of your customers. Each post on your blog will be a new page that search engines can index, which is a factor that contributes to improving the SEO positioning of your website. Why? Because according to

Business2Community

, the companies that blog receive 97% more links pointing to their website. If your content is of quality and provides information of great value, it will be more likely to be shared by others. Also, each time an authoritative website adds a link pointing to your blog or any of your pages, the SEO of your website will improve – and your potential customers will find you more easily in Google.
Choose the right keywords for your content

. The keywords are those words that your potential customers use to find you when they perform a search on Google and one of the main factors that determine the positioning of your website for a specific search. It's about you putting yourself in the shoes of your ideal client and thinking about what he'd write in Google to find your services or information about psychology. Among the keywords that you can think of, choose those that have lower competition and a higher volume of searches – you can obtain this data with tools such as, Moz, SEMrush or the Keyword planner of Google AdWords, as you can see below.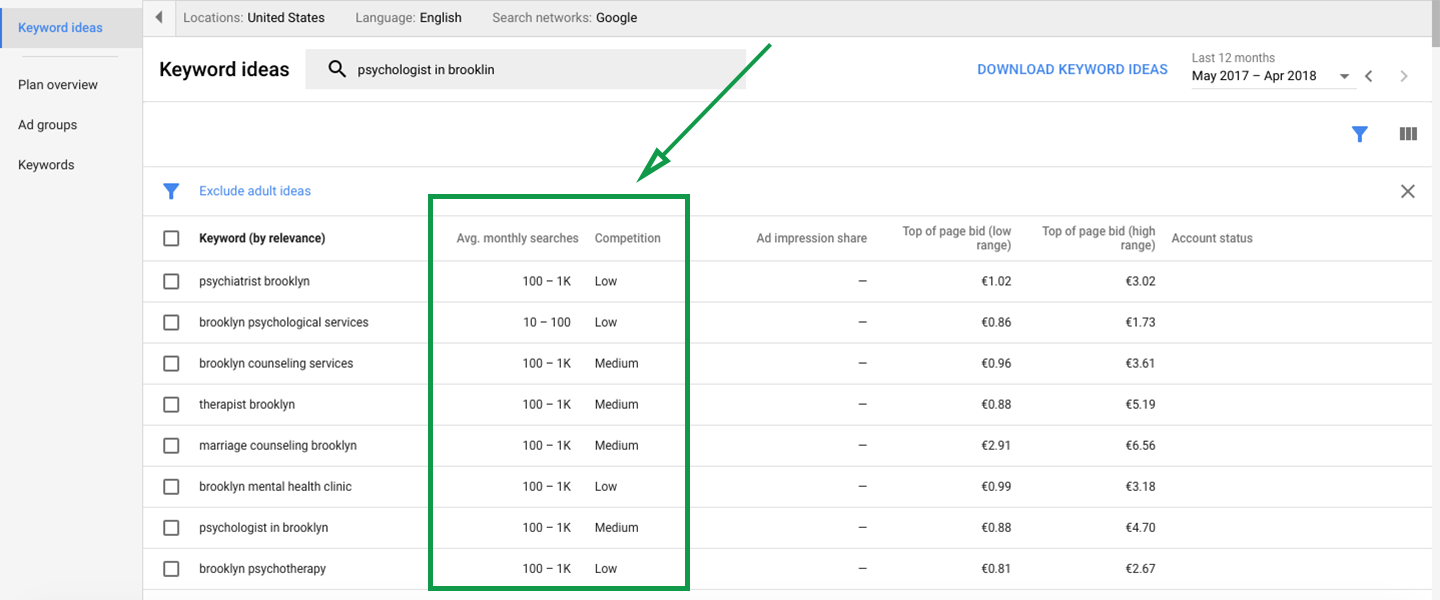 Situate your keywords strategically in the content of your website and in the posts of your blog

. For Google to show your web page when someone searches with the keywords you've chosen, you must make sure they are present especially in the titles, the subtitles, in the first paragraph of your page or post, in the snippets of the URLs – the text that precedes your domain in the URL and that generally matches the page title – in the "alt" tags of the images and in the meta description – the summary that is shown when your web appears on a page of Google results. You can see an example of it in the following

post by psychologist Alicia H. Clark

, in which we see how she repeats the keyword "use anxiety to improve performance" in strategic places and achieves the first position in Google for this word.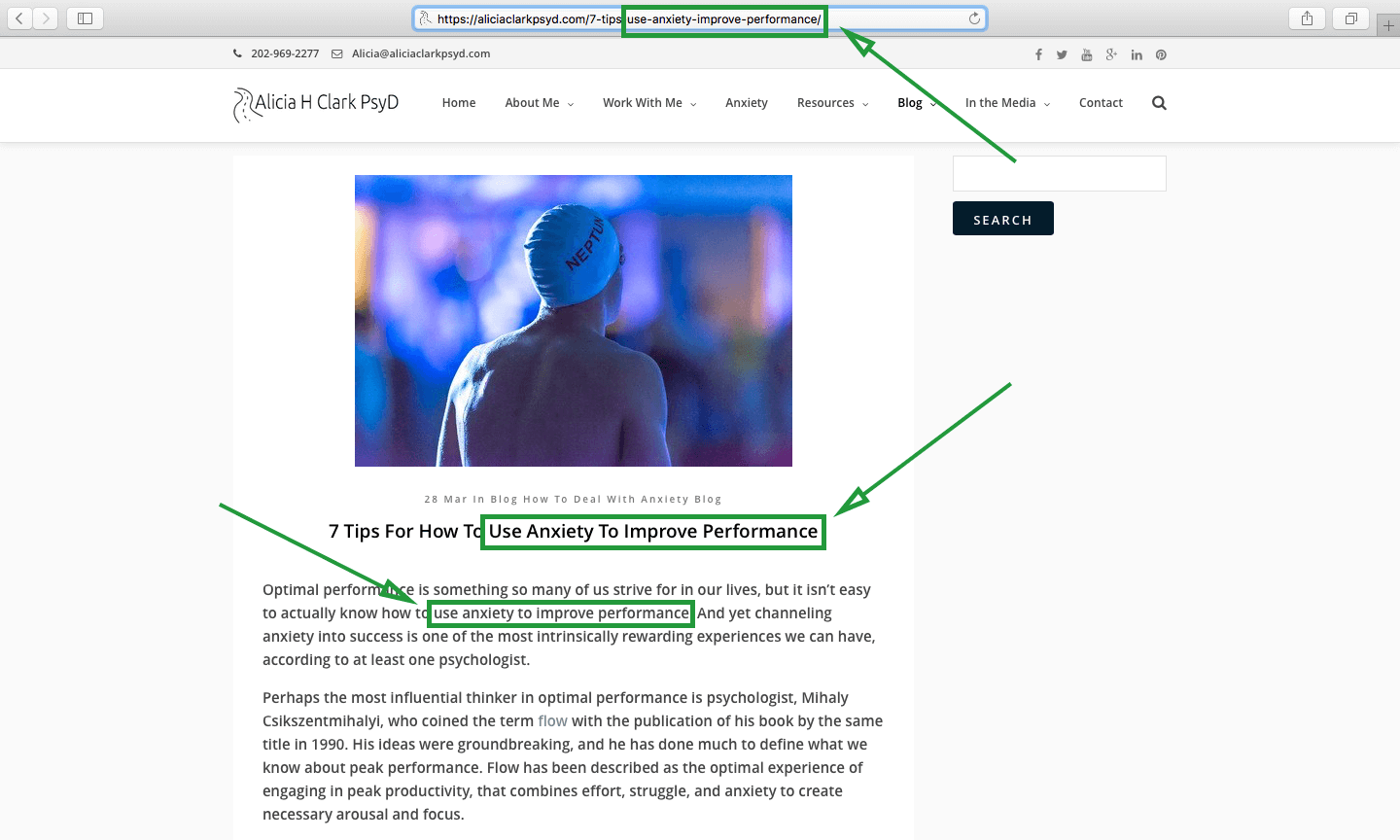 Create posts on your blog of 2000 words minimum

. According to

QuickSprout

, the first 10 results that appear on Google, for any keyword, are long articles (at least 2000 words.) This shows that long posts tend to get better positions and that, therefore, the length of your posts is a factor that influences the SEO.
Offer to write posts on popular blogs about psychology

. This is another way to get quality links that point to your website and, therefore, help you improve your positioning. First, it's about finding blogs or webs about psychology or health that accept collaborations. To do so, you can search Google using the following formulas: "psychology blog collaborator," "collaborate in psychology blog," "psychology collaborate with us" or "the keyword you choose + the previous formulas." When you have compiled a list of potential blogs, dedicate yourself to sharing your posts on your social media platforms mentioning them and leaving comments in their posts so they look at you. Then, write a post according to their topic – making sure you include a link to your website – and proceed to send them an email to make them the proposal. After sending the email, keep sharing your posts and leaving comments on their blog to stay in their mind and get them to finish publishing your post. For example, Jamison Monroe, Jr., founder of the mental health center for adolescents, Newport Academy, achieves this purpose by collaborating in the magazine

Psychology Today

.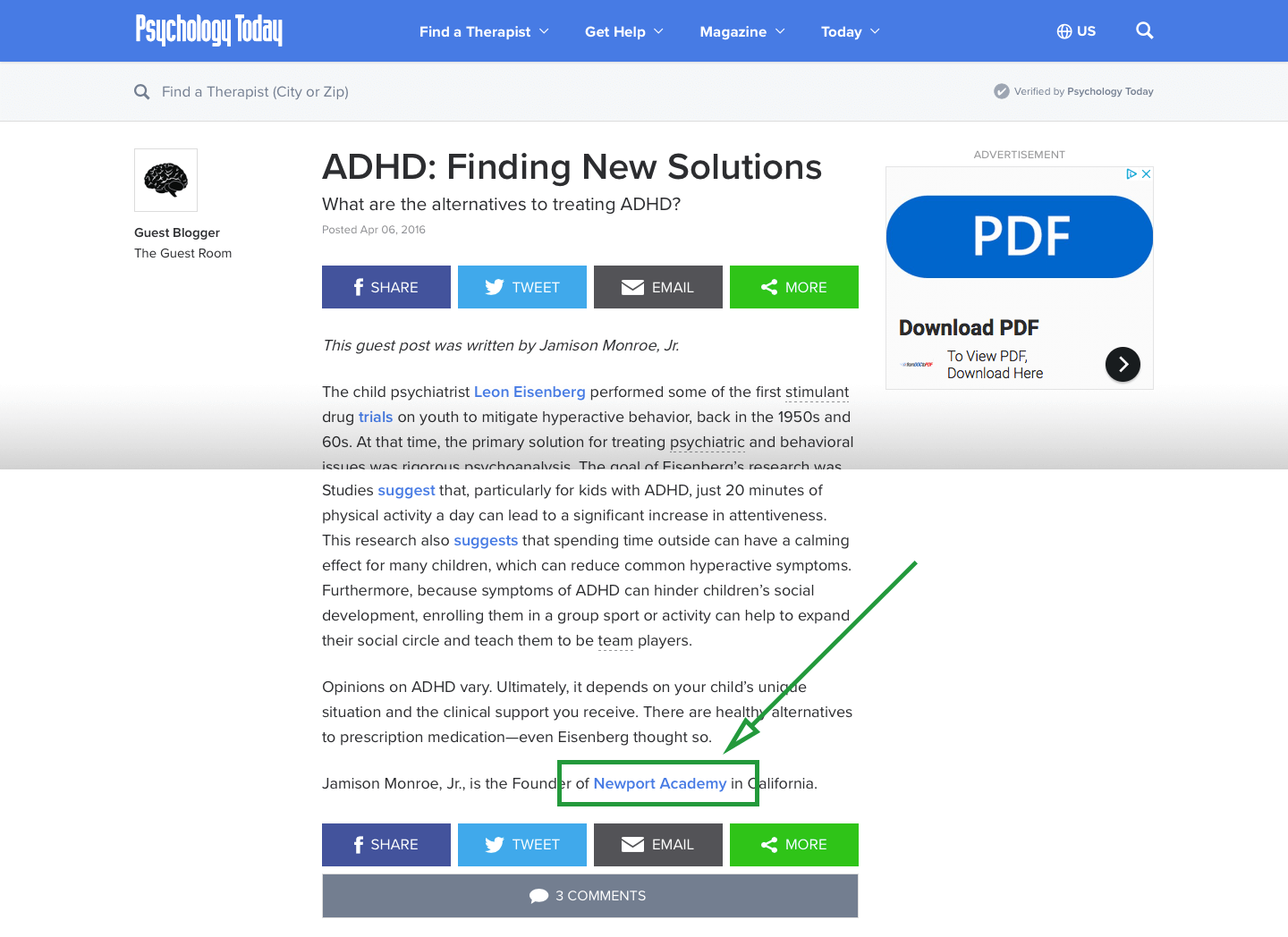 Use social media to spread the content you post on your blog

. Your blog can also be a source of relevant content for your social media platforms, and it's also a good way to generate more links and traffic to your website, thanks to its viralization potential – your followers can share or retweet your publications. Among the social media platforms in which you are present, keep in mind that Facebook, Twitter, LinkedIn and Google+ are the most appropriate to share your posts, as they allow add actionable links.
Use video marketing

. According to

Hubspot

, 81% of people have decided to buy a product or hire a service watching the video of a brand. Besides, 76% of marketers say that the video helped them increase sales. If you feel comfortable speaking in front of a camera, we challenge you to record yourself by offering self-help videos and general advice about the problems you deal with in your psychology office – you will only need a camera, a tripod and a simple video editor. You can host your videos on platforms such as YouTube or Vimeo and share them on your social media platforms and your website. In this way, you'll be able to connect much more with your audience and your potential patients will feel more confident when requesting your services, since, if they've seen you through the screen, they'll be able to get an idea of ​​how you are and what you can offer them. You can be inspired by the videos offered by

Jodi Aman

, a psychotherapist who is betting heavily on this format. Here we give you an example.
#2 Marketing Strategy for Psychologists: Offer online consultations to your clients


Multiple platforms offer a free video call service, such as Skype, Appear.in, Google Hangouts or Whatsapp, among others. The online video calls allow you to break the barriers of space and time and get in touch with your patients, wherever they are. Therefore, your location will no longer be a decisive factor for your potential customers to hire your services.

A study of the University of Zurich shows that Psychotherapy through the internet is as or more effective than conventional face-to-face therapy. In this way, patients are less intimidated and more receptive than in face-to-face sessions, which allows them to be more honest and the psychotherapist can provide better treatment.

For example, Betterhelp is an entirely online psychology consultation. It only offers consultations through its own video call system and provides a completely personalized service – the person who wishes to request an appointment must answer a previous questionnaire and, depending on his/her answers, he/she is assigned a psychologist specialized in his/her profile.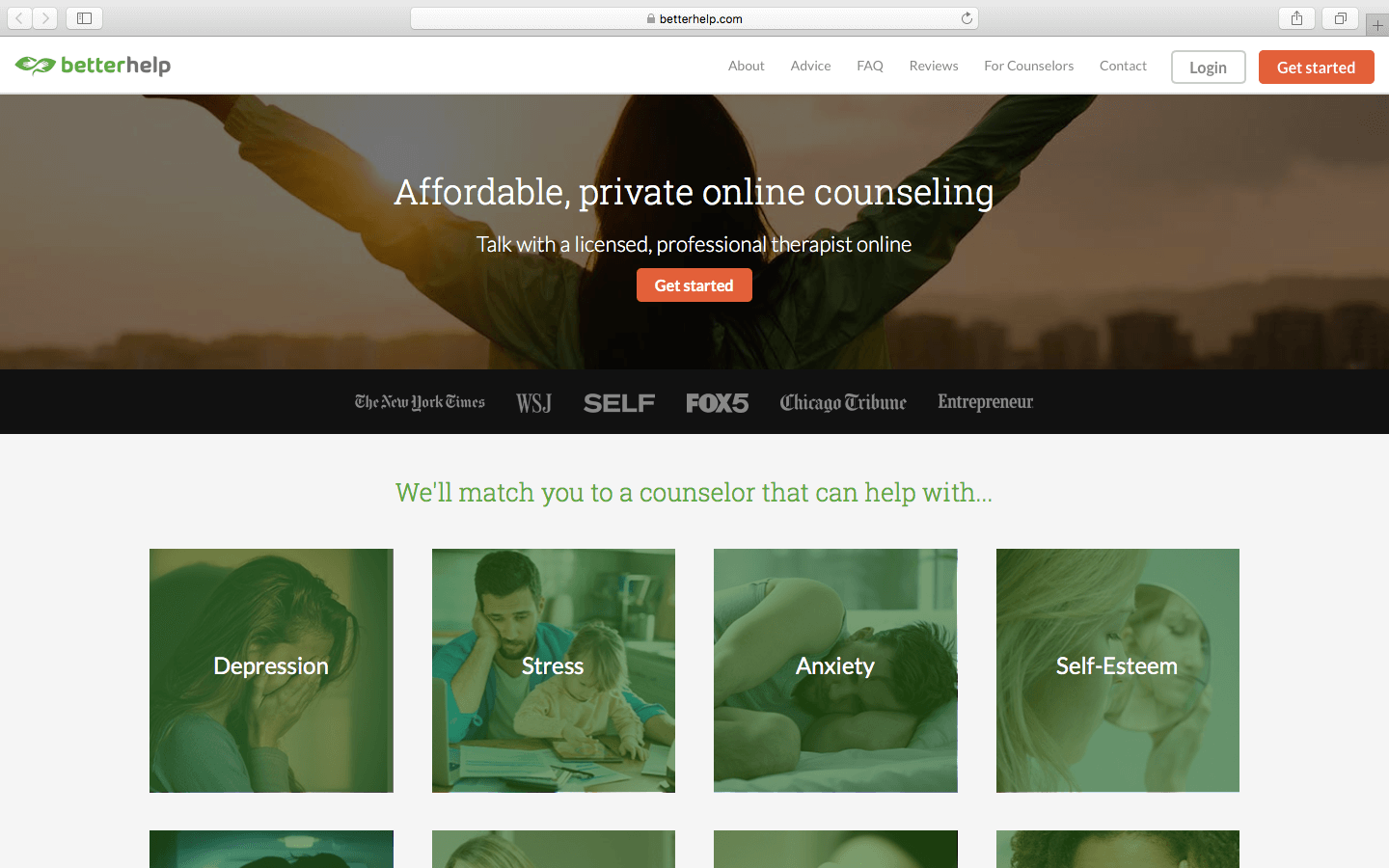 However, if you offer video calls to your customers through any of the free platforms we have mentioned, you take the risks that your patients won't go to the cashier and won't pay for the visit. To avoid this, you must make the operation of your online consultations very clear. Communicate on a specific page on your website and/or directly to the applicant if he or she contacts you by phone, and don't offer a video call to a patient before he/she has paid for the visit.

For example, the London psychology center Harley Therapy offers online consultations via Skype and has added a visible section on its website in which it indicates how they work.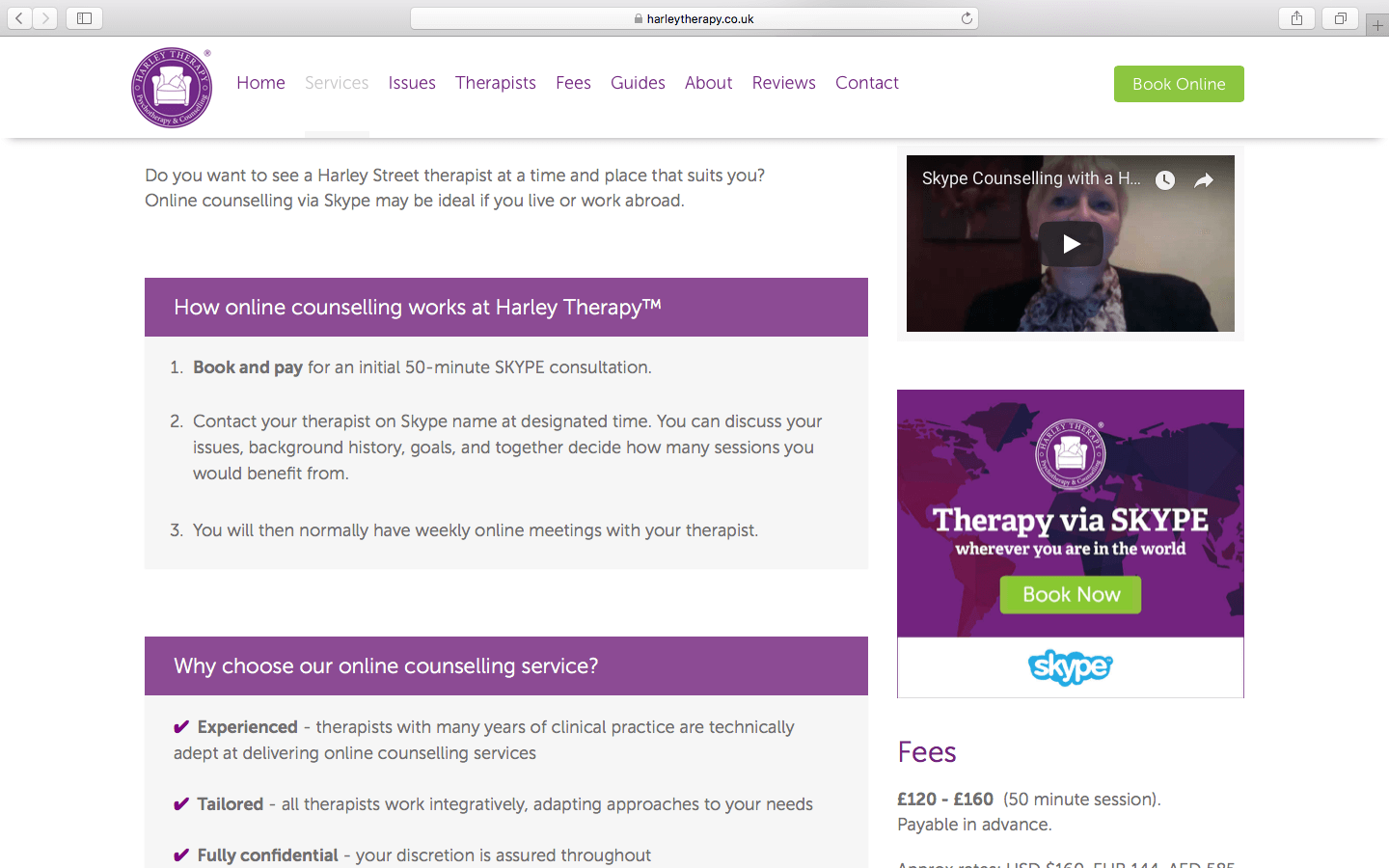 Benefits of offering online consultations
The possibility of expanding your activity radius to other geographical places

and even cover remote or difficult-to-access regions.

More comfort for your customers

, since they won't have to move.
The possibility of expanding your audience

. You can reach those reluctant people who want to maintain discretion, such as adolescents, to go through the consultation of a psychologist; and those who may have difficulties to attend the appointments in regular business hours.
Your patients will be able to access your consultations in a more usual way

. A

study of the American Psychological Association

shows that the number of non-attendances to online sessions is much lower than to face-to-face sessions.





#3 Marketing Strategy for Psychologists: Use email marketing to build customer loyalty

According to an eMarketer study, 80% of marketers consider that email marketing is their main driving force of customer retention. It's a channel that allows you to communicate directly and in a personalized way with your customers, with what you can easily keep in their mind. For this reason, one of the main objectives of any content marketing strategy is to generate leads – get the contact information, usually the name and email address, of users who are interested in the content or activity of a company.

An excellent way to achieve this is to create a lead magnet, that is, offering a piece of content – be it a guide, an ebook, a podcast or an exclusive video – that is very useful for your potential clients and that they can only obtain in exchange for filling out your form, leaving their name and email address. For example, the psychotherapist Jodi Aman offers through her website a free mp3 training to learn to "let go," in exchange for the user to subscribe to her newsletter.


To streamline the process and avoid sending emails manually – something unsustainable when the database increases – you must connect the forms of your website with a marketing automation platform, such as, for example, Mailchimp. Once you've got your first leads, you must strategically plan not only the content of the emails that you'll send to your potential customers but also the time and frequency with which you'll send your messages.

If you want to know more details about how to design your email marketing strategy and what kind of emails you should send to your leads, in our other post about Email Marketing for SMEs, you will find everything you need.



#4 Marketing Strategy for Psychologists: Ask for reviews from your clients


Surely, more than once you've decided to buy an online product and you've found a score based on stars and comments with user reviews, or the typical testimonials on the web pages of services. The by word of mouth is one of the most powerful marketing tools in the digital environment, as it has a significant influence on the decision making of consumers.

According to a survey carried out by BrightLocal, 33% of users read reviews when hiring a professional in the health sector – it's the third industry in which reviews are more critical when choosing a doctor or a psychologist, as you can see in the following graph.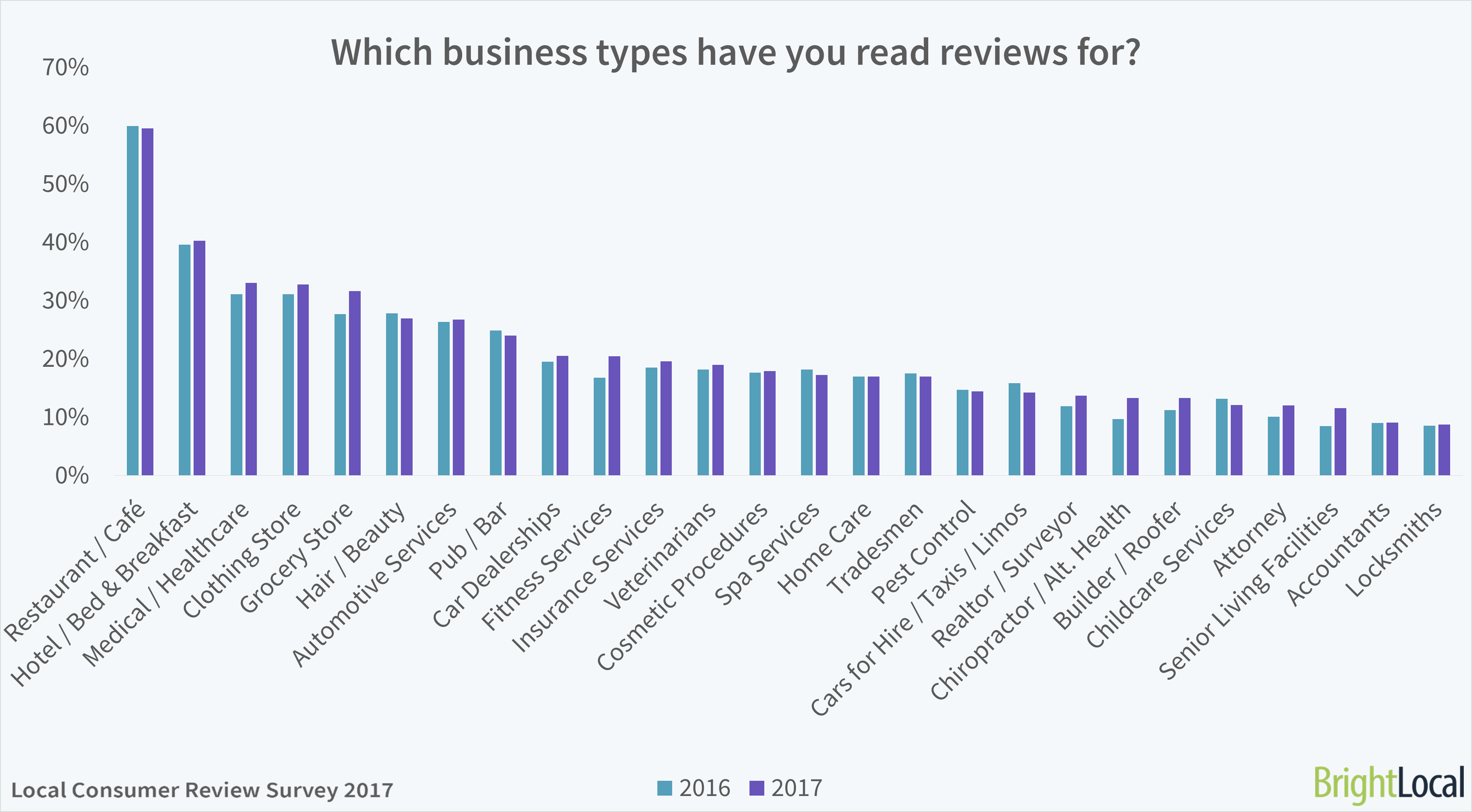 Although it may seem a risky strategy – yes, it's true that an avalanche of negative opinions can severely damage your image – if you manage to accumulate positive reviews, they can spectacularly grow your number of clients. A study of the Harvard Business School showed that every increase of a star in a review on Yelp meant an increase in revenue of between 5% and 9%.

Keep in mind that if your potential customers don't know you, they'll barely hear you when you tell them about the wonders of your psychology services. On the other hand, if someone who says wonders about you is a client who's already come to your consultation, they'll be all ears. Why? Because the information that this person will provide will no longer bear the "advertising" label and will be perceived as truthful since your potential customers know that there's no commercial purpose in the authentic reviews.



Yelp and Facebook are the two most trusted review platforms, according to the BrightLocal survey. If you've a fan page of Facebook and a Yelp profile, ask your most satisfied customers – in person or via email – to write reviews on these platforms. You can offer them some incentive in return to make sure you get the reviews, such as a discount on the price of the next psychotherapy session or even a free visit.

What do you think of these marketing strategies for psychologists? If you want to know more, you can also take a look at the interview we made to the founder of Acupuncture by Devon, one of the leading acupuncture clinics in San Diego (California), and discover which marketing strategies she's employed to achieve success.

________
Kolau is the easiest way to rank your small business on the first page of Google. Start owning your small business online presence today! No marketing knowledge needed. No agencies required. Now you know, now you can.
Be sure to subscribe to our blog for more articles like this!