More and more companies are deciding to use video in their marketing strategy. In fact, a Hubspot survey reveals that over 50 percent of consumers want to watch promotional videos and, thanks to improved technology, they're watching and sharing videos on a scale never seen before. This is because videos are more entertaining, more digestible and easier to remember than other types of content. 
According to psychologist, Susan Weinschenk, also known as "The Brain Lady" and author of six books about consumer behavior, videos intensify our attention and focus because people have been programmed to pay attention to movement and noise. For this reason, videos went from a simple marketing tactic to an important part of almost every company's advertising strategy.
In fact, a Wyzowl report found that 91 percent of video marketers consider videos to be an important part of their marketing strategy.

In the past, only the larger companies with inflated advertising budgets were able to invest in proper video marketing. However, affordable high-quality cameras have made producing video content easier for businesses big and small.
To help you create your own video, you need to learn the strategies behind creating high-quality content that promotes your company. This includes how to produce and edit it as well the steps to take to reach a larger audience.  
Where do I start?
Thanks to technological and communicative advances, producing these videos is more affordable as well as more profitable than ever. You don't need to invest in expensive equipment or hire outside help if you don't want to; you can still create a quality promotional video for your business and keep money in your pocket.
To further explain things, here is a detailed video with some specific tips to help you create a one-minute promotional video.
All you need to do is follow the simple steps outlined here and you'll know exactly how to produce a useful promotional video.
# 1 Get a Basic Recording Equipment
To film the video content, you'll need 3 basic components:
A camera: Depending on your budget, this can be anything from your mobile phone to a professional video camera. Filmmakers like Steven Soderbergh and Sean Baker have confirmed that quality videos can be shot on smartphones by filming winning movies with an iPhone 5s camera.
A microphone

: Although most cameras come with a built-in microphone, you should invest in a separate microphone to capture your message properly and ensure that there isn't too much background noise that can distort the sound. Considering how much content is uploaded every second to platforms like YouTube (over 400 hours per second), you have to do everything you can to create quality content for your audience that will stand out among everything else available.
Editing software: In order to trim, edit and finish your video you need to work with the appropriate software. Currently, there are plenty of free options like Movie Maker for Windows or iMovie for Mac. There are also professional programs like Adobe Premiere and AfterEffects. You'll need to learn how to use these softwares to edit your videos so they look and sound the way you want them to before you share them with your audience (more on this later).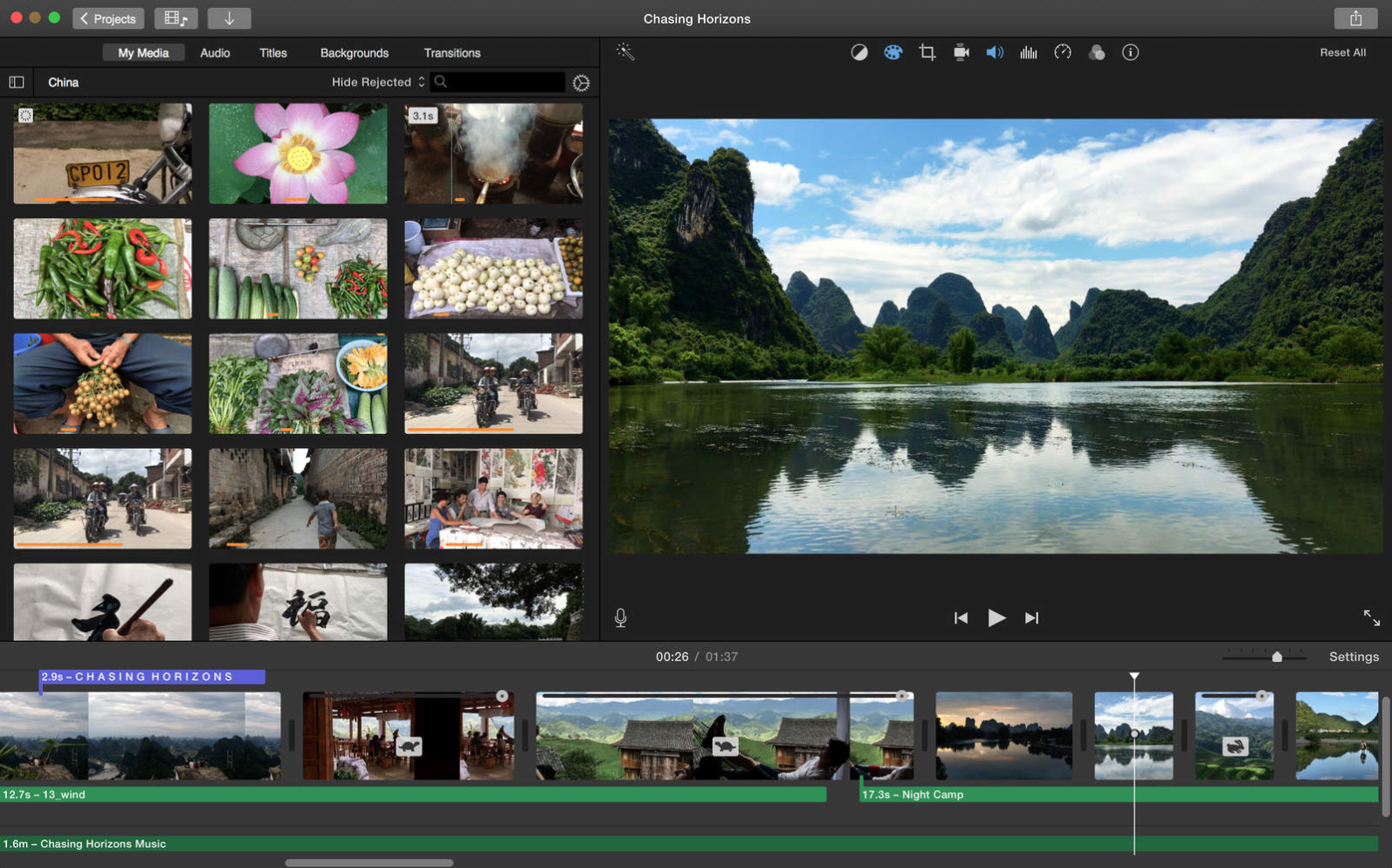 # 2 Create a Content Strategy
Videos are a powerful marketing tool as they create a stronger emotional connection with viewers than any other format. They are an ideal way to establish a deeper relationship with potential consumers by evoking feelings through a visual experience. A well-made video gives viewers the opportunity to consider how they would feel in a given situation and how it would play out in real life.
In order to create a video that does this, you need to create the right content strategy by first considering what type of video you want to create to promote your business. Ideally, you want to create videos that tell a story that inspires and delights your audience. This will attract attention and compel them to interact with your content and brand.
Educational videos
Lately, how-to videos are the most searched for type of video content. Consumers frequently turn to Google or YouTube to find the answers or solutions they need with searches for educational videos increasing 70 percent every year.
Your potential customers are currently looking for answers to their questions or problems. As a business, you can take advantage of this by creating these videos to market your business. By providing answers in an educational and entertaining way, you will draw and hold their attention and gain their loyalty.
Take the following video, for example. It's from a Seattle coffee shop called Seattle Coffee Gear. In it, they teach viewers how to prepare a quick and easy mocha using a coffee machine. The tutorial is done in a fairly simple but entertaining way. More so, the actress is a local employee so there is a recognizable and friendly face that viewers can relate to.
Testimonial Videos
Each time a potential client comes across your business or service, they will want to know what other clients' experiences have been to ensure that they will make the right decision when choosing to do business with your company. To further prove this point, a recent study by Bright Local found that:
84 percent of people trust online testimonials as well as personal recommendations  
There is no better tool than a testimonial video to provide an impartial opinion to potential clients. To benefit from this technique, talk to your current customers who have expressed their satisfaction with your service and see if they'll agree to speak on video about their experience as a client. They can discuss what problems they were trying to solve by working with your company and discuss how you helped them as well as how they felt at the end of their journey with you.
Companies benefit from these videos because they can take control of their online reviews and turn them into a story that evokes positive feelings in potential customers.
This video by Virginia Kitchen & Bath Remodeling, a small remodeling company, is a great example of how to do this. The video is authentic and professional, but you can also see that it was made in an accessible way. They include pre-remodeling photos and overlapping shots of the remodeled kitchen along with the audio testimonial from their satisfied customers. As proof of its quality and effectiveness, it has almost 2,000 views.
Product Videos
To really show the tangible benefits of your best products or services, there is no better way than creating a video that explains and shows what makes each one special. A study by McKinsey Insights revealed that in a world with so many products to choose from, proof of an experience or of the product in action can help customers make an easier purchase decision.
For your video to be memorable, you must create interesting dialogue that flows naturally and explains the product thoroughly without being too long and boring. It should look professional and represent your brand clearly but, above all, it should evoke emotions in the viewer and establish a relationship while also persuading them to take action by either contacting you for service or buying your product(s).
Another technique that is common in successful product videos is taking time to focus on the problem that your product or service is meant to solve. This will show potential customers what they can fix in their life by using your product or service.
As you can see in the following example, Dollar Shave Club offers a special service: with a $1/month subscription, you get razors sent directly to your house—a simple service that has not been done before. The narration of the video sounds credible and the video is made in a way that makes the viewer identify with the actors. All of this entices them to take action. A touch of humor can also help viewers enjoy the video while learning about the product, too.
Presentation Videos
These videos could be in the "About the Company" section of your web page. The objective here is to inform the viewer about the essence of the brand and your business. It is a great way to introduce yourself, promote your company and differentiate yourself from your competitors.
A Wyzowl survey revealed that this video strategy is so effective that 97 percent of marketers say it has helped increase users' understanding of their services. More so, 76 percent say it has helped increase sales.
A good presentation video is used to share the vision of your business with your audience. It is the ideal way to share everything that makes you proud of your business with your target audience including the strengths, the details of your overall service, the achievements you've had and even a little of the history behind your company. Remember, keep it short and entertaining to captivate the viewer and hold their attention.
In this example, you will see how another small coffee company has managed to promote itself with a fairly simple video. With more than 18,000 views, the owner talks about what makes his business unique. It explains their philosophy and their vision, where their products come from and also teaches viewers how their products are processed and packaged. The video is so evocative that you can almost smell the coffee beans.
According to Forbes, video marketing is not the future, it's happening right now. You don't need a huge budget to create a good video; you just need to be aware of current trends and do something interesting and unique in a concise way that is share-worthy. You're only limited by your imagination and creativity.
# 3 Video Production
Now that you know the most effective types of videos to promote your company, it's time to produce your own video. To do this, you must first identify your target audience.
Knowing your audience is vital to your marketing strategy because it will guide everything you do as you develop your content strategy until you complete the project. You have to keep their wants and needs in mind in order to create a video that will resonate with them.
Knowing the wishes and needs of your audience will help you determine what kind of video will be best so you can organize the information in a way that makes sense to the viewer. You can also evoke certain feelings that will help them feel connected with your business.
Understanding who your video is aimed at will allow you to effectively communicate your message and achieve your fundamental goal: increase your sales.
Holly Buchanan, author of Future Now, explains how to communicate the right message by focusing on these three questions: 
    Who is my audience?

    What actions do I want them to take?

    What kind of information do they need to take action safely?
You can do market research to find out what your audience usually gravitates toward once you have determined the answer to these three questions. Steve Jobs used to quote Picasso when he talked about the innovation of his products: "Good artists copy, the best steal ideas." You can look for inspiration through a market study and create something equally unique based on what your competitors have already done.
This product video from Lenovo is a great example. It's very similar to many viral videos that have driven big brands to achieve more visibility. It presents a product with the help of an artist and representative influencer, explains how to use it and is visually appealing and captivating. But it also shows that the brand not only knows but understands their audience and their needs.
Plan the Concept
The concept of the video that you are going to produce to promote your business should be based on what your audience wants. You must decide the tone and style that will resonate with them and create an emotional connection between your audience and your company.
With this in mind, write a script based on all the aspects above. Present your message through an interesting and attractive narrative that expresses what you want and gives your audience a reason to take action in whatever way you want them to. More so, our script can't sound like a sales pitch. Instead, you want to get your message across in an informative and entertaining way that makes your viewers believe that they need your product or service in their life.
According to a study conducted by the Nielsen Group, a good script for a marketing video should establish a relationship with your audience in a few minutes and deliver your message in an attractive way that will lead viewers to take action by either contacting your company for service or by buying a specific product.
To create a convincing but not very obvious script, you must write it from the perspective of your viewers, not from your perspective as a business owner or manager. This will allow you to stand in their shoes to relate to them so they connect with your message easily while still promoting your brand and getting your message across.
For example, if you own a car agency and you choose to make a product video to show your best cars, the tone of the script could be casual and open, with a touch of humor that promotes confidence in your brand.
Once you have planned the concept and the script is ready, it's time to schedule the recording session.
Filming and Editing the Video
The composition of the shots and the video, in general, is crucial to produce quality results. This refers to the specific way you choose to frame and organize your shots in order to get the look you want. Here, think about how to position your actor(s) and props (if any) and what angles you choose. This is what will grab the viewer's attention first.
A rule of standard composition is called the "rule of thirds." Imagine that your shot is divided into nine equal sectors by two horizontal lines and two vertical lines creating a grid. This will naturally attract the viewer's attention to the main points of interest of the shot.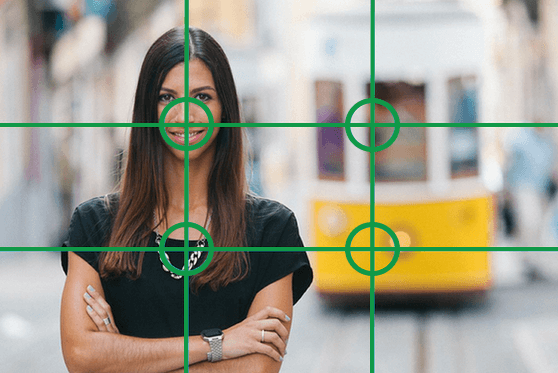 Numerous studies prove that a viewer's attention usually focuses on the points of intersection rather than on the center of the shot, so it's best to position the subject at those points of intersection instead of right in the middle of the shot. This allows you to send a stronger message than you could with only words.  
The next thing to take into account during filming is the lighting. Bad lighting (like a bad script) could ruin all your production efforts.
This example shows how the video can change depending on the lighting. With each shot, different emotions and even personalities can be transmitted. Currently, there are many post-production editing softwares that allow you to fix lighting errors, but the best thing to do to avoid that is to shoot your video with the correct lighting in the right environment from the start.
Let's say that you are filming a testimonial video. Your satisfied customers are sitting on a sofa, in a space with good acoustics and with large windows providing a lot of natural light. But you also have fluorescent lights on the subjects. This creates a temperature conflict that ends up in a bad end result.
If your resources don't allow you to get professional equipment, here are some tips to improve your shots:
Take advantage of natural light and avoid conflicts with other types of light

. Try to be as consistent as possible so that the result is clean and natural.
Avoid shooting outdoors at noon

when the light is above the subject. 
Record during the "magic hour"

(the light right before sunset or right after sunrise).
Play a little with the camera's tools

. White balance, for example, allows you to manually adjust the color temperature to capture the actual colors of the shot.
Finally, you have to edit all the shots for consistency so the video tells a good story. At the end of your day (or days) of recording, you will have hours of raw video that you'll need to piece together to complete your video. Join the shots together the way you want, add graphics, the logo of your company or even record dialogue over the shots.The true story of your video is told through this final edition.
This is the ideal time to add sound and music to your video to complement the visual elements you have already filmed in order to bring more life to the video. Overall, it is important to make sure the final result looks polished and professional and it captivates your viewers.
# 4 Choose a Platform for the Video
You have two options to upload your video online. Marketing videos can be hosted directly on your website or you can share it on one of the main video platforms like YouTube or Vimeo.  
The second option is the most effective because it allows you to easily share and insert your video on your web page while also giving you the opportunity to reach a larger audience.
For example, did you know that every month 1.9 billion users visit YouTube and watch more than 1 trillion hours of video? Using YouTube in your marketing strategy will give you the opportunity to take advantage of this massive audience. Currently, it's the largest social video platform in the world so don't ignore it.
YouTube offers a user-friendly interface for those who don't have a lot of experience uploading videos. Ideally, you should create your own channel for your company and link it to your other social networks to keep your audience connected and give them a sense of community. This option will allow you to add your logo, funds, brand elements and even other videos to keep the audience excited. You can also invite them to subscribe to the channel to stay updated on the latest videos.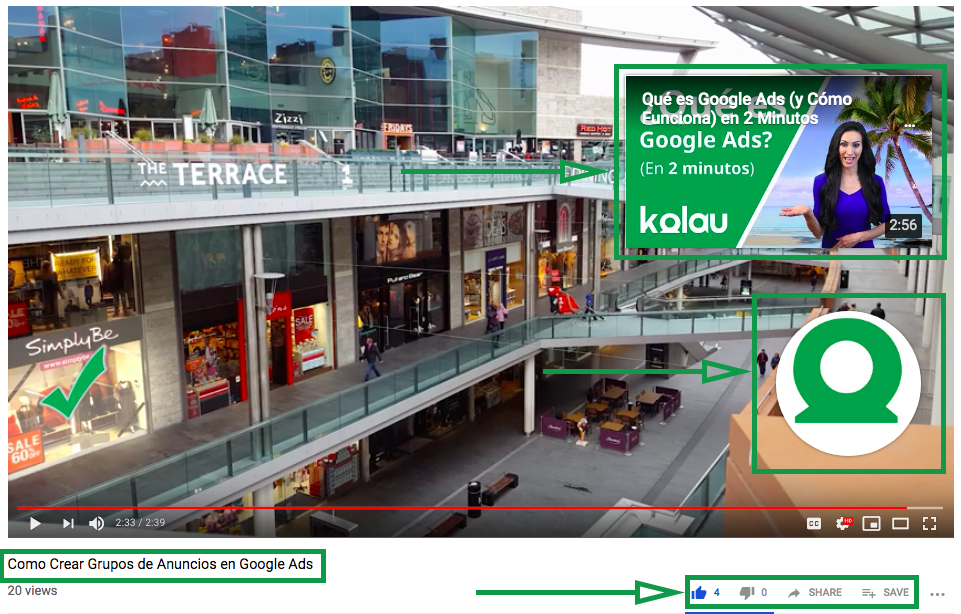 As you can see in this example, YouTube lets you customize not only the video but the entire channel to fit your brand's voice. The post-production tools allow you to add a subscription button and another button to help share other related videos, too. As an additional bonus, it is a platform that works perfectly on mobile phones and other devices since it has a mobile app.
When your video is ready to be published, you'll have to add a description and a title. These elements are partly responsible for your video becoming relevant and attracting your target audience.
Now you know how to make a promotional video for your company from the best tools and software to use to the proper way to share them with potential customers. As you can see, making a professional video does not necessarily require a professional production team or large budget. You can do it with what you already have, just let your creativity lead the process and study your target audience so you deliver the right message.
Remember, you are producing a video to convey emotions and encourage a call to action. With this in mind, you can create an attractive visual experience that suits your potential clients' needs and, in turn, increases your bottom line.