If you're a writer looking to enter into the publishing world, your end goal is likely to sign on with a well-known publishing house and become a bestseller. While this is a great plan it isn't that easy.
Most publishing companies are looking for writers who already have an established following that will buy your books and make them money. New writers with no fanbase are unlikely to get noticed. More so, self-publishing options like Amazon's eBooks and Google Play Books require some kind of following to help you get noticed and make money, too. 
In order to build a following before signing on with a publisher, you have to market yourself properly. Considering that the industry is growing slowly and that the publishing market is constantly changing, adaptability and flexibility are two qualities that any writer must possess to turn their writing from a hobby to a career. To help you do this, consider these four marketing strategies for writers.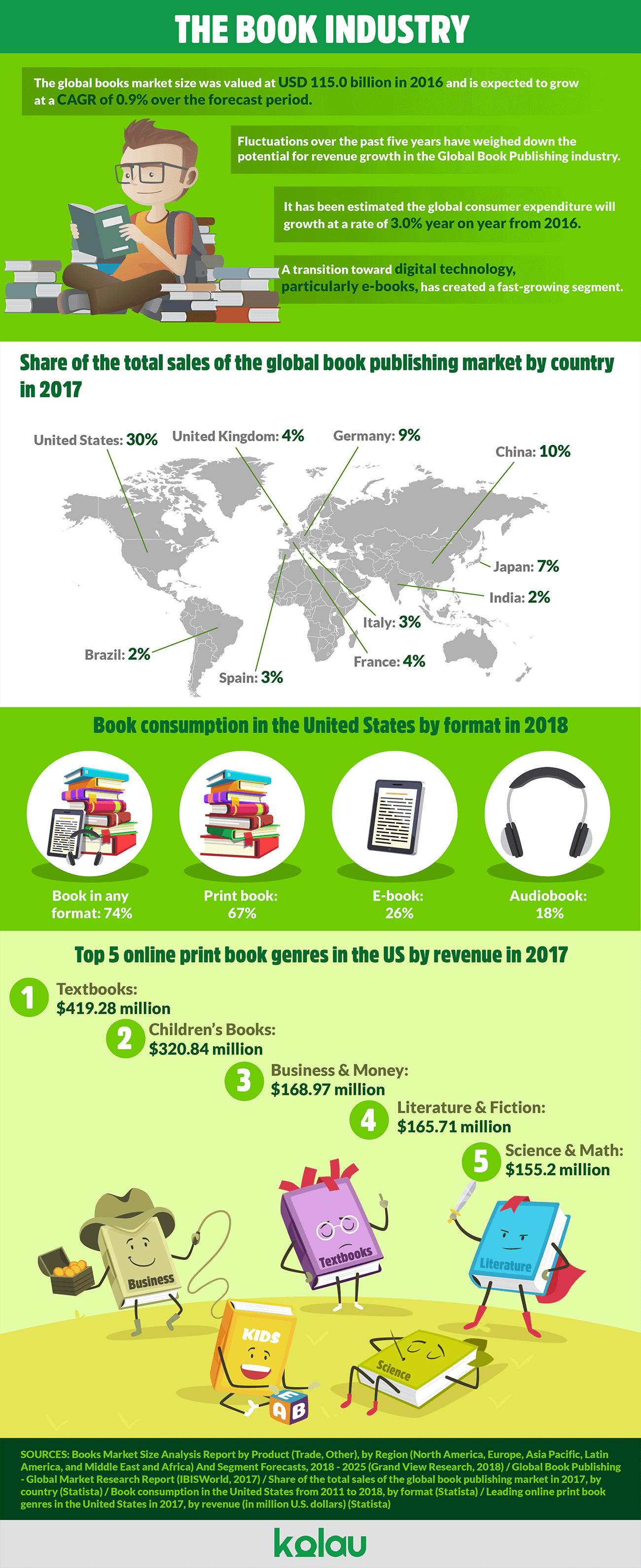 # 1 Marketing Strategy for Writers: Create a blog and publish relevant content for your target audience
According to an Ascend2 survey, 72 percent of marketers say that the creation of relevant content is the most effective SEO tactic. A blog is just one of the digital marketing tools that helps you offer valuable content while gaining more visibility in search engines. Since blogs are content-based they should be the first thing a writer turns to gather a following.
The Spanish writer Ana González Duque made her work known through a blog. In an interview she said:
For a writer, a blog is their online business card. The reader will know from reading your blog if they'll like your books.
Her first novel, Dr. Jomeini's Blog, was written in the form of a fictional blog. She initially published it online where she gained a following and was then discovered by a publishing house. 
Your blog can turn into a future book, a space for reflection or even a site where you share your creative process with your audience. This is the case of the book In Vino Veritas by the writer Virginia Gasull. The author created a blog of the same name in which she discussed how she researched everything to write her book and develop her characters.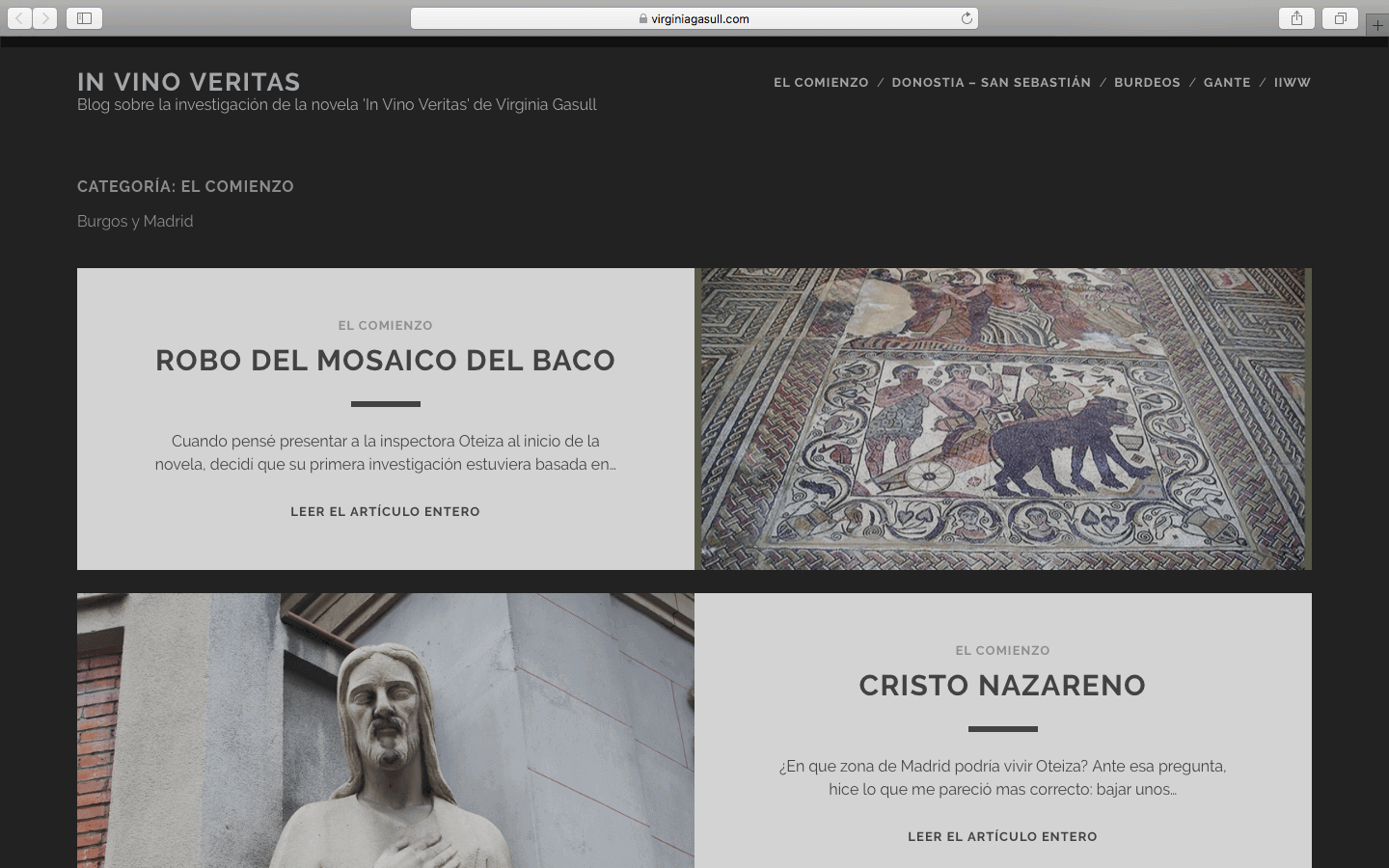 With this strategy, she was able to generate interest in her work and engage with her readers who were interested in the subject of her book. It's about creating a community that knows your book in advance and is ready to receive it once it is published.
Keep in mind that your blog won't become popular overnight. It's a laborious process that may take months to pick up traffic. Luckily, the results will be worth the effort. Here are some tips so you can create a blog and improve your SEO positioning and attract relevant visitors.
Post valuable content for your readers.

This means non-commercial content that focuses on addressing the concerns of your target audience. Each post on your blog is a new page that Google can index. This influences your website's SEO. If your content has valuable information and your writing is high quality, your readers will keep reading and share it. When they do, they'll create new links to your blog. These links contribute to improving SEO so your potential readers can find you easily on Google.
Choose the right keywords for your posts.

Put yourself in your readers' shoes and choose the words they would use to find your post through a Google search. Keywords influence the positioning of your blog's pages for a specific search. Among the keywords that come to your mind, choose those that have lower competition and a higher volume of searches. You can figure that out with tools like

SEMrush

,

Moz

or Google AdWords

Keyword Planner

.
Put your keywords in the right places. Google will list your web pages when someone searches for the keywords you selected as long as they're in the titles of your posts, the subtitles, in the first paragraph, the snippets of the URLs (the text that appears after your domain name in the URL and that matches the title of your post); in the meta description (the summary that is shown when your website appears in a Google results page) and in the "alt" tags of the images.
Make sure your posts have at least 2,000 words.

The length of your posts is a factor that influences SEO, too. According to

QuickSprout

, the first 10 results Google shows for any keyword are long-form articles with a minimum of 2,000 words. Therefore, long posts tend to get better positions on Google.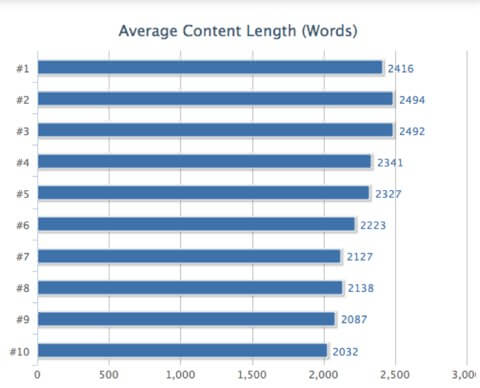 Use social networks to share your blog.

Your posts are also a source of relevant content that you can share through your social profiles. Thanks to the viralization potential of social media your followers can share or retweet your posts which will generate more links and drive traffic to your blog. Facebook, Twitter, LinkedIn and Google+ are the most appropriate social platforms to share your blog since they allow you to add links to your posts.
#2 Marketing Strategy for Writers: Contact bloggers who do book reviews
A study by Collective Bias, the leading company in influencer marketing, reveals that almost 60 percent of users have taken a review in a blog or a social media post into account when making a purchase decision.
If a blogger who has thousands of followers speaks well of your book, people will want to read it, but for that to happen you must first contact the blogger(s) and build a good relationship with them. Keep in mind that it's not worth it to send them a link to your book or ask them to read it and write a review. If they don't know you, they probably won't do it.
If you want to increase your chances of getting influencer reviews, follow the steps and tips below:
Investigate in social media
Explore hashtags about books on social networks to find influencers who post reviews about the books they read. For example, #bookstagram is one of the most used hashtags on Instagram for this purpose. Another less popular hashtag that may be useful to you is #bookreview.
You can also use Twitonomy which allows you to find influential profiles on Twitter from a specific hashtag. Klear also lets you search for influencers on the most popular social networks while BuzzSumo can help you find the most influential journalists and media outlets who write about the topic you're targeting.
Analyze their social profiles
Find out what social media channels these influencers are using and look at the number of followers they have and the engagement they get on their publications (likes, shares, comments, etc.) to measure the impact that a publication of theirs could have on your book.
Above all, analyze the content they publish. If you think your book could fit in with their content, follow them. It can be useful to make a list of bloggers who have profiles you are looking for.
Interact with their content
After following them, try to capture their attention by interacting with their publications on social networks by giving them likes, commenting on their posts and sharing what you find interesting. If they have a blog, you can also leave a comment on their posts. But be careful! Do not comment publicly on their posts asking for a review, or posting a link to your book because you will probably be perceived as "spam".
Limit yourself to observations about the content, valuable contributions to discussions if you know any of the books they recommend or congratulate them on their work. Make sure to use the same username in all your social profiles to be recognized. Add the word "writer" or "author" or something similar in your username. By doing this you'll call more attention to yourself since they'll know what you do before visiting your profile.
For example, the North American author KM Weiland uses the term "author" in their Instagram username.
Get in touch with them directly
After interacting with them on social media, look for a direct contact route. If you get these influencers to follow you back on Twitter or Instagram send them a private message. If they have a public email address, send them an email. In case you are targeting a journalist, you can contact the publication and ask for the journalist you are looking for.
If you can establish direct contact with them, introduce yourself, tell them what you like most about their content, tell them that you are a writer and then tell them about your book in a brief but enticing way. If your book and one of those that the influencer has recommended to his followers have anything in common, offer a comparison. This shows them that you really know their tastes and you'll hopefully create a bond with them.
Finally, tell them that you would love to hear their opinion about your book and that, if interested, you can send them a free copy without any commitment.
Keep interacting with their content
Once you have managed to contact the influencer directly and they have agreed to read and review your book, continue interacting on their social media posts from time to time so they don't forget you.
If you see that they haven't published any reviews, you can write or call them to ask if they have been able to read your book and what they thought. If they have not read it yet, don't force them. If they have already read it and their opinion is positive, tell them that you would love to be a part of their content and that you would really appreciate a review of it. 
#3 Marketing Strategy for Writers: Turn social media into your best ally
Social media is one of the most effective channels for the acquisition and retention of customers or, in this case, readers. Social media allows you to build a community of fans or followers around your brand that will be exposed to your messages.
According to a report by Social Media Examiner, 89 percent of marketers say that their activity on social media has generated more exposure for their businesses. As a writer, you have to start thinking of yourself as a brand and then build and cultivate that brand to achieve success.
Here are some ideas you can apply to your social media strategy:
Use popular hashtags in your publications
Search the most relevant book hashtags your target audience participates in and use them to tag your posts. Make sure they are popular enough to attract a good amount of visibility.
There are some tools like RiteTag, Hashtagify and Keyhole that can help you find the best hashtags. These tools will give you information about a hashtag's popularity and their audience while also suggesting new ideas.
Show your day-to-day life in your social media
Writers tend to be more known by name than by their face. Social networks give you the opportunity to break this scheme and humanize your work. By showing yourself and your personality, you will be able to connect more with your readers. It's okay to talk about your books but do it in a subtle way.
You must bear in mind that social networks should not be used shamelessly as promotional platforms because people don't use them to buy things; they use them know what their friends (or the people they follow) are doing. You can publish photographs of yourself while you are writing or of everyday situations that you wish to share with your followers and make subtle allusions to your new works. You have to find the balance.
Ajay K. Pandey's Instagram profile is a good example of this. Similarly, these photographs that the writer Jamie McGuire posted on her Facebook page about a meeting she attended in Rome are also a good example of this.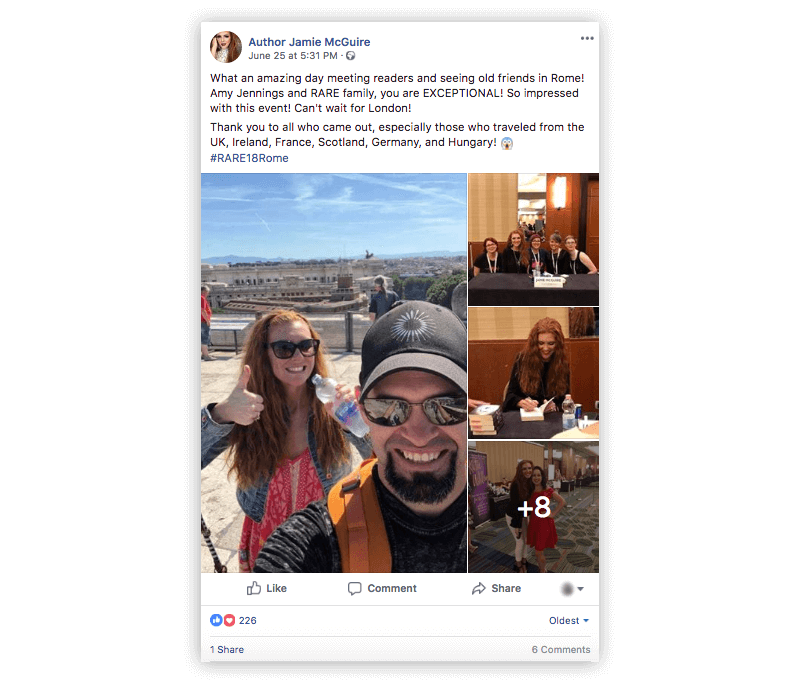 Make posts about the books you read
It's not worth talking about your work alone. Social media was conceived as a space to share content and interact with other users. To avoid posting only about your own work and life, talk about other authors' books and make recommendations to your followers making sure to tag the authors of the books if they have a profile on the given social network.
By doing this, there is a chance that the author will see your post and will reciprocate by making a public post recommending your work to their followers. Your visibility and sales could increase considerably if the writer has a large fanbase. Sometimes, you can gain more talking about others than talking about yourself.
Below you can see a recommendation made by the writer Jessica Knoll on her Instagram profile.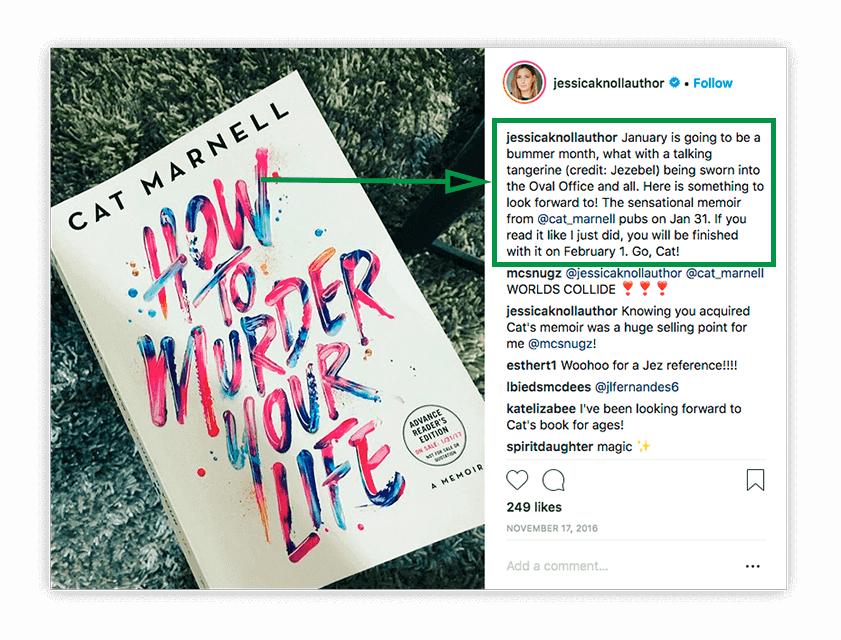 Organize contests or sweepstakes
Contests and raffles are a good way to increase the number of followers on your social profiles and get leads (users who give you their email and allow you to continue contacting them that way).
You can give away a free book by choosing randomly from all followers who comment on a specific photo or make a post using a designated hashtag. You can even have fans register for a contest through a form with their name and email address.
Post fragments of your books on Instagram
Although Instagram is known as a visual platform, there is room for your book. You can post images with snippets of text from your book. Users might be drawn to a text-heavy photo since it's a nice surprise on feeds that are heavy with images.
For example, Robert Drake usually publishes simple images with small pieces of text from his books on his Instagram profile and still gets as much or more engagement than with other types of posts.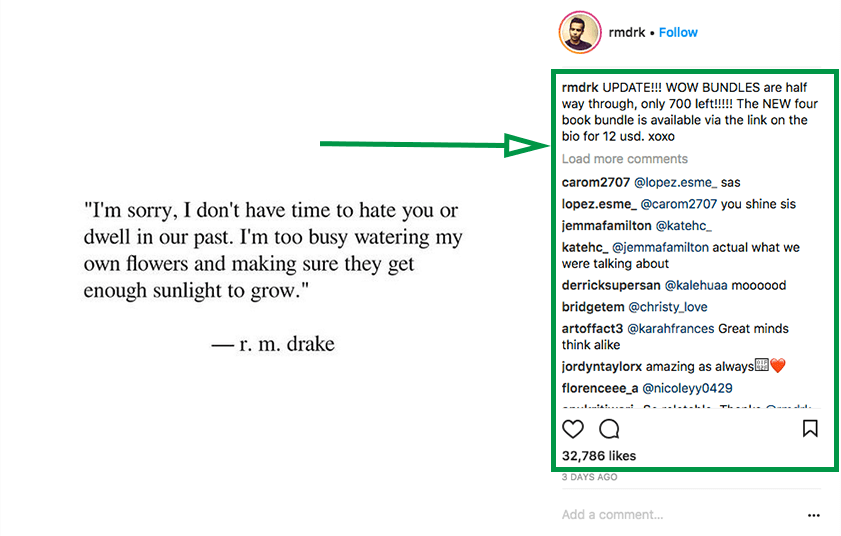 Ask your readers to leave a review on Facebook
According to Marketing Land, 90 percent of consumers say that positive reviews influenced their purchase decision. Facebook is the second platform after Google that people use to read reviews so try to get your readers to leave a review on your fan page.
You can also offer a discount on upcoming books or raffle off a reading-related gift, like a personalized bookend, among those who left a positive review on your Facebook page. If you get several positive reviews, people will be more inclined to buy your books.
Below you can see some of the reviews that the author Keri Beevis gets.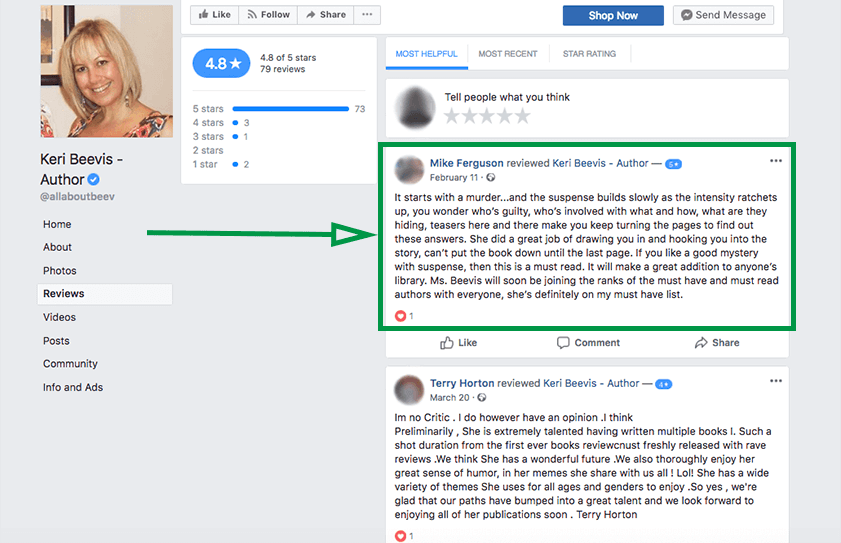 #4 Marketing Strategy for Writers: Create audiobooks of your writing
Audiobooks are a relatively new book format that is becoming increasingly popular in the book market. In Germany, 2.83 million people bought more than one audiobook in 2016 while copies of audiobooks went from 348,000 in 2013 to 675,300 in 2015 in Norway.
By creating audiobooks of your work you can reap more benefits including:
Greater accessibility:

One of the advantages of audiobooks is that they are accessible to people who can't read.

BBC News

revealed that in the United States the illiteracy rate is 8.1 percent of the adult population. There are many people who have dyslexia or who have not had to opportunity to learn to read. If you can bring your book to the illiterate population, blind people or people with reading difficulties, you will be expanding your audience.
More attractive format for young people: Several studies show that young people are much more accustomed and drawn to the use of new technologies than to traditional formats. Audiobooks can be the solution to the "laziness" that young people seem to have for reading. If your works are directed to a younger audience, audiobooks can be a good way to reach them.
Multitasking: Another advantage provided by not having to read a book is the possibility of combining audiobook consumption with other daily tasks that, otherwise, could not be carried out. Just like when you listen to the radio, you can listen to an audiobook while doing other things. It's perfect for users who don't have time to read.
There are several websites dedicated to the sale of audiobooks including Audiobooks.com and Ivoox. Audiobooks can be easily created with apps such as Audiobookmaker, too. Here, you simply have to copy and paste the text of your book into the application, verify that it can read it and then export the audio file.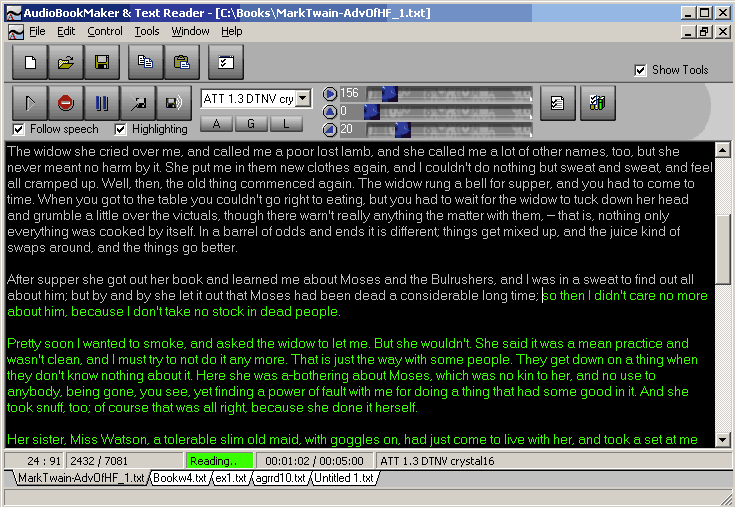 If you liked these marketing strategies for writers and want to learn more, you can also take a look at our post about Email Marketing for SMEs and find out how to create an effective newsletter that you can use to keep in touch with your fans.