[COVID-19] To help mitigate COVID's impact on clothing stores, Kolau is waiving the fee to create a FORBES™ Award-Winning website with e-commerce enabled.
---
There's a lot that goes into decorating a clothing store. You have to think about how you'll attract attention from passersby, how you'll showcase your best clothes, how you'll organize the space… The list goes on. Fashion is a creative and innovative profession to be a part of and you may find it hard to balance both the marketing and the creative aspect of designing your store. It has to look good but it also has to be practical, after all.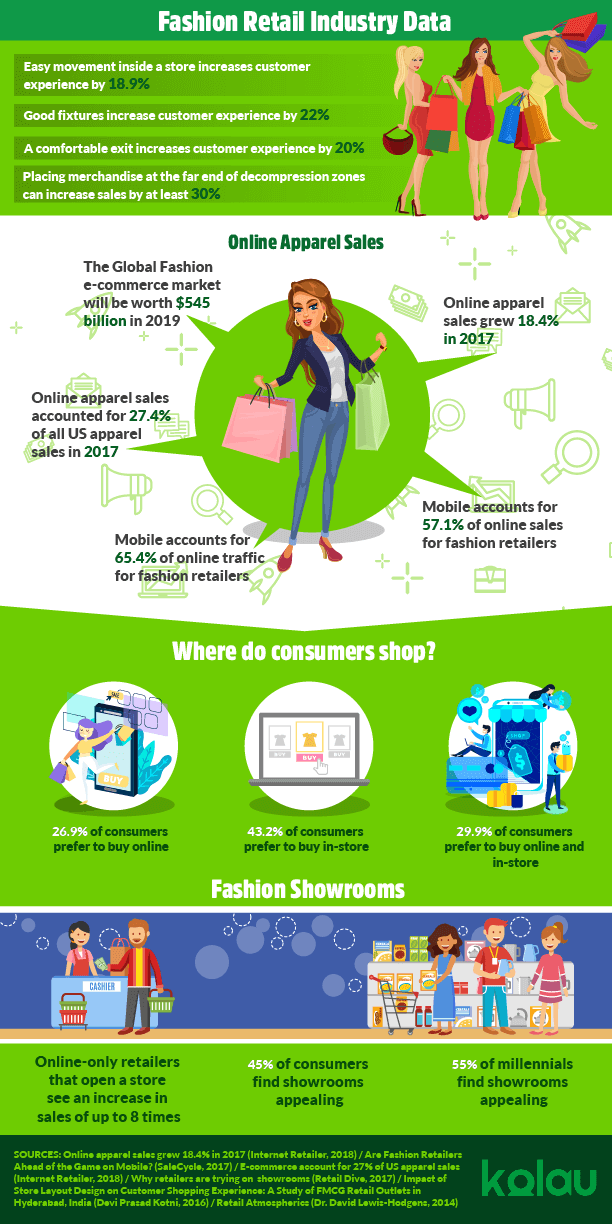 There are so many directions you could go and it can be difficult to envision the best combination for your store. Understand what kind of clothes you're selling and who wears them. Think about what you want your store design to say.
Got it?
Now, the question is: how do you apply that idea in your head and make it work in real life? We've put together a list of practical tips to help you decorate your clothing store in a way that communicates the image you want and remains effective in bringing customers in.
From the Outside
Consider what you want your store to look like from the outside. What clothes do you want to be showcased by the windows? What kind of vibe do you want your store to give people walking by?
A study was done on visual merchandising by Dr. Pratima Merugu and Dr. Krishna Mohan Vaddadi in 2017 prove that window display, lighting, promotional signage, and in-store product display can significantly increase impulse buying. Your window display is often a customer's first impression. As the study points out, a window display is
accepted as the most important part of store design because it is the first meeting place the customer has with a brand.
You want what's displayed to define your brand's style and you want it to be creative and pleasing to the eye. Boring, unchanging displays may do the opposite of what you want. If you're located near several other clothing stores or in a shopping center, you have to try that much harder to make your window displays stand out.
Make your displays art! The window displays of brands such as Hermes and Louis Vuitton are well known for their artistic approaches. In fact, in 1925, Vuitton wrote a whole essay about window displays, saying, "The art of creating a window display fall both within a sharp sense of architecture and the skills of a stage director." His displays reflected his artistic values.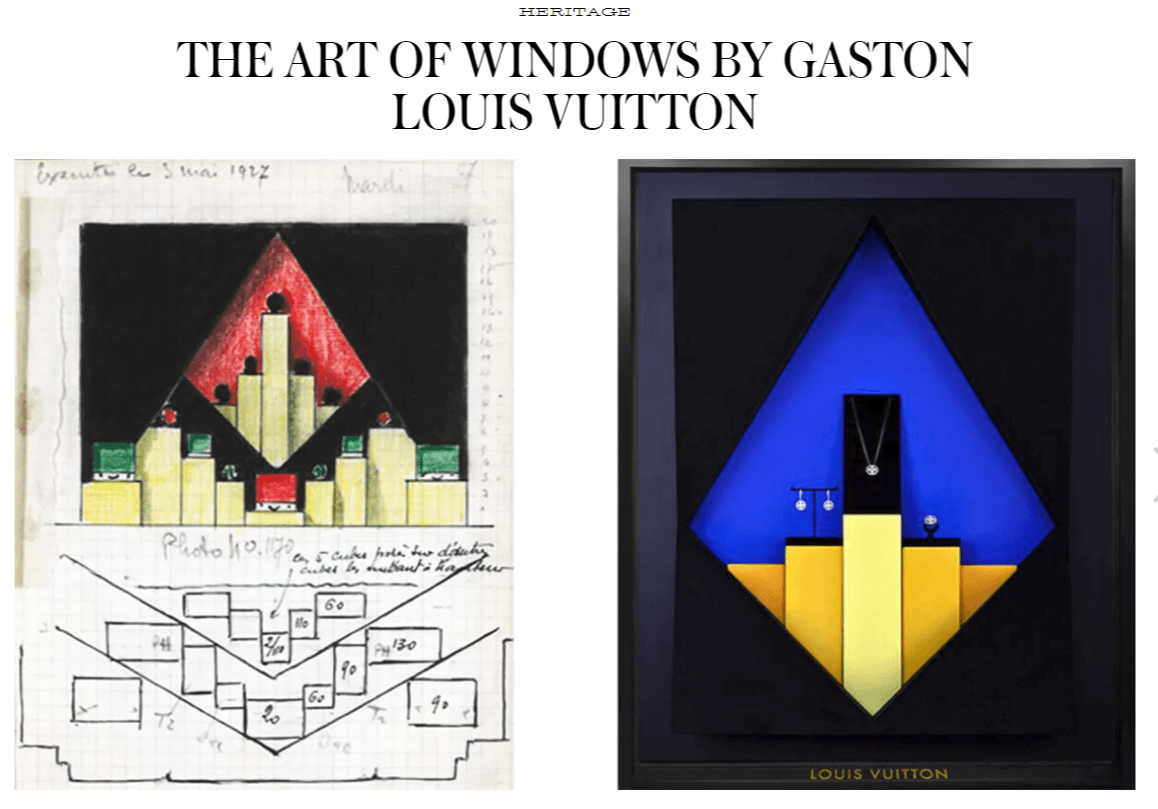 Source: LOUIS VUITTON
The display on the right is a 21st-century version of the sketch on the left, drawn by Vuitton himself. As you can see, the importance isn't all about making the products stand out. It's about the arrangement, the colors, and the feeling a piece of art invokes in a passerby.
Or look at the way Chanel has changed displays by utilizing a holographic triangle.
The idea is new and creative. The special effects catch attention and are fun to watch.
Think about lighting. You want it to be bright because that attracts more attention but where do you want that light to go–the whole display or just on the mannequins? Do you want spotlights or hanging lights? What kind of light fixture would work to define your brand? It's really all about your brand. If you sell outdoor clothing, your display could invoke outdoor lighting and include a woodsy background. If you sell fun, colorful clothing, your lighting can illuminate the whole display to make the color pop.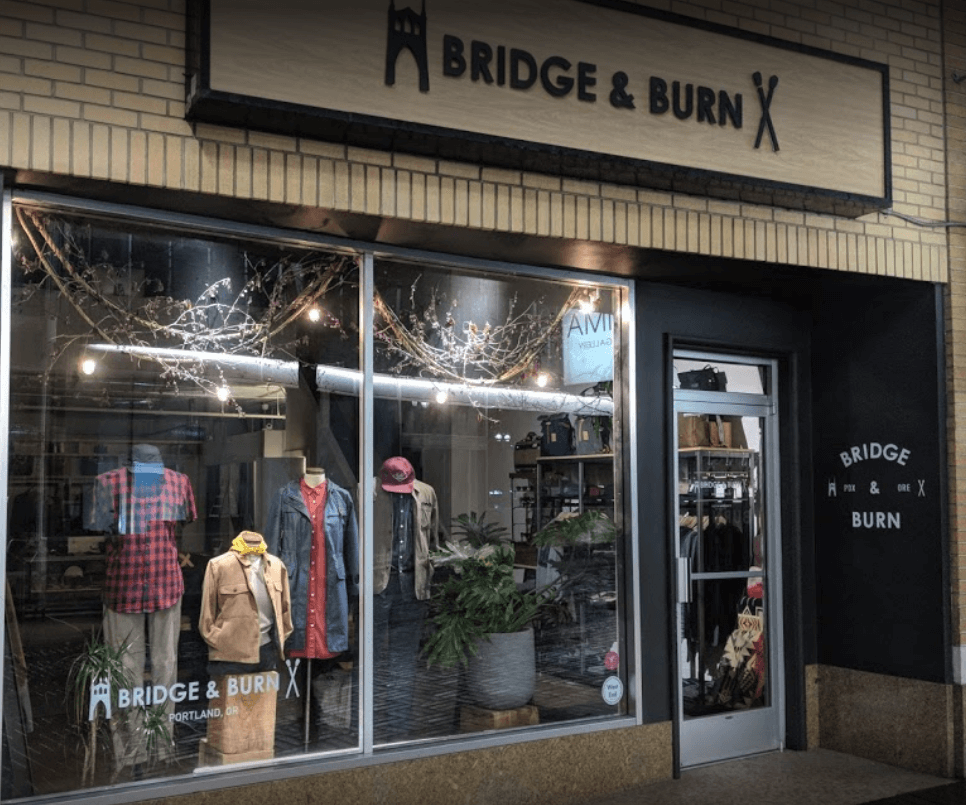 Notice how Bridge & Burn uses lighting and decorations to invoke the image of being outdoors. This is a good example of how to make your window display interesting while relating it to your store theme.
You should think about color. What color theme defines your brand? Incorporate it into the display and coordinate the clothes you showcase accordingly. It doesn't have to be obvious. It can be an accent color or a window sign. Make sure your color scheme matches, though, and your theme color doesn't feel out of place.
Remember the holidays. People shop more around the holidays, particularly after Thanksgiving and before New years and it's the perfect chance to mix your theme up with some holiday cheer. Play up that red, green, or silver around Christmas Time. Other holidays like Halloween or Valentine's Day aren't quite as big or as elegant as Christmas, but that doesn't mean you can't incorporate them! There are ways to add subtle holiday themes without overwhelming your display.
The display below is a prime example of making your displays art. It's okay to go more creative during the holidays and, though it doesn't have to be as thorough as this example, interesting displays like this will definitely catch the attention of people walking by.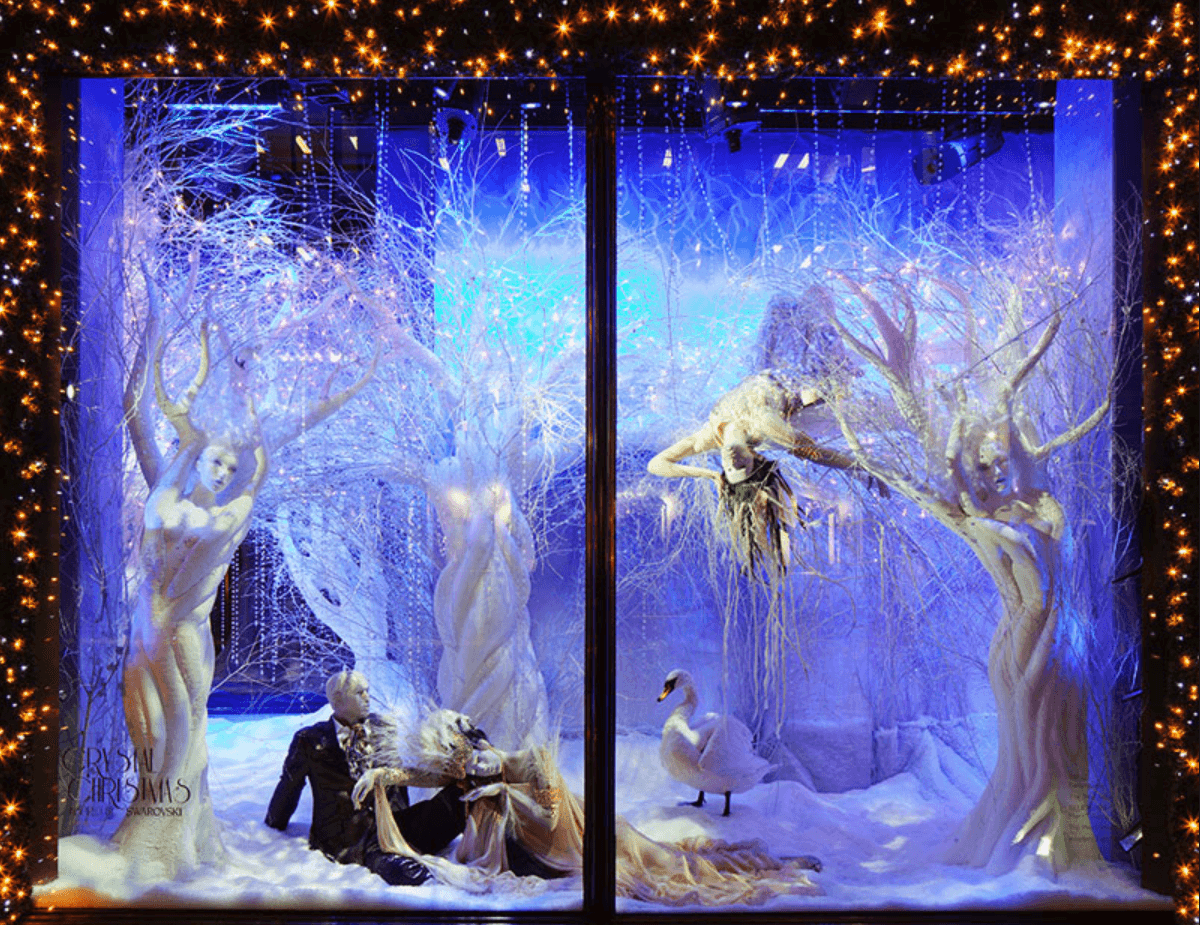 Source: Marie Claire
Don't forget about your signs either. The painting or signs on the window are just as much part of the display as the mannequins, background, and lighting. It's fine to go without any signs but if you decide to include them, you can use them in a few ways: to advertise a sale, to send a message, or to reinforce your brand. You should try to keep it simple to avoid overwhelming people walking by with messages.
The repetition of your store name on a display window reinforces your brand and reminds or makes a customer aware of whose clothes they're looking at. It's a good way to associate the style with your brand name. On the other hand, you can use your brand's slogan or the tagline for a campaign to send a message about what kind of clothes you currently sell.
If you're having a big sale, advertise it with your display. Phrases like "step into spring" or "warm up this winter" make the passing customer aware your seasonal theme has changed. Descriptive words or words indicating a state of being like "be chill" or "gorgeous" indicate the what style of people you're targeting (cool people, for example).
After your display is all set up, look at it from every angle and make sure you like the way it looks. You can't control from what direction a passerby will see it, so try to make it appealing on all sides.
Inside the Store
The Layout
There are a lot of types of layouts retail stores use, such as grid, loop, or free-flow. Some layouts work better than other for clothing stores. Grid layouts, for example, work best for grocery stores or bookstores, but they're not great for apparel. They look like this: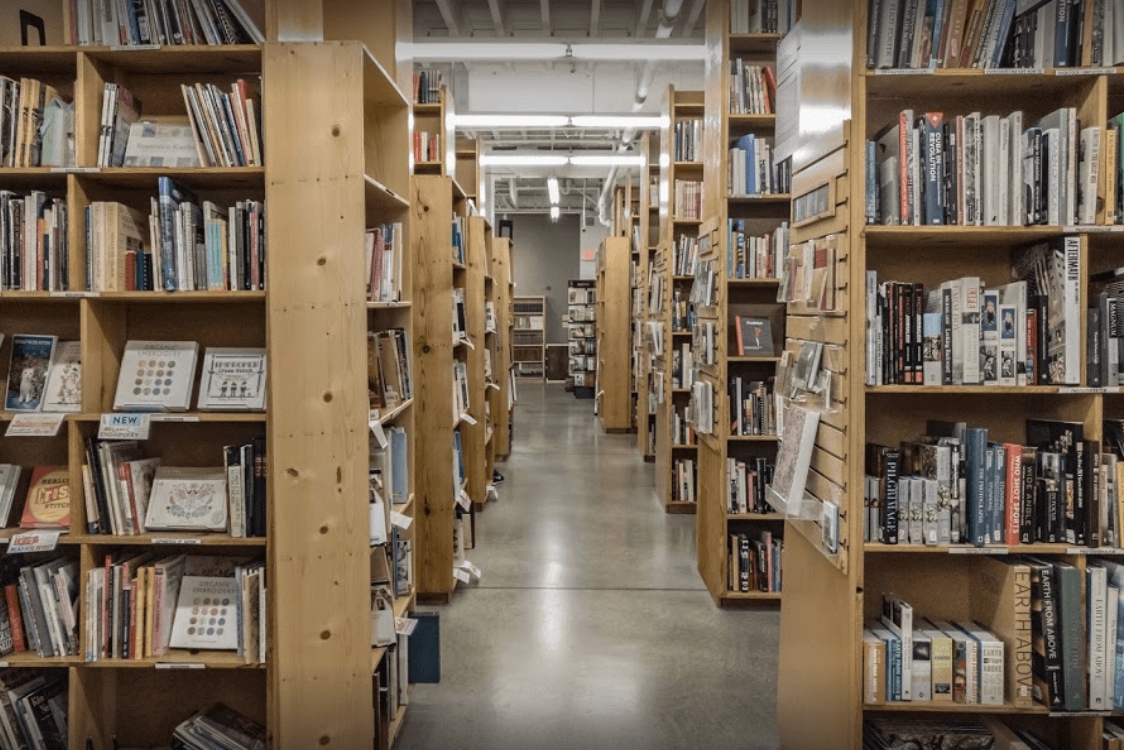 Consider instead a loop or free-flow layout. A loop layout is exactly what it sounds like. The store is set up in a circle with merchandise in the middle. Customers are encouraged to walk around the whole store and it's a great design for browsing. Products are usually organized by department and themes.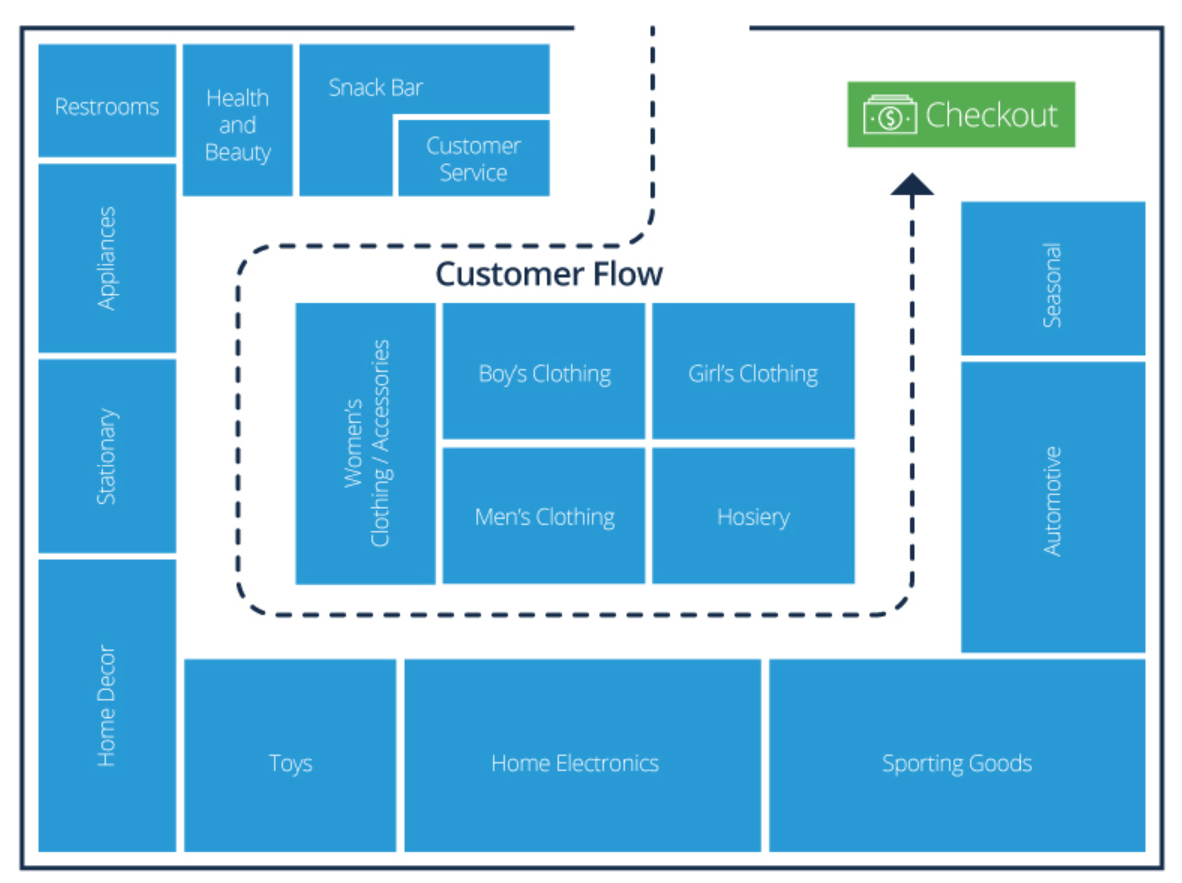 Source: smartsheet
Loop layouts are mostly used by large department stores. For a smaller store, it can create some frustration. According to a study by Tijmen Elbers, loop layouts force customers to put a lot of effort into searching for products but it can also provide an unusual and interesting shopping experience.
It may not be the best choice for customers who know what they're looking for but for those coming in to browse, it can be especially beneficial.
On the other hand, free-flow layouts can be just, if not more, beneficial to clothing stores as loop layouts.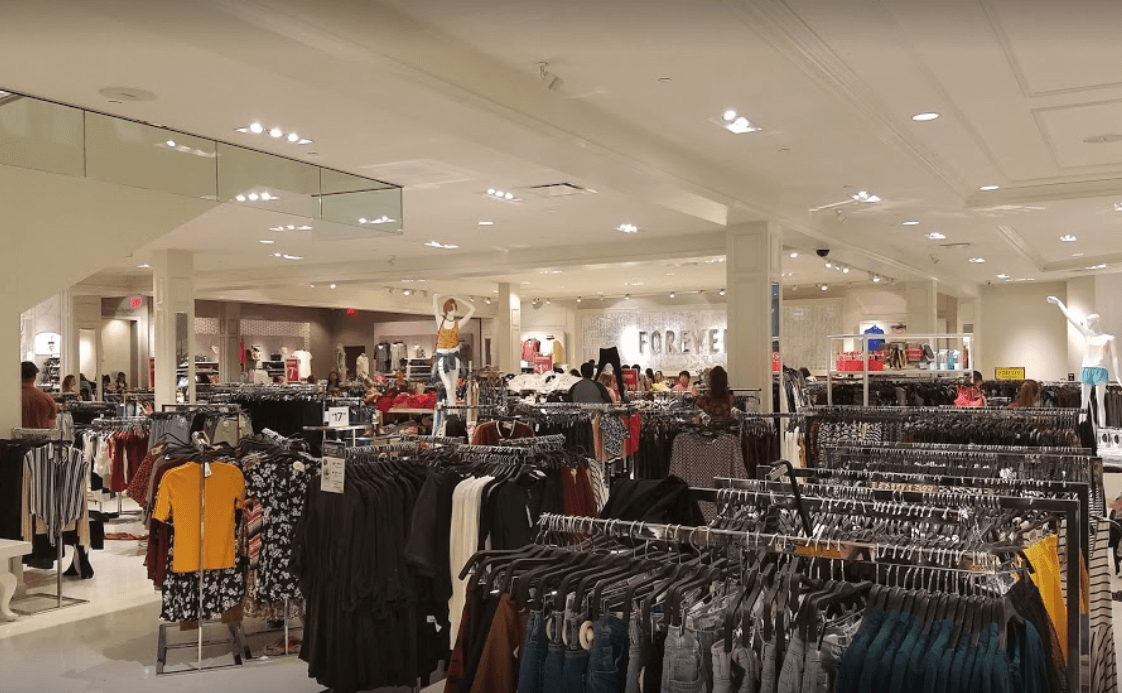 Free-flow (or freeform) layouts are commonly used for (typically smaller) clothing stores. The image above is of Forever 21 and though it's not a small store, their layout is distinctly a free flow. If you've ever been inside a Forever 21, you can see they don't put shirts with other shirts or pants all in the same section. They tend to organize by style more so than by department.
So, free-flow layouts are not as organized as loop layouts (which may be hard on you or your employees) and there's not a distinct pathway, but Elbers' study finds that customers tend to browse more when stores are organized free-flow style.
Though free-flow layouts aren't organized by department, it doesn't mean you can't have a method regarding how you organize your products. You could showcase new products at the front of the store and put high-demand products at the back so customers need to go through the whole store to get to them. You can also organize your products by color theme or by product type (for example, putting all accessories together) without having distinct departments.
It's also important to consider where you'll have your checkout according to your layout. For a loop layout, it would be beneficial to place your checkout near the exit on the left. Eventually, your customer will complete the loop and come back to the front of the store.
For a free-flow layout, on the other hand, it would make more sense to place your checkout in the center or the back of the store. When choosing where to place your checkout, keep in mind that you'll have to keep an eye on customers and some positions might make it more difficult than others.
Keep in mind that many retail stores combine several layouts in order to maximize the use of their space and it's okay to experiment with your layout to find the best possible design.
The Decompression Zone
The decompression zone refers to the area customers see when they first walk into the store. It's important this part of the store gives the customer enough time to adjust to the environment. At this point, customers are taking in the store and forming their first impression. They're adjusting to their shopping speed.
According to an essay by Dr. David Lewis-Hodgson, it takes around ten paces for a customer to move into "shopping speed." Lewis-Hodgson also points out it's important not to put anything of value in the decompression zone as it'll most likely be overlooked.
This image of a clothing store called Lizard Lounge shows how they do a good job of creating an atmosphere and avoiding putting product right at the entrance (in other words, the decompression zone).
The same essay mentions Americans' tendency to go right as soon as they enter a store. The right wall will probably be the second thing your potential customer sees and is considered a power wall. It's not your only power wall but it's likely the first one your customer will see. Consider putting your best merchandise (popular, seasonal, etc.) on the right wall or other power walls.
Furniture and Comfort
Even if you decide to go for a store layout that doesn't provide a clear aisle, make sure you give customers enough room to browse and avoid bumping into other customers. Personal space is important! A study done by Devi Prasad Kotni finds that a customer's positive experience in a store increases by 18.9% if they can move around easily. Experience also increases by 20% if there's a comfortable exit, meaning there's enough space for a shopping cart (if you provide them) and it's easy to leave should they choose to.
You can also think about providing seating arrangements. Shopping, especially for clothes, can feel tedious for many people. Providing them a place to rest, especially if you weren't their first stop, can encourage them to slow down and stay longer in your store.
The clothing store, Xtabay Vintage Clothing Boutique, provides ample seating for customers, managing to make space look comfortable and natural by connecting it to their store theme.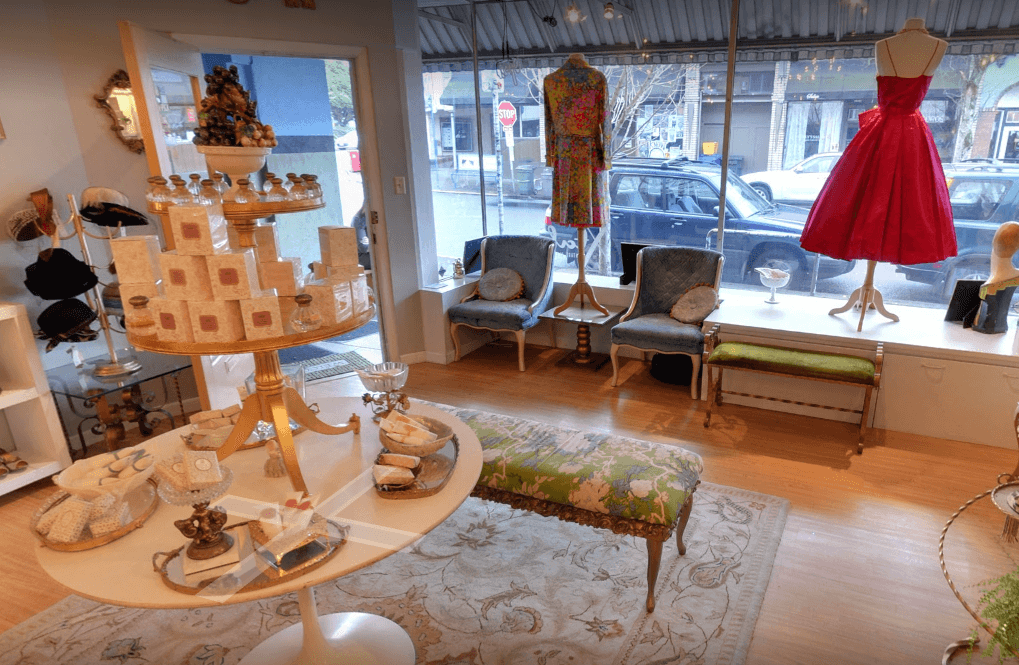 You can provide seating inside your fitting room as well. Trying on clothes can be even more tedious than finding them so providing enough places for your customers to hang their things and sit down if needed will maximize comfort and reduce the frustration associated with trying on clothes.
A combination of things such as lighting and mirrors can affect a customer's experience inside a fitting room. A study called "Consumers evaluations of fitting rooms in retail clothing stores" finds that the biggest problems consumers had with fitting rooms were the lack of hangers, mirrors or sitting units, small-sized rooms, and bad lighting. As with when customers are shopping, it's important to give enough space in the fitting room so they feel comfortable navigating.
Having clean, tall mirrors and good lighting that allow your customer to clearly see their entire outfit is a must. Fitting rooms are notorious for bad lighting so try and avoid unflattering lights. Overhead lighting and fluorescent bulbs, for example, can make for unflattering lighting. Try to use LEDs. Instead of having light come from one direction (from above for example), experiment with the organization of your lighting.
Try to find a way to illuminate the whole room and the customer, not just certain aspects of the room or the customer's body. When lighting shadows the face or illuminates one part of the body (like the waist, for example) it can negatively affect the customer's perception of their body and, consequently, the clothes they're trying on.
Controlling the Environment of your Store
More freedom is available to you outside the fitting room when it comes to lighting. In your store, your lighting can reflect your theme. Would cool or warm lighting work better with your color scheme and clothing theme? What kind of effect do you want to have on your browsing customers?
Warm light is good at creating a cozy, romantic atmosphere and would work well over warm-colored products. On the other hand, it may distort the color of products that don't mix well with warm lighting.
Lizard Lounge utilizes warm lighting to create a cozy, casual environment. It fits in with the urban feel their clothes reflect.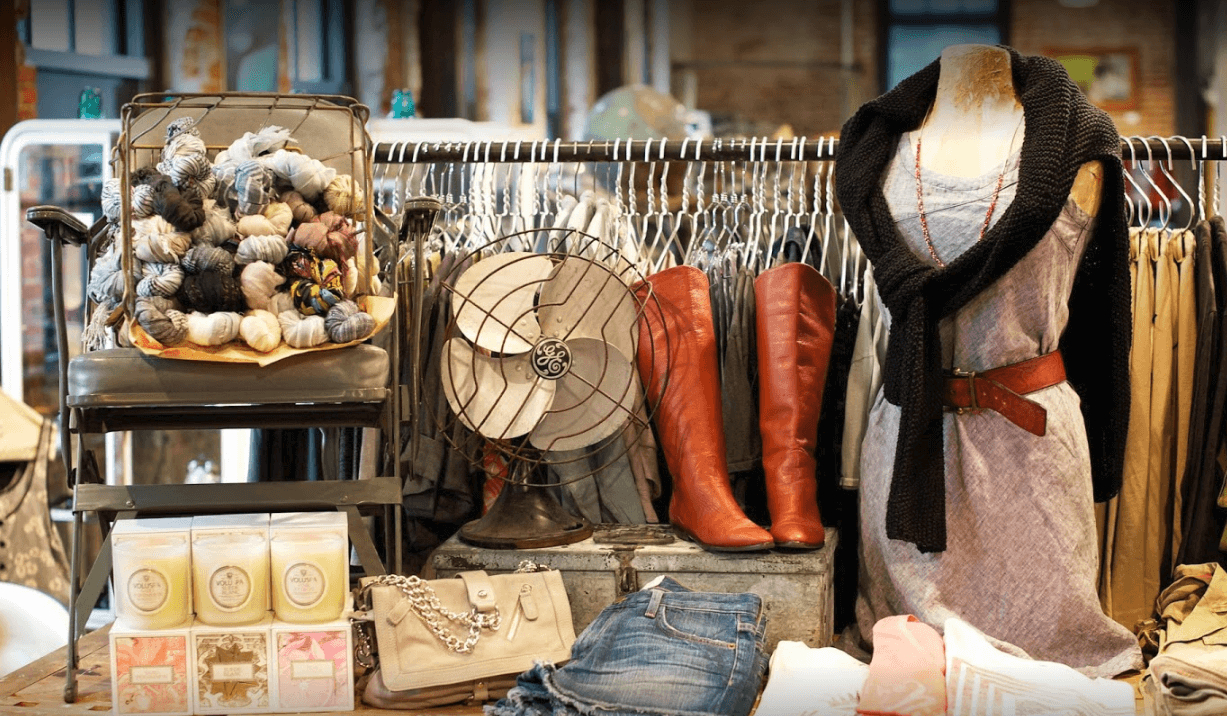 Cool light is energizing and clearer. You won't have to worry about it distorting any colors. It's more typical of a store to use cool light.
MACHUS uses cool lighting and big windows, creating the feeling of brightness and natural light. The clear light reflects their theme: designer clothes.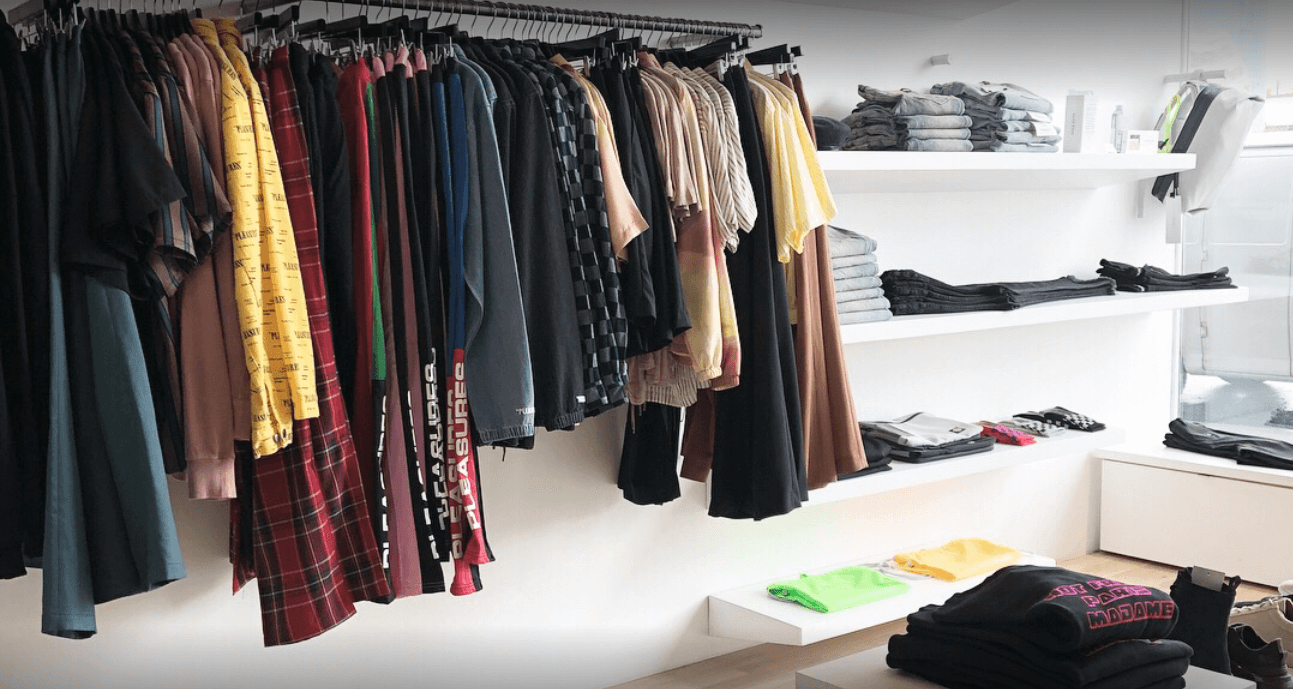 If you have the space and the inclination, there's no reason not to give both a try in different parts of your store. Just be careful not to overwhelm your customers with a too-busy environment.
A 2017 study done by Ayane Fujiwara, Sheilagh Resnick, Kim Cassidy, and Abraham Brown from Nottingham Business School and Nottingham Trent University claims that music has a positive emotional effect on customers, which could lead to an increase in spending, but they also pointed out that music picked without much consideration could do the complete opposite.
Called "piped music" in the study, thoughtlessly picked music was found to irritate customers and could also affect their health. That doesn't necessarily mean you should avoid playing music in your clothing store. It just means you have to be considerate to what kind of music you play.
Picking music that fits the atmosphere of your store could produce the effect you want. For example, playing pop in a clothing store targeted to teens would most likely elicit the response you want because customers' perceptions of the music match their perceptions of the products.
You don't have to limit mirrors to your fitting room. Putting mirrors on walls or pillars in your store can make it easy for customers to look at products they don't necessarily need the fitting room to try on (like coats or sunglasses). Not only that, you can use mirrors to make your store look bigger and more appealing.
According to Internet Retailer, e-commerce accounts for 27% of U.S apparel sales. The market is quickly growing as well. In 2017, apparel sales grew 18.7%. So, let's take a look at what online stores can do to reap the benefits of the offline customer service experience.
If you're an online-only store, there are offline options for you as well. So far we've talked about how to decorate what we typically understand as a clothing store but, though they're a fairly new trend, let's touch a bit on fashion showrooms as well.
Fashion Showrooms for Online Stores
Fashion showrooms are the perfect mix of the best parts of shopping online and walking into a physical store. Customers get the chance to fall in love with the clothes before they purchase it and you get the chance to give them the customer service they'd miss out on if they only shopped online.
Showrooms give the convenience of having something shipped to your home and provide the peace of mind of knowing the product is going to fit and be made of good quality. But the real charm in a fashion showroom is the unique customer experience it creates. We have some tips on what you can do to create your best possible fashion showroom.
Before we go into them, though, let's talk a little bit about how showrooms work and why they can be the key to a successful business.
People are most familiar with showrooms when it's for buying furniture or appliances. It can be a little hard to understand how something similar would translate to apparel retail. There are marked differences between a fashion showroom and other kinds of showrooms, particularly when it comes to services offered in the store, but the process is mostly the same.
Once someone comes in and decides on what clothes they like, employees can offer to have them ordered and shipped to their home or the customer can place the order online themselves. This saves space because there's no need to keep a large supply of inventory on hand.
It's an unfamiliar process for many people but that doesn't mean people aren't open to giving it a try. Though baby boomers weren't too keen on the idea, Retail Dive finds that 55% of the millennials in their study found the idea of fashion showrooms appealing.   
Fashion showrooms can make for a great marketing strategy, regardless of whether you use them as temporary pop-up stores for your online business or as a permanent feature. If your business is online-only but you want to give physical stores a try, showrooms are great to experiment with.
Take the popular online clothing store, ModCloth, for example. Modcloth only has three locations in the U.S where you can go into a physical store and look at their clothes. A few times in the past, they've opened temporary pop-up shops in other places. It's appealing to go to a ModCloth location, even though you'll have to order online anyway because you'll get to see the product in person while getting expert help from a shopping assistant.
The image below is what a temporary ModCloth store in Portland (that is now permanently closed) looked like. Their choice to use the hashtag #ModClothIRL on their window display is a great way to signal people familiar with the online brand and make others curious.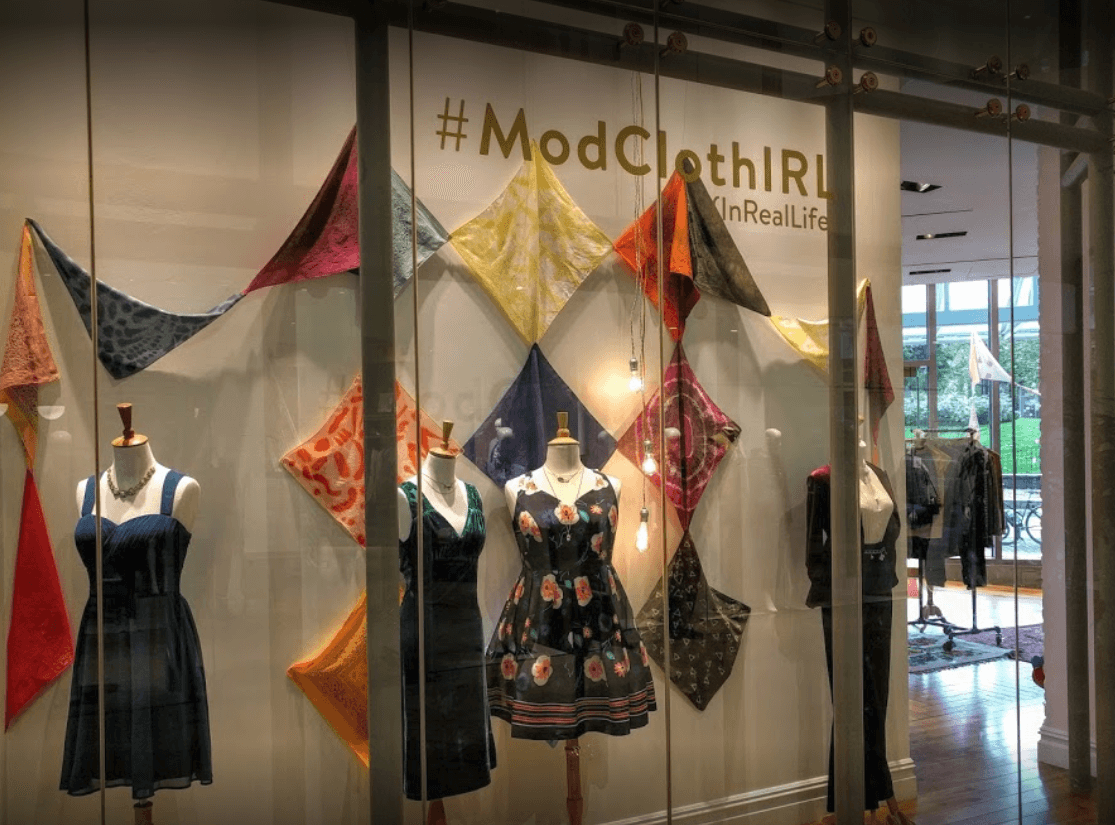 At a showroom, a customer can get properly measured so they don't have to worry about ordering the wrong size. They can get all the help they need and the customer service they would experience at an offline store and still benefit from the convenience of an online store.
Other showrooms have been known to offer other kinds of activities like manicures to create a "hang out" place. Though it's not necessary, it could be beneficial for you to think about what kind of activity would relate well with your store theme. For example, the girls' accessory store, Claire's, offer ear-piercings.
Fashion showrooms, expectedly, tend to look sparer than other offline clothing stores. They only need to carry one of each size and color of a product because they aren't selling anything or much out of the physical store. Making them look more upper class or using spot-light lighting or utilizing fewer racks is typical of showrooms. A small space is not only beneficial for this kind of store but necessary. A space too big would make a showroom look empty.
Creativity, be it through lighting, coloring, or layout, is especially encouraged for a showroom. Showrooms are all about the experience. A customer needs to feel it was worth it to return to the store, especially because they have to order the products online anyway.
If you liked these tips on how to decorate your clothing store, check out our post detailing 5 Marketing Strategies to Better Dress your business.