[COVID-19] To help mitigate COVID's impact on small businesses, Kolau is waiving the fee to create a FORBES™ Award-Winning website with e-commerce enabled.
---
You've more than likely received direct mail magazines in your mailbox. They're full of glossy pages featuring ads and coupons for local businesses.
Maybe you've used them and maybe you haven't, but according to the United States' Postal Service's 2018 Household Diary study, 53% of households read them plus 21% of households scan them. This means many people are looking and engaging with local magazine advertising.
Direct mail magazines aren't the same as your traditional magazine. While traditional magazines are full of content like articles with ads dispersed throughout, direct mail magazines are usually only made up of ads. People only look at them to find coupons or see what's going on with local businesses.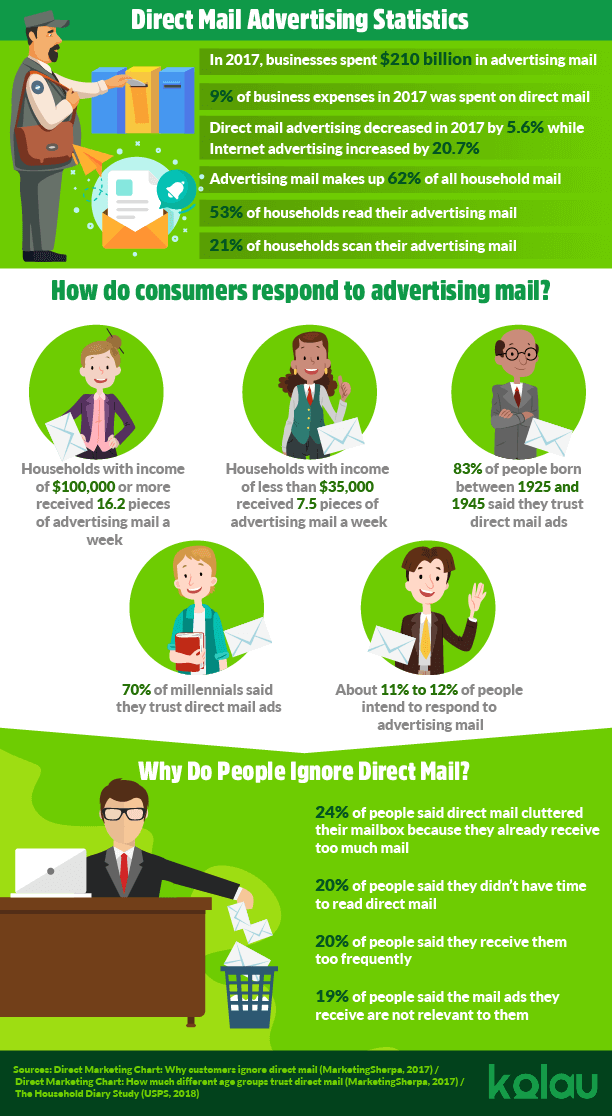 Why is Direct Mail Magazine Advertising Effective?
You may think print advertising is dying or already dead, but that couldn't be farther from the truth. In fact, print advertising stands out among all the emails and internet ads.
People who open their mailboxes have no choice but to deal with a direct mail magazine. They have to look at them and decide what they want to do with them. According to USPS's household diary study, businesses spent about $210 billion in advertising mail.
Not to mention, according to MarketingSherpa, most people trust direct mail advertising.
83% of people born between 1925 and 1945 trust
direct mail ads.  
It's not just older people who trust them, though. 70% of millennials also trust direct mail ads. This is very different for online ads, especially pop-up and banner ads.
While print ads and mailed catalogs are the first and third most trusted form of advertising respectively (with tv ads in between), only 25% of people trust pop-ups and only 39% of people trust mobile and banner ads. MarketingSherpa's respondents listed reason as to why they distrust pop-up ads, including a fear of being hacked or catching a virus. With paper and physical ads, that fear is completely nonexistent.
In 2018, 281 billion emails were sent by and to 3.82 billion worldwide email users every day. On average, that's about 74 emails per person. How many of those emails get opened? About 15.75%. That's a lot of emails. It's hard to stand out among such a large crowd.
According to USPS, the most a household receives a week is around 16 pieces of advertising in the mail and, as we've seen earlier, the engagement rate is much higher for direct mail than the open rates show us for email.
It's easy for people to hit delete on emails without opening them or to ignore ads completely. People have gotten so used to online ads that marketers have come up with a term called banner blindness, in which consumers both consciously and unconsciously ignore banner ads. Just look at all those ads below.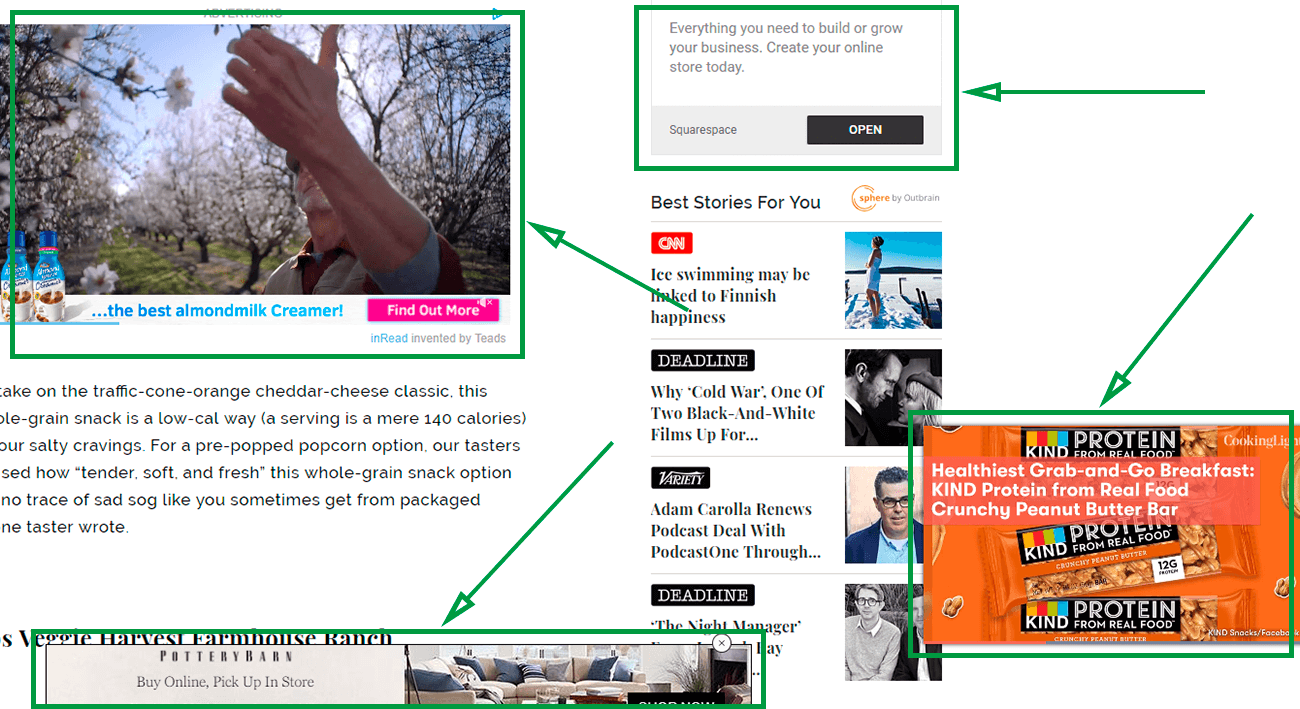 There are three fully visible plus one cut off on a single page. You have to work much harder to make a banner ad stand out, meaning not only does it have to be beautifully designed, it's targeting needs to be extremely accurate to grab attention.
In a world full of digital advertising, print ads and magazines are a breath of fresh air that can reach people where online ads can't. 
That's not to say you should forget about digital marketing completely. Jerry Carlson, who runs a direct mail magazine called Buy Local Only that is distributed throughout Oregon, said though direct mail works for any kind of business, startup companies that need to explain their service or product to people should couple their print advertising with digital marketing. For example, using print ads to drive people to your website is a good idea.
Local Magazine Advertising Tip #1: Targeting the Right People
Like with most marketing, advertising in direct mail magazines is all about picking the right publication that helps you target the right kind of people. If you're a local business, advertising to the community around you can do you a lot of good. Advertising in the right magazine is important too. Often, the magazine you choose affects which potential customer gets targeted and how.
Quarterly Magazine is a direct mail magazine that distributes throughout the Putnam County and Westchester County New York. Allison Palais, the owner of the magazine, said direct mail advertising is very effective but, "you have to know who to mail to and who to put as an advertiser in that direct mail."
Palais' magazine is made up of four books, which in total go out to about 100,000 homes. When choosing a magazine, pay attention to how they target consumers and if the magazine is in contact with the right households for your business.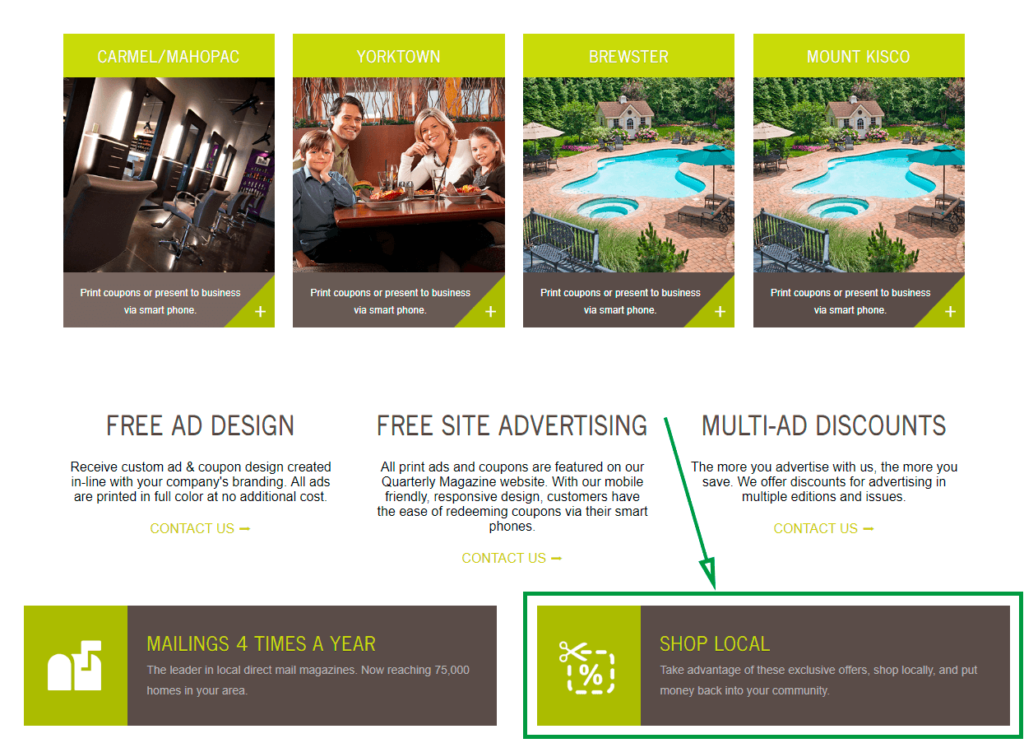 Quarterly Magazine emphasizes the benefits both advertisers and consumers get from using direct mail magazines. Notice how the bottom right option says "Shop Local" and "put money back into your community."
People like to support local businesses they feel are part of their community. Choosing a magazine that also understands the importance of community marketing and how to execute it will benefit your business and its relationship to the households surrounding it.
It may be tempting to only target middle-class or upper-middle-class neighborhoods, but it's important to take into account where your business is located and who is most likely to walk into it. Don't just market to neighborhoods with more money, especially if they aren't your frequent customers.
Jerry Carlson posts videos about marketing tips on his website. In one of these videos, he emphasizes the importance of sending out ads to people within two to five miles of your business, regardless of income status. According to the book Killer Business Plan by Peter and Lydia Mehit, 85% of your customers come from one mile of your business, 10% come from three miles, and 5% come from five miles.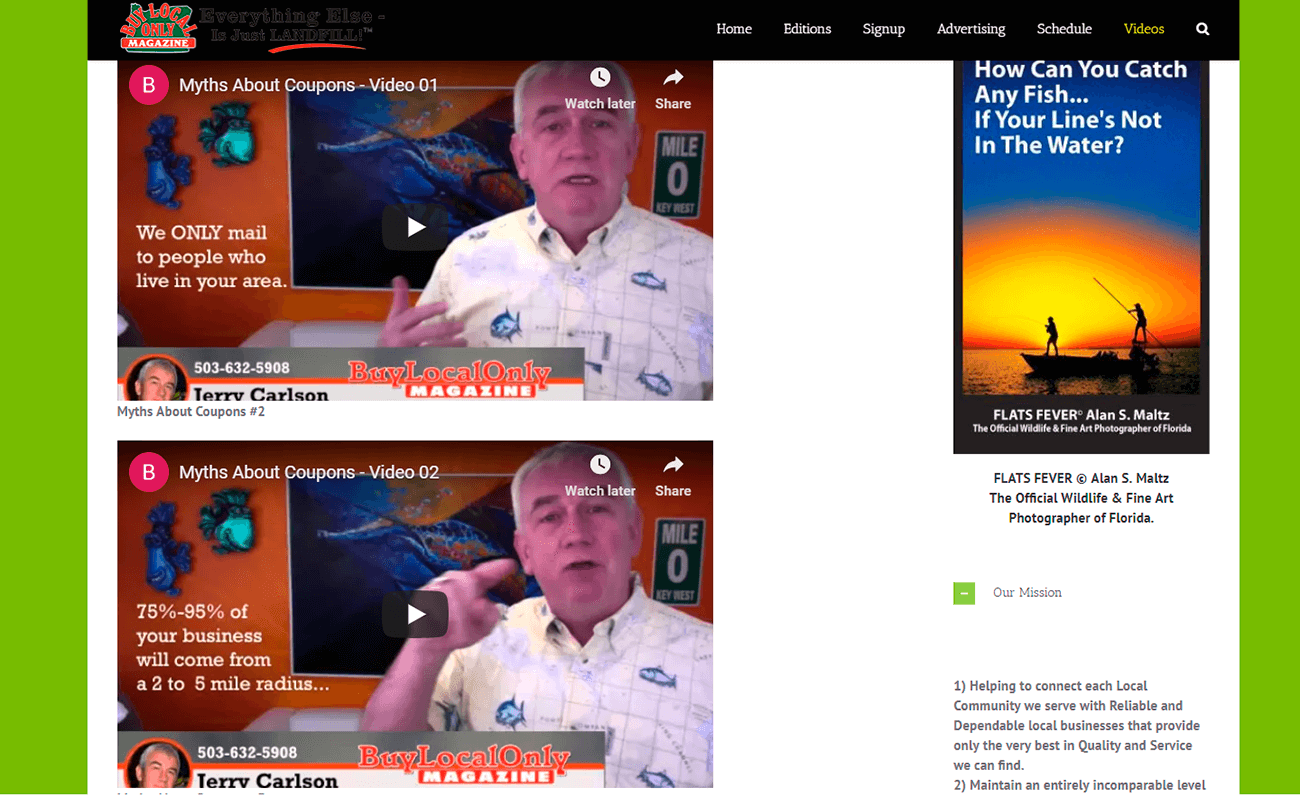 Despite this, according to the USPS's Household Diary Study, households with income of more than $100,000 receive the most advertising mail at about 16.2 pieces of advertising a week. In comparison, households with an income of less than $35,000 receive only 7.5 pieces of advertising mail a week.
It makes sense to target households with higher income if your business is located in the middle of an upper-class neighborhood, but otherwise, it would be unreasonable to expect most of your customers to come from those households. The median household income in 2017 for the US is about $60,000. This means the majority of advertising mail is going to a small minority of households. 
Also, consider that the number one reason direct mail advertising gets ignored is that the person receiving it feels they already receive too much mail. The second reason is that they receive the ads too frequently. Seeing as upper-income homes receive more than twice as many ads as lower-income homes, focusing more on the people most likely to enter your business could solve this issue.
Where are your regulars from? Where do the majority of new customers come from? When choosing a magazine company to advertise in, look at where they distribute and if those areas match up with the ones you have determined are important.
Local Magazine Advertising Tip #2: Don't Sacrifice Quality
If you're trying to get the best price out of magazine advertising, you might focus on finding the cheapest direct mail magazine out there. However, taking the quality of your magazine into account is important. Part of the appeal of print ads is how they look and feel in your hands.
Carlson notes that one of the hardest parts of direct mail magazine advertising is how other magazines try to "out cheap" each other, which inevitably results in lower quality ads. He said cheap products will only result in them being thrown away. That's the opposite of what you want to happen.
Ideally, your chosen magazine should entice the recipients. It should be nice enough that they don't mind keeping it on their coffee table or they are willing to keep coupons they're interested in hung up on their fridge.
Not only that, the quality of the magazines you choose to advertise in can affect the way your business is perceived. You want your business to appear trustworthy and professional and choosing a magazine that guarantees quality is a part of ensuring that appearance. Attractive ads, good quality paper, and honest deals and offers are a good way of making sure your business retains a good reputation amongst your local customers.
Allison Palais describes how the high quality of her magazine makes it "desirable" and makes her recipients happy to open it.  She said, "[Women and the elderly] love opening up my magazine… It's a really pretty magazine. It's very glossy. It's nice feel to the touch and so people like to handle it." That's exactly how you want the recipient of the magazine you advertise in to feel.
Looking online, the first page of one of the featured magazines certainly reflects the quality.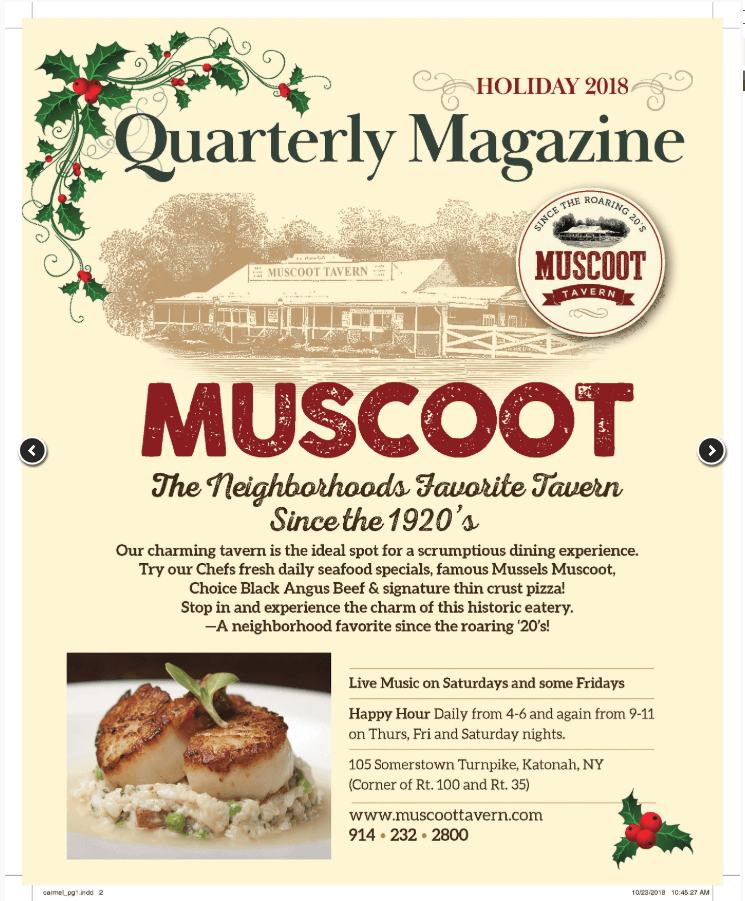 It gives you certain expectations right off the bat about what the ads will look like. You can tell when a magazine puts effort into and prioritizes quality.
Also, remember that some households tend to receive a lot of direct mail ads. You want the magazine you choose to stand out amongst all the other mail they receive. If the magazine is high-quality with glossy pages and beautiful photos and ads, it'll be noticed before the magazine made of flimsy paper and washed-out colors.
Local Magazine Advertising Tip #3: Designing Your Ad and Utilizing Advertising Bait
Many magazines will create your ads for you, but if you decide to create your own or want to evaluate the quality of the ads they've created, there are some things you should pay attention to. First, pay attention to your headline. Jerry Carlson recommends making your headlines "short and sweet," keeping the number of words between three and five.
Make sure your ad includes a call-to-action, meaning it instructs your potential customer on what you want them to do. For example, phrases like "Join Now" for things like gym memberships are a good example of a solid call-to-action. Below is another great example from Buy Local Only Magazine.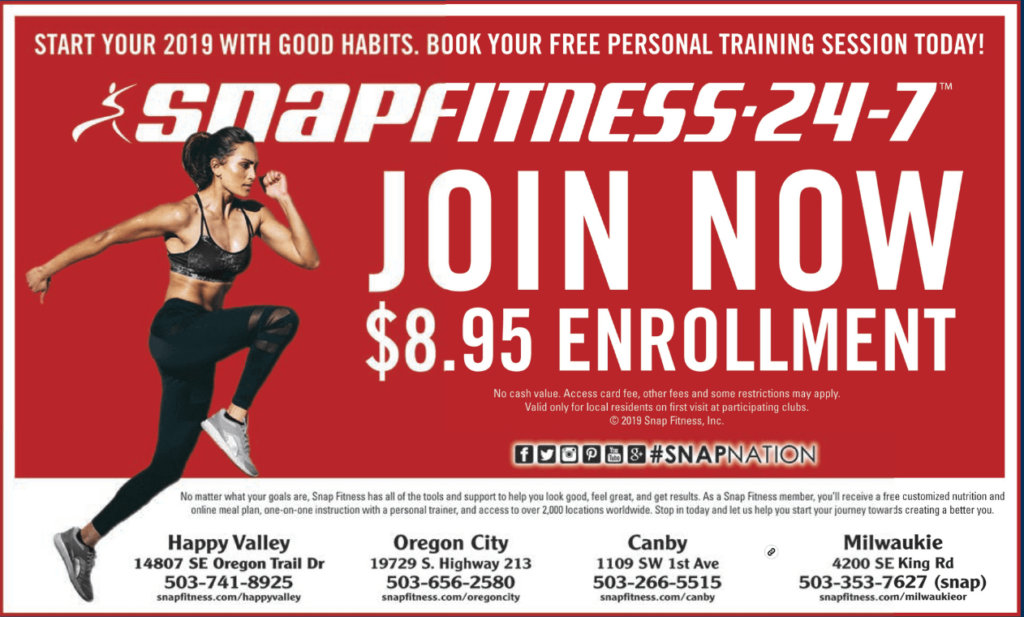 "Join Now" is straightforward and catches the eye due to the size and color of the letters. It's not an overcrowded ad and it organizes the information communicated very well.
Emphasizing a deal or discount (in other words, your bait) in your headline is also a good idea. Coupons are a great way of catching someone's attention when they're flipping through a magazine and they'll likely bring in new customers as well.
You want to give potential new customers a reason to remember you, save your ad, and go into a business they've never been to before. Coupons can also help give customers who have stopped buying from you a reason to return. 
Coupons bring people in who may become recurring customers, but, as we mentioned earlier, honesty is important. If you're offering a deal, make sure you're clear about what your potential customer will have to do in order to get the deal.
If you offer $10 off a meal but don't mention they have to spend a certain amount of money, you'll risk losing credibility and trust. You may get that customer in that first time, but they won't return if they feel tricked.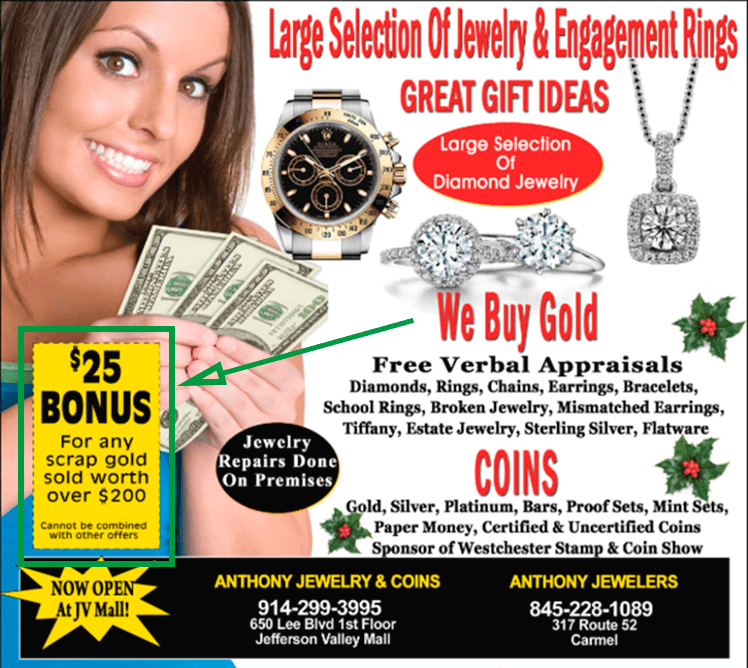 In the picture from Quarterly Magazine above, we can see an offer for a $25 bonus, but it's clear that the gold you bring in needs to be worth over $200 and it cannot be combined with other offers. The offer is the biggest, rightfully so, and though the the other words are smaller, the offer is still clear about the requirements. The reader doesn't have to search for the "exceptions" either.
When it comes to advertising in general, it's a good idea to focus on what you can give your potential customers rather than the features of your product or service. With coupons, the benefits are clear.
However, if you run a business that can't give a definite price–for example, if you own a clinic or home renovation business–you may not be able to use coupons the same way. This is when it might be tempting to list the features you offer, but you should try and frame them as a benefit to your customers.
For example, if you run a dental clinic, don't just say you offer teeth-whitening. Tell them how whitening their teeth will improve their situation.
Ads are very visual but when it comes to creating print ads you tend to have a lot of freedom. Images are perhaps less important than the call-to-action or the deal you're offering. When choosing your imagery, make sure it looks good as a whole, taking into account the size of your ad, where the words are going, and your color scheme.
Take good-quality pictures if you're going to include them in your ad. Relate the picture to your ad, if possible. For example, if you're offering a deal off burgers, showcase some of your delicious-looking burgers.
The ad below comes in one of Buy Local Only's editions. It's a good example of how professional photos can make a big difference when it comes to making your ads visually pleasing.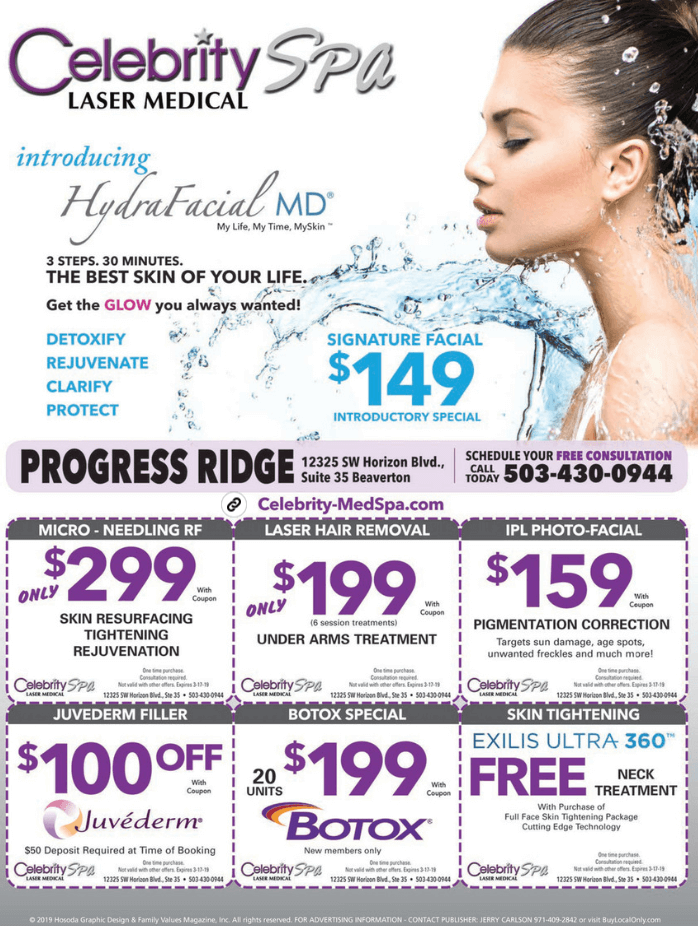 Without the photo of the woman, the ad itself would be much less interesting to look at and wouldn't grab attention in the same way, despite being a whole page long.
We've written another article about how small businesses can use bait to attract new customers. In it, we talk more about highlighting benefits over features and how honesty and transparency are crucial to effectively executing free bait. Check it out if you're interested in learning more.
Local Magazine Advertising Tip #4: Pair it with other kinds of marketing
Like Carlson said, it's hard for startup companies with a lot of explaining to do to market themselves only through direct mail magazines. These companies absolutely should give direct mail magazines a try as they'll make the business discoverable to local residents (something they'll definitely need if they're a new company).
Using print ads to refer consumers to your website in order to expose them to more information about your company is a good tactic – if you want to know more about how to create a specific web page related to your ads, check out our article about how to create an effective landing page.
"That's something a lot of our home improvement contractors report to us," said Carlson. "A lot of people are getting to their website after they see their ad in the magazine." It's not until after they see something they like on the website that they decide to give these home improvement contractors a call. This is not uncommon. In fact:
95% of people will check your online website before taking action.  
So it only makes sense to pair your direct mail advertising with digital marketing tactics. At least include a URL on your print ad to lead your potential customer to your website if they choose to look for you online. 
In the ad below the emphasis is on the phone number, not the website, but the website URL is there nonetheless in case someone wants to go to it.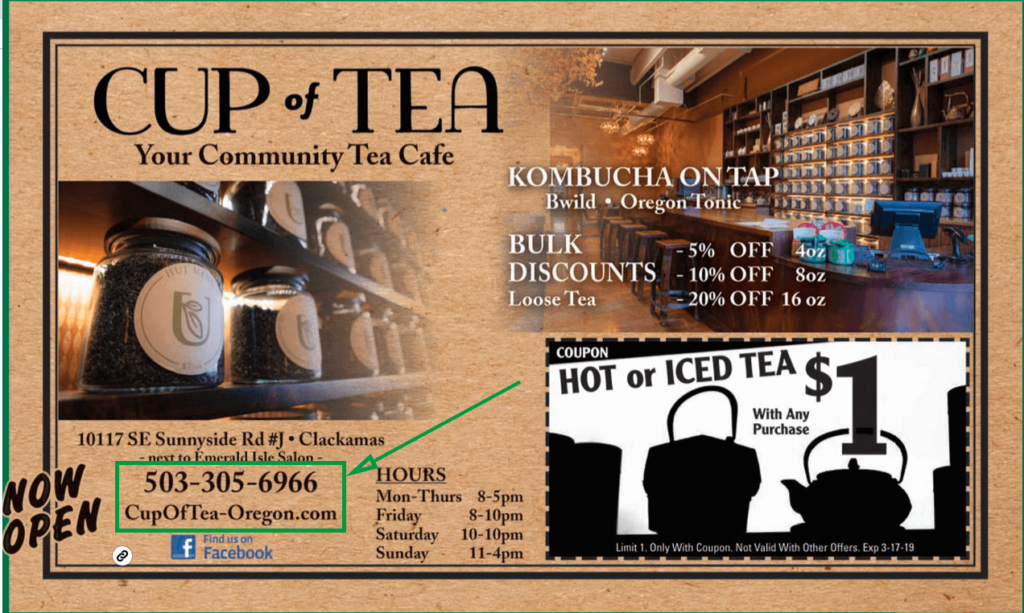 Source: Buy Local Only Magazine Oregon City & Canby edition
It's good practice to include a website URL, even if you prefer they call you. Many people want to research a business before they contact them. 
This ad for Harry's Razors, however, instructs people to go to their website only.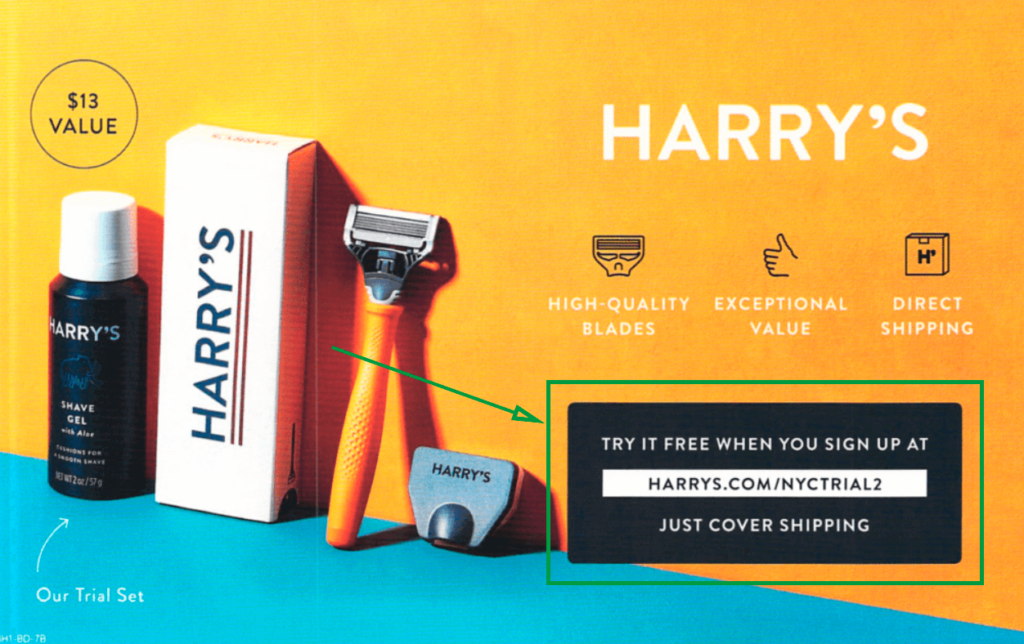 Source: Nickgray.net
This is an example of how you can use print ads to bring people to your website. Harry's also offers a reward (a free trial) for signing up, which is a great incentive for them to go to the website.
If you choose to lead people to a webpage customized for the print ad they're looking at (making the webpage more relevant and personal to the consumer), you could also utilize retargeting tactics online.
After someone has visited your website, you could begin retargeting them using digital ads to remind them what interested them about your business and encouraging them to finally contact you if they didn't do so during their first visit to your website.
Sweepstakes are commonly used in direct mail ads. A good example is this ad from the January/February edition of the Buy Local Only magazine for West Linn and Lake Oswego: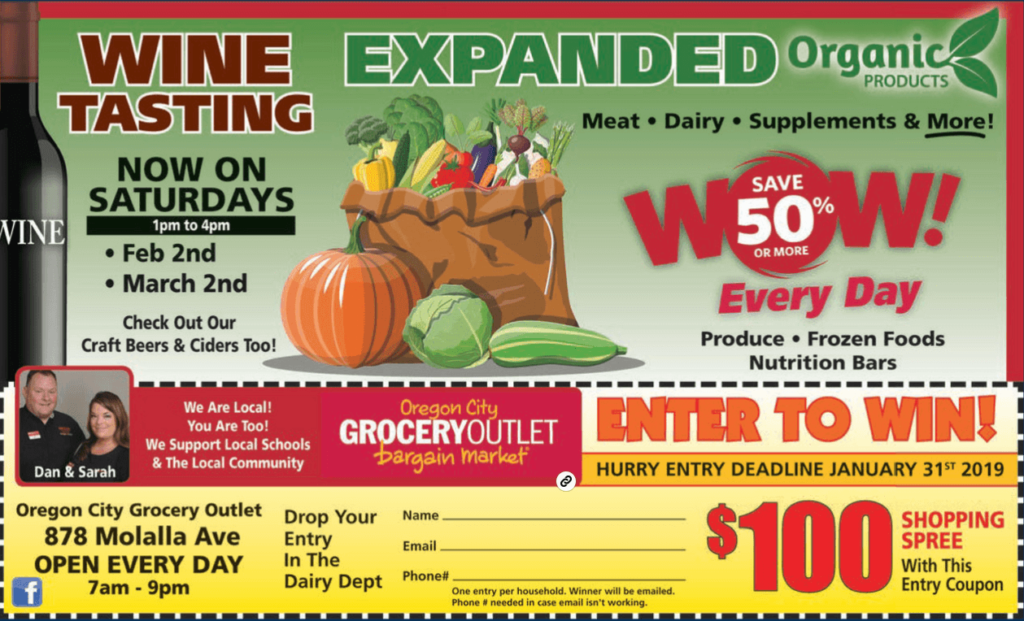 This is a great call-to-action. "Enter To Win" grabs the attention. It's offering a chance to win a significant prize, emphasizing benefits over features. It's smart to instruct consumers to stop by "The Dairy Dept" to drop off the entry coupon, but if this were an unknown, brand new company, people may not find their chance to win enough reason to stop by.
What if your sweepstake ad instructed people to go online and sign up through email instead? This would give interested consumers a chance to learn about your company and it would give your business a chance to retarget them or begin an email campaign.
What is the future of direct mail advertising?
With technology taking over so much of our daily lives, it's hard to predict what the future of print and print advertising will be. However, statistics show that direct mail magazines aren't slowing down any time soon and that their effectiveness is nothing to ignore. With so much online clutter, it's no wonder print ads stand out the way they do. They're tangible. Consumers find them trustworthy.
When asked about the future of direct mail magazines, Palais said, "I don't think direct mail magazines are going to go anywhere. I think we'll be fine."
Certainly, for local businesses targeting and connecting with the community around them will influence their business. Hopefully, this article gave you some helpful tips on how to go about starting your direct mail magazine advertising plan.