[COVID-19] To help mitigate COVID's impact on small businesses, Kolau is waiving the fee to create a FORBES Award-Winning website with e-commerce enabled.
---
If you use the internet at all you've come across advertisements with images or videos. These types of ads are found on every website from YouTube to your favorite digital newspaper. While the owners of the site do have something to do with these ads, Google AdSense is the force behind their creation and presence on the internet. 
Google AdSense is a well-known platform that most businesses use to promote their products or services, but not many people know that individuals can use this tool to create ad space on their own webpages in order to make additional income. Luckily, once you see the step-by-step process and how easy it is to implement you'll be able to start making some extra money doing what you enjoy through Google AdSense.  
What is Google AdSense and How Does it Work?
Google AdSense is an ad publishing application available through Google that allows you to place ads on your webpage in order to earn extra income. This tool is available for all websites including blogs and individual YouTube channels. Google defines it as "a simple and free method for any website publisher to earn money by publishing segmented Google ads on their websites."
The Difference between Google Ads and Google AdSense
Google Ads is Google's pay-per-click advertising platform that is directly related to AdSense. In effect, AdSense wouldn't exist without Google Ads. However, they're not really the same thing. 
The main difference between the two platforms is in who uses it and for what.
Google Ads is used by advertisers who want to promote their products or services, to create ads that can appear both on Google sites (including YouTube) and on webpages and third-party applications that have enrolled in the Google AdSense program.
Google AdSense, on the other hand, is used by website owners or content creators who want to monetize their sites by adding advertising spaces on their website. This will allow them to use the ads advertisers created through Google Ads and get paid for doing it.
It's a system comprised of three actors: 
Advertisers
Google
Owners of websites, blogs or YouTube channels
Google acts as an intermediary taking a commission for their service – while advertisers pay Google to advertise on their partner websites. Finally, Google pays site owners (their partners) for showing the ads. The ads are automatically distributed based on the criteria defined by the advertisers and owners of the websites along with Google's own criteria.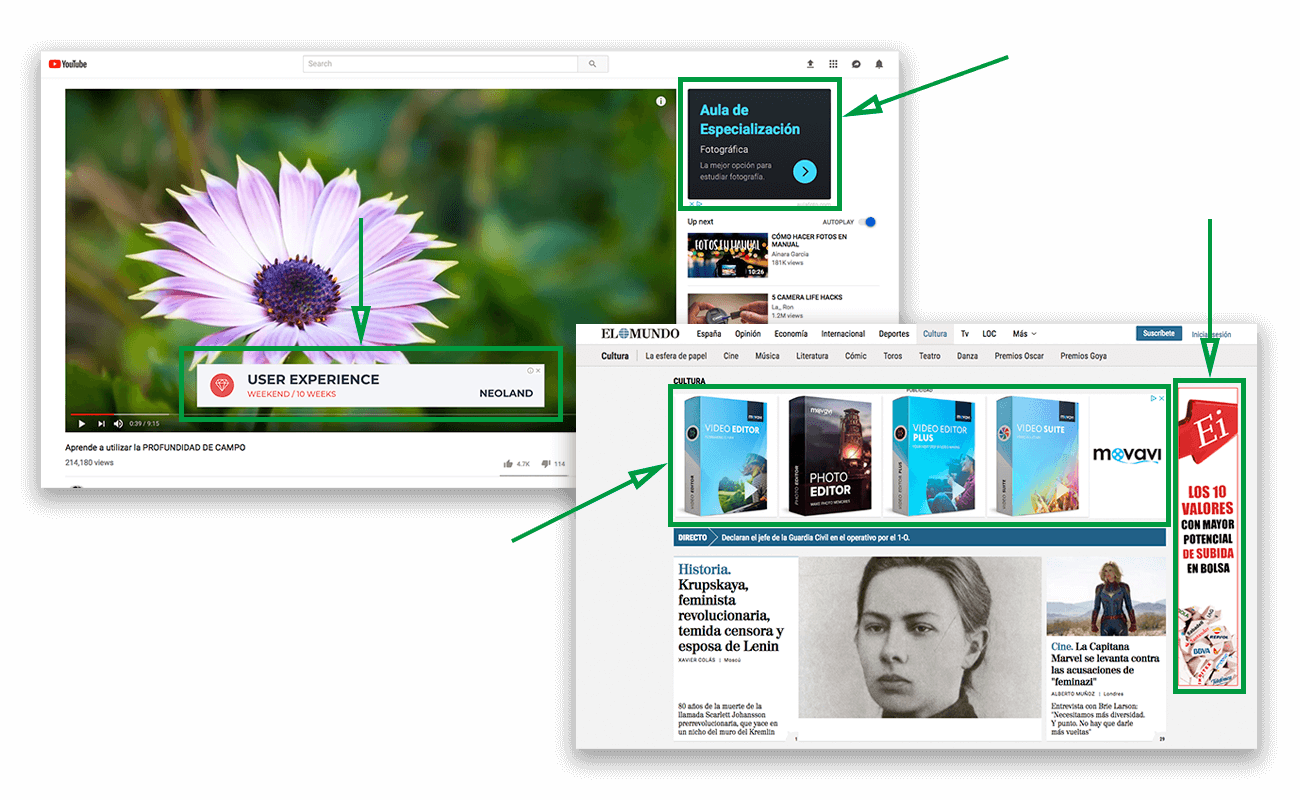 In terms of these criteria, advertisers can tell Google where they want their ads displayed in terms of websites (according to the content, the interests of the visitors or the type of visitors they receive) or they can select specific sites manually through Google Ads.
In a similar way, the owners of the websites that host the ads can also tell Google what kind of ads or specific advertisers they want to block or exclude from their site through Google AdSense. Ads that are directed at specific people or places are known as segmented ads. 
Google takes these criteria, what advertisers are willing to pay and the quality score of the ads into account and conducts an auction to decide which ads to show on each site.
AdSense Payments
As we said, advertisers pay Google and Google pays the owners of the websites, blogs or YouTube channels that host the ads. The payment depends on either the number of user clicks on the ads or the impressions that have been generated (the times an ad has been shown on a website).
The pay-per-click or pay-per-impression system is up to the advertiser when they create their ads and bid for their rate (what they are willing to pay for one click or for every 1,000 impressions).
 As indicated in Google's help center and in the terms of the YouTube Partners program:
Owners of websites registered with AdSense receive 68 percent of revenue and Google retains the
remaining 32 percent.  
In the case of wanting to monetize a YouTube channel, the owner receives 55 percent of the revenue.
Imagine that you're the owner of a recipe blog and created an ad space through AdSense which shows ads related to your content. A dairy brand created a banner through Google Ads to advertise its latest product and established that the advertisement should be displayed on webpages whose central theme is cooking. In addition, the brand determined that it's willing to pay $0.50 for each click the ad gets.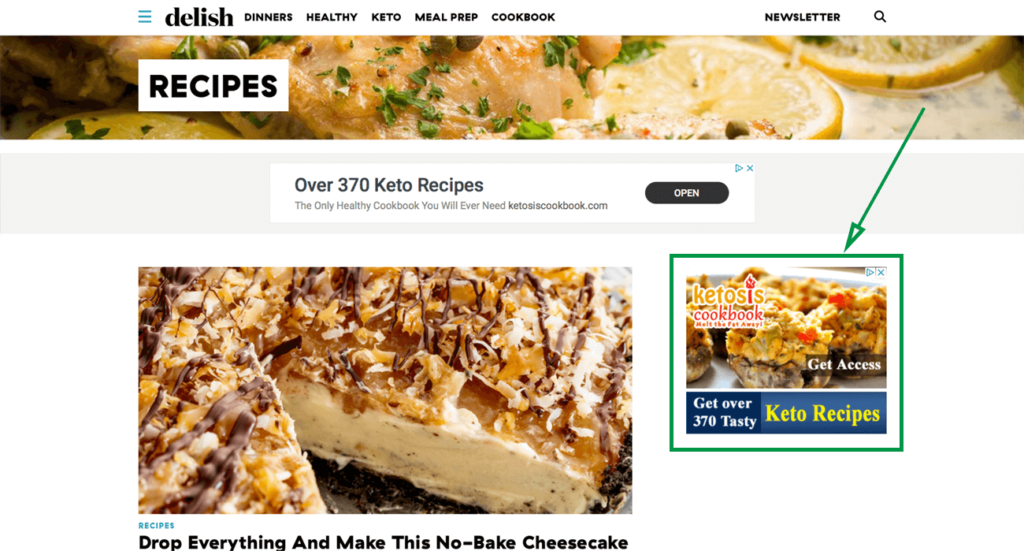 If Google shows this ad on your blog and one of your visitors clicks on it, you would take 68 percent of the $0.50 which would be, exactly, $0.34.
Not all ads have the same price so your income will vary from one day to another according to the advertisers' budgets, the number of visitors that visit your site and click on the ads and the type of ad. To get a clearer idea of how much you can earn per month with Google AdSense you can research real data on costs and click-through rates for your particular kind of website.
Now, imagine you're the owner of an American digital magazine about cars and you receive about 100,000 monthly visitors. Most likely, car brand advertisements will appear on your site. Take into account the CTR (click-through rate) and the average CPC (cost-per-click) of automotive industry advertisements.
A WordStream study analyzed the CTRs and CPCs of Google Ads in the United States in 2018 by industry and reported that the average CTR that ads on the Google Display network (comprised of more than two million sites registered in the AdSense program including YouTube) tend to receive for the automotive industry is 0.46 percent while the average CPC of display ads in this industry is $0.58. 
Using that data along with this example, the 100,000 monthly visits your magazine receives and the average 0.46 percent click rate means that the ads on your website will get about 460 clicks per month. Considering that each click costs an average of $0.58, you could earn approximately $266.80 per month with AdSense.
The more visits your website or your YouTube videos get, the more likely it is that people will click on ads and, therefore, the more you can earn with AdSense.  
In a similar way, the more advertising spaces you add to your site, the more likely you are to get clicks. However, if you add too many, you could ruin the user experience of your site and cause the opposite effect as visitors may get upset and leave your site; you have to find a balance. Still, there are many factors that influence the process and estimates of earnings are subject to variations.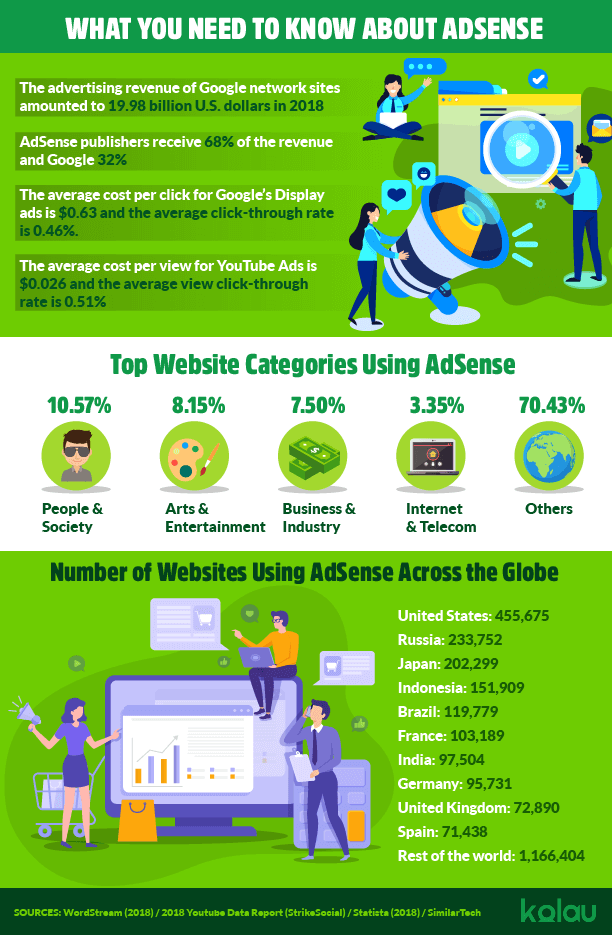 The Advantages and Disadvantages of AdSense
If you're still on the fence about using AdSense to monetize your content, consider the advantages and disadvantages of the service so you can figure out if it's worth it for you.
Advantages of AdSense
It's a free service:

You don't have to pay to sign up for AdSense. You just have to register and add advertising spaces on your site to house the ads.
It's easy to use:

The AdSense interface is intuitive and the process for incorporating ads is relatively simple. You can also post ads on different websites from a single AdSense account.
Google does it all for you:

No need to go looking for advertisers or to promote your advertising spaces. Google does it automatically through its auction system so that your website will show the ads of advertisers who are willing to pay more and those who offer the best user experience among those who participate in the auction.
You can block ads or advertisers:

Since it is an automatic system, Google is free to publish any type of ad on your website. However, there are options that give you some control. If there is a type of advertisement that you don't want to appear on your site, you can choose the category you want to avoid. For example, you can block ads about vehicles, fashion, religion, or politics and block the URLs of those specific advertisers. You can also review the ads individually

and choose the ones that will be published and those that won't.

This can all be done through the blocking controls page in your AdSense account.
Wide variety of formats and customization options:

When it comes to incorporating advertising space on your website, you can choose from a wide variety of ad sizes and formats. You can also customize your visual appearance to match the color scheme of your website.
Google pays monthly:

As long as you accumulate a minimum of $100 per month in earnings, Google will pay you monthly by direct deposit.
Disadvantages of AdSense
The ads could be annoying for your visitors:

According to a survey carried out by

HubSpot

, 64 percent of users believe that ads are intrusive or annoying. If you add too many advertising spaces on your site, your traffic could be adversely affected which will hurt your ability to generate revenue.
If you break the rules, you are out:

The policies of the program are strict. If you don't comply, Google can close your AdSense account. They're not very tolerant of users who violate the rules.
You will not get rich overnight:

As you have already seen in the previous section, there are many factors that influence the results. Most notably, your website has to generate a lot of traffic to obtain a good amount of income. Earning money with AdSense requires effort, web optimization, dedication and constant analysis. Sometimes you have to try several options and formats until you find a combination that works. 
Ads that Google publishes may not match your ideas or values:

Although it's possible to apply a filter to block certain types of ads, there are some limitations. The machine is not perfect and you'll have to deal with these issues.
You earn money but you also lose users:

Each time a user clicks on one of the Google ads displayed on your website, even if you make money, this user leaves your page to visit the advertiser's page.
How to Monetize your Hobbies with AdSense
Whether you use your own website, a blogging platform or a YouTube channel to convert your hobby into money with Google AdSense, the first step is to create an account. To do this, go to the AdSense page and sign up by filling in the required fields.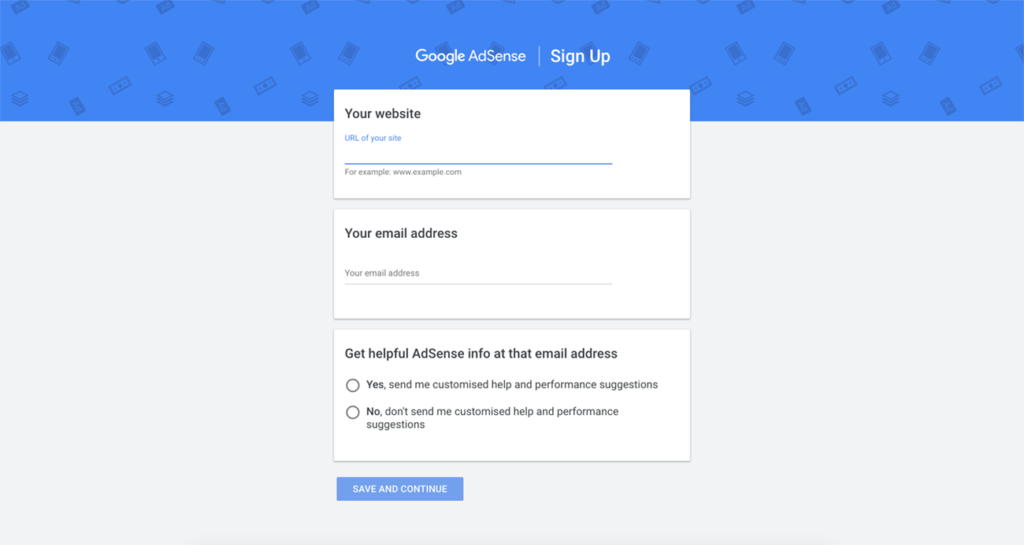 Once you have created your AdSense account and accepted the policies of the program, you have to activate it. Remember, your website or blog must include original content and comply with Google's policies to be monetized.
To do this, you have to sign in to AdSense and add your information including your name, postal address, phone number and payment information. From there, Google will receive your request to create an account and ask you to link your website or YouTube channel to the account.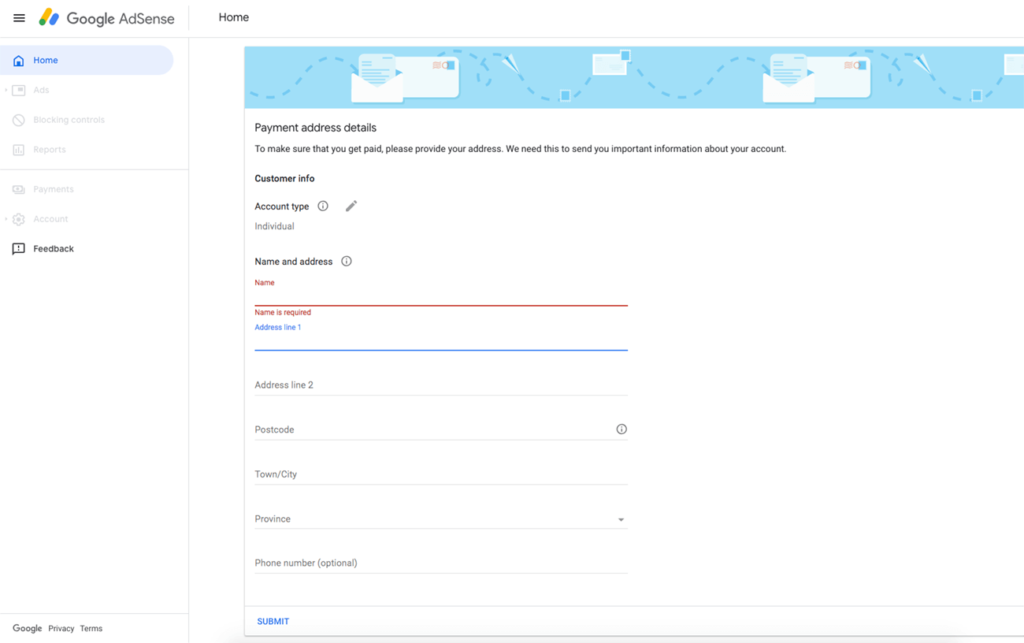 Steps to Monetize a Blog or Website with AdSense
If you have your own website or a blog and wish to monetize it through Google ads, you must link your website to your new AdSense account. To do this, click on the "Sites" section in the left-side menu in your AdSense account and then click on the "Add site" button.

Next, add your site's URL to generate an HTML code. You will have to copy this piece of code and paste it between <head></head> (the HTML tags of your website) in order to link your AdSense account to your website.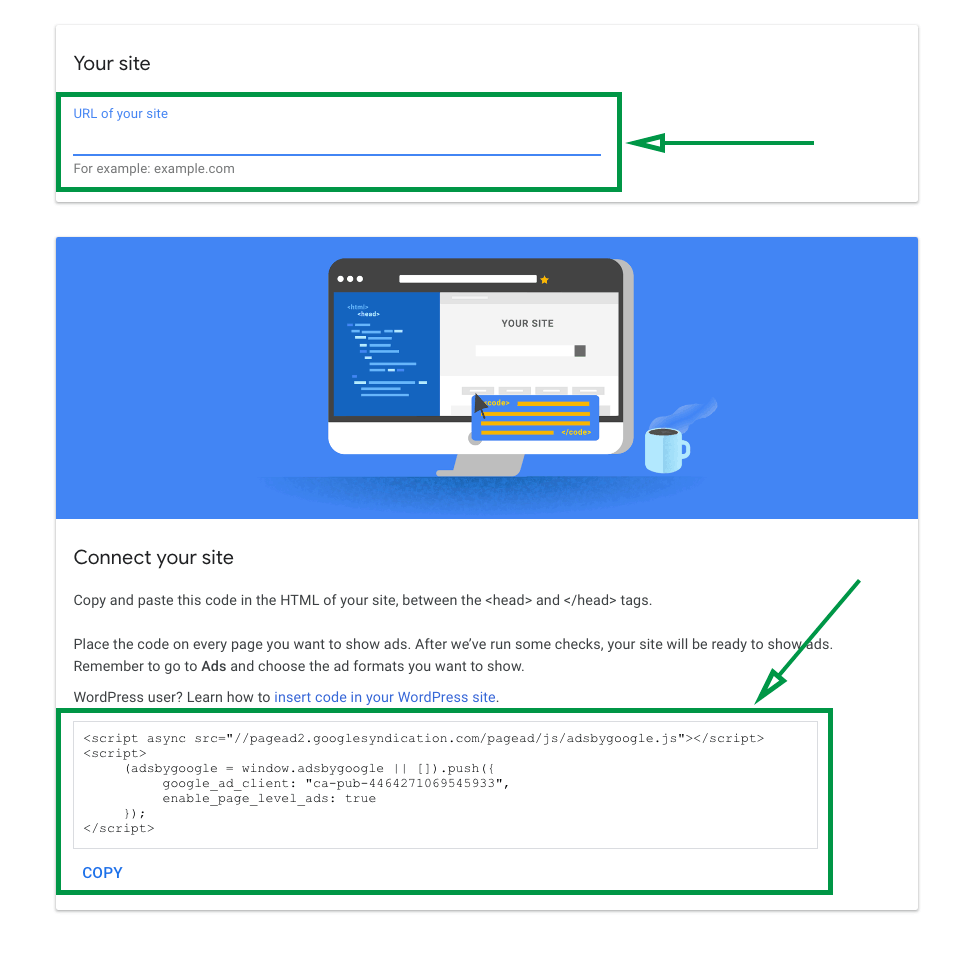 If you use WordPress and don't feel comfortable editing the HTML code of your website, you can also use a plugin like Header Footer Code Manager to add the code snippet in a simple way from the WordPress panel. 
Once you've added the code, check the box in your AdSense account and click "Done." Google will quickly contact you via email to verify that the activation was done properly. 
When the connection has been made and you have your website linked to AdSense, it's time to choose the types of ads that will be displayed on your website. To do this, click on the "Ads" section on the left-side menu and then on "Ad units." If you click on the button to add a new ad unit, you will see three options to choose the type of ads you want to show.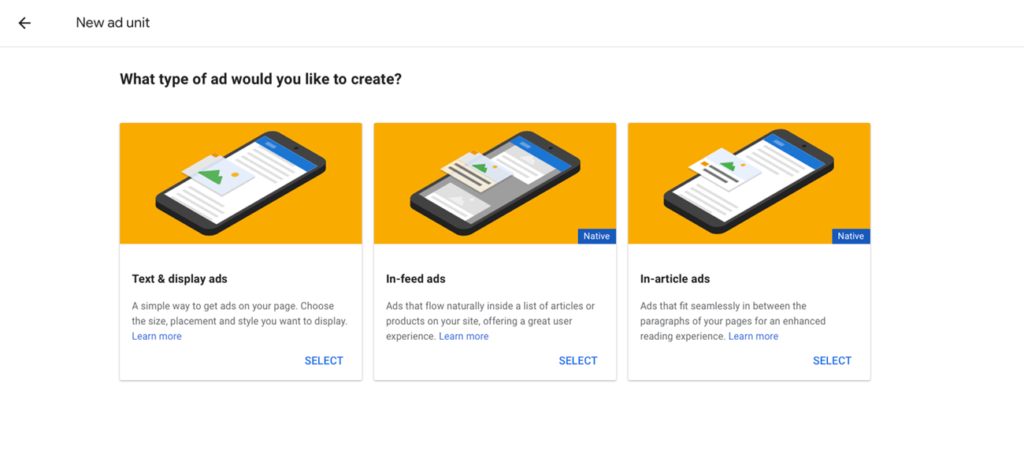 These options are text and display ads ( banners usually located in the header, the sides or the bottom of the page), in-feed ads (those among the lists or previews of recommended articles) and in-article ads (those integrated between the paragraphs of your content).
Once you have chosen the type of ad you want to show on your website or blog it takes you to the ad configuration screen.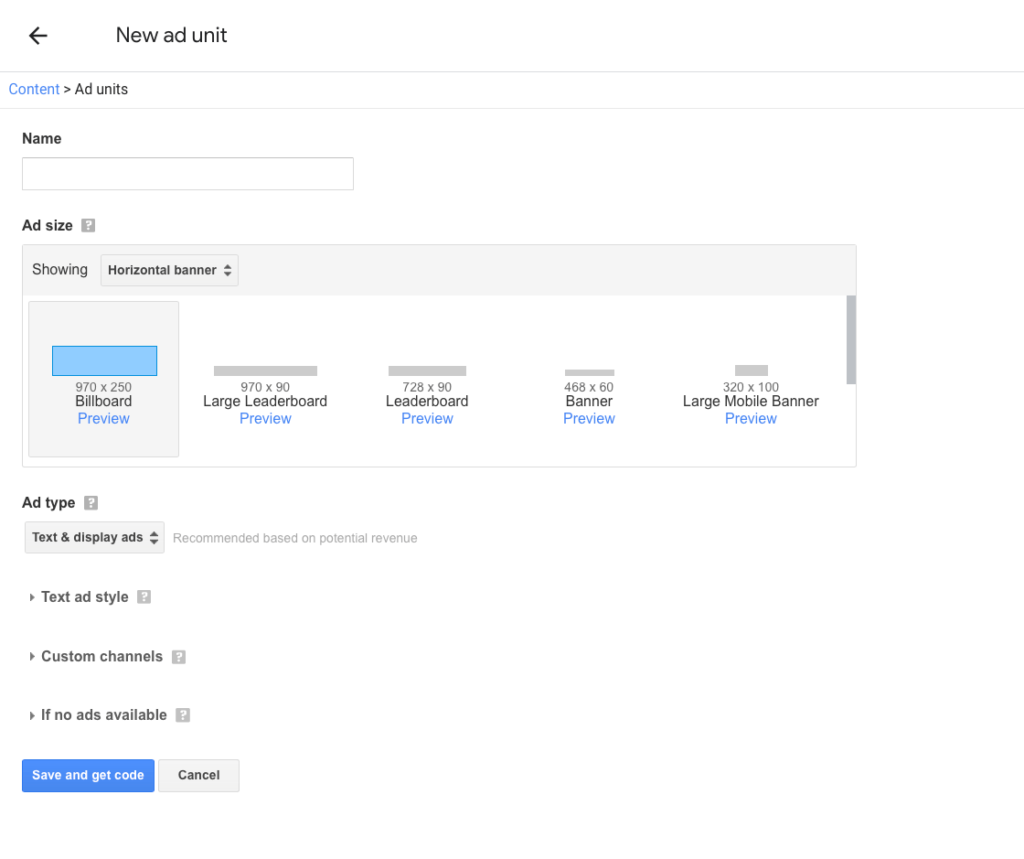 Here, AdSense will ask you to name the ad unit and to choose the size and dimensions of the space. You can also customize the ad style so that the color scheme matches that of your website.
Once defined, click "Save and get code" to generate another piece of code. You must copy and paste that piece of code into the HTML code of your site where you want the ad to appear. Again, if you use WordPress, you can use a plugin like Ad Inserter to do it in a simpler way from the WordPress panel itself without having to edit the code directly. 
In case you want to block certain categories of ads or specific advertisers, you can go to the section "Blocking controls" and "All sites" in the left-side menu. There, simply select the type of ad content you want to block through the different options offered.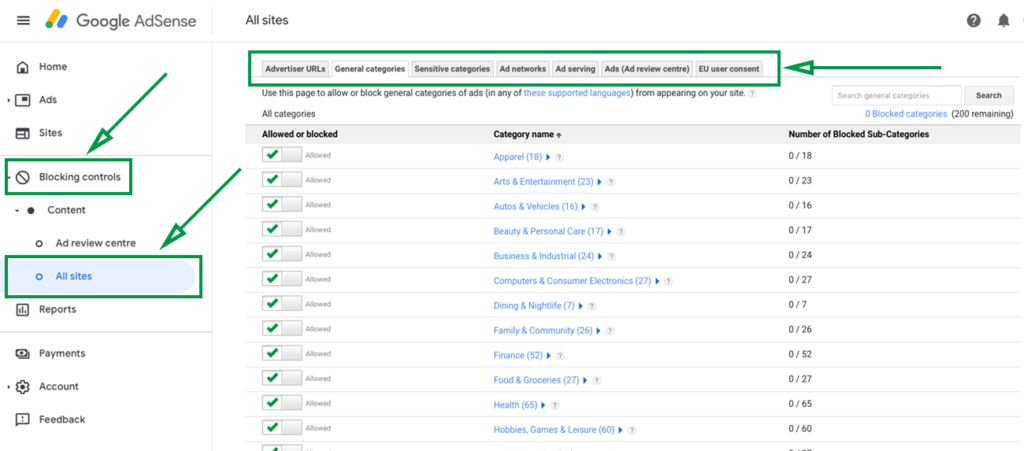 Steps to Monetize YouTube Videos with AdSense
As for YouTube, the configuration is simpler but there are requirements that your channel must meet before you can start earning money. According to the description of the YouTube Partner Program, you must have a minimum of 1,000 subscribers and a total of 4,000 hours of public viewing accumulated.
If your channel doesn't meet these requirements, you won't be able to get money through your videos. However, you can leave your AdSense account set up and linked so that, when they are met, the monetization is activated.
If you're interested in creating YouTube Ads to promote your videos and get more views and subscribers, check out our guide to YouTube Ads.
Keep in mind that Google will only accept your monetization request if you have all the rights to everything that appears in your videos—both images and graphics as well as the music you use. If you use royalty-free music, you must provide links to the song in the description of the video with the type of license that applies. 
To activate the monetization of your channel, you must go to "Creator studio" and click on "Channel" in the left-side menu. There you will see an option to activate the monetization.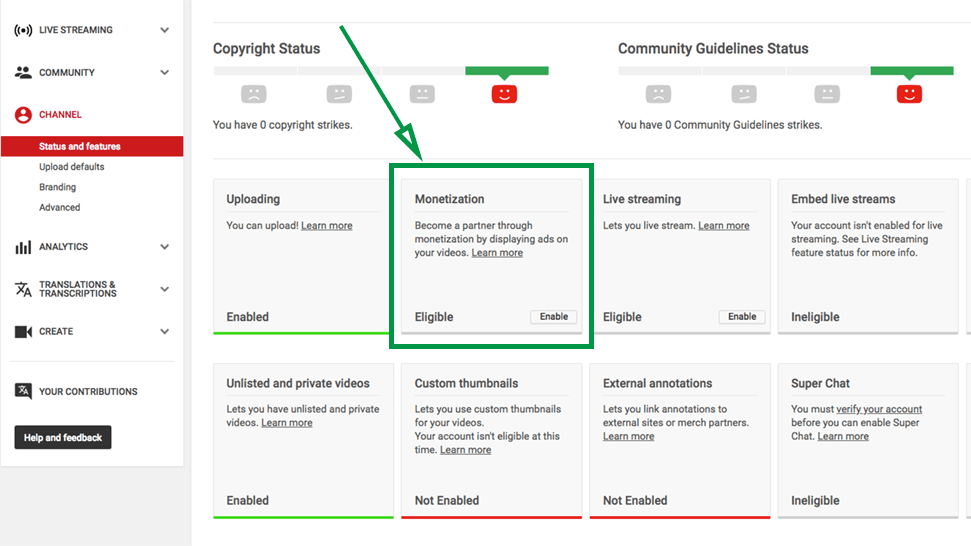 After clicking on "Activate," follow the steps indicated by the platform accepting its policies and linking the AdSense account that you created. In this case, the link is automatic and it's not necessary to insert an HTML code.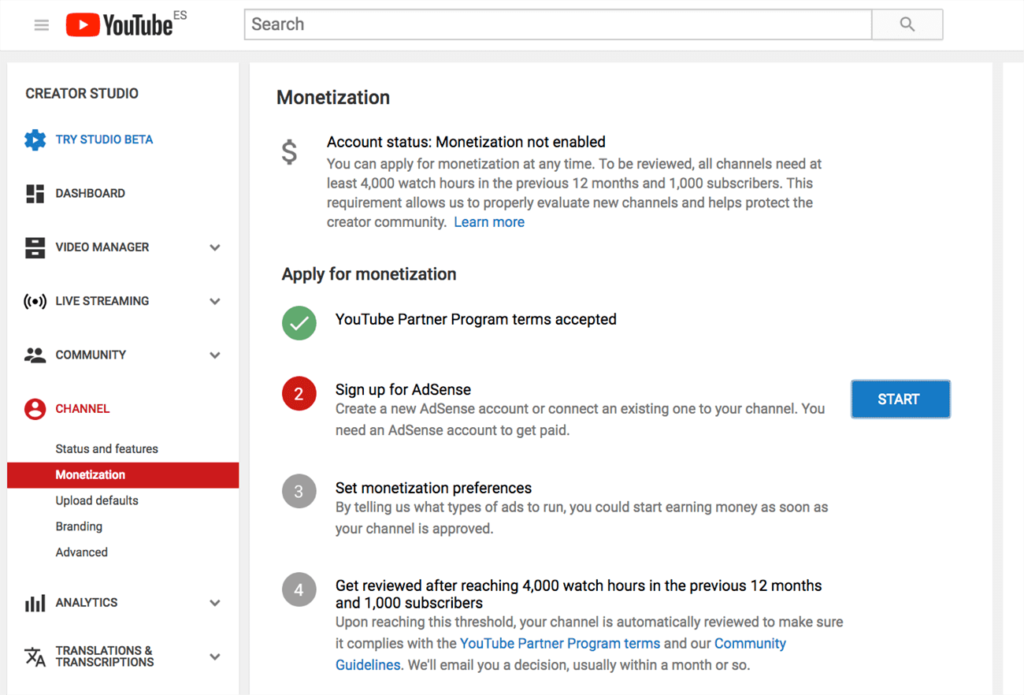 Once the channel is linked to your AdSense account, choose the monetization preferences to indicate what kind of ads you want to show in your videos.
The options are display ads (banners that appear outside the video on the right side), overlay ads (floating ads as a horizontal banner at the bottom of your videos), sponsored cards (displayed on your videos to show products related to your content) or skippable video ads (those before, during or after the reproduction of your videos).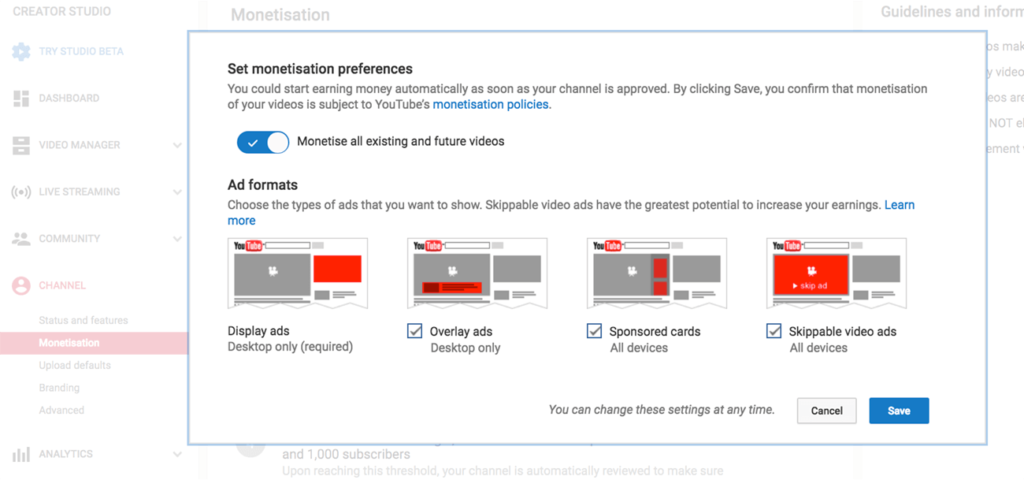 In case you want to block certain ad categories or specific advertisers, you must do so from your AdSense account through the "Blocking Controls" in the same way as indicated in the previous section but in the YouTube tab.  
Now that you know what AdSense is, how it works, its pros and cons and how to convert your hobbies into benefits, through Google advertising, you can start earning money through your own webpage.
As you have already seen, the configuration and start-up of the system is relatively easy, but remember, generating income through AdSense is not as easy. Still, with high-quality content and a good SEO strategy, it's only a matter of time before you start reaping the benefits of AdSense.