[COVID-19] To help mitigate COVID's impact on small businesses, Kolau is waiving the fee to create a FORBES™ Award-Winning website with e-commerce enabled.
---
Wondering how to use YouTube Ads for ecommerce? Video marketing is a great way to boost sales for your online store. However, a lot of businesses stay away from it because it seems complicated or they question if the strategy is worth all of the effort. To help you better understand video marketing and everything it can do for your business, you have to consider this technique from all angles.   
For starters, consider these facts:
80 percent of your online visitors will watch a video, while only 20 percent will actually read the content

. (Online Publishers Association)
Online shoppers who viewed a video were, on average,

1.6 times more likely to make a purchase compared to shoppers who did not view a video

. (Invodo)
Those who use video marketing get

66 percent more qualified leads per year and a 54 percent increase in brand awareness.

(Aberdeen Group)
Video has helped 76 percent of marketers increase their traffic and sales

. (Wyzowl)
Even if they take a little more work than writing content, the positive effect video marketing can have on your online store is worth it. To better ensure success and make things easier, come up with a solid video content strategy and learn how to use YouTube ads to boost your business.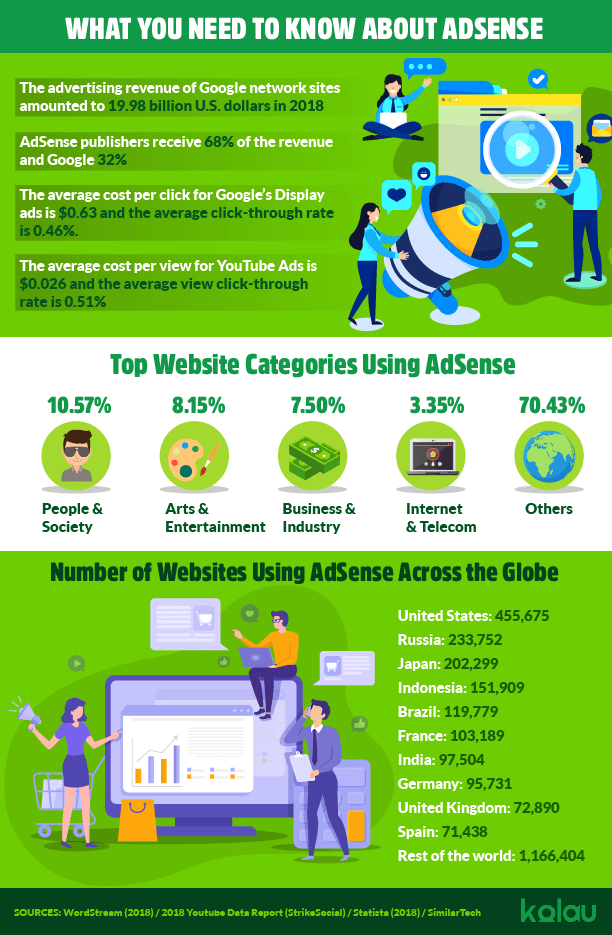 How YouTube Ads Work
Video ads that appear on YouTube are created through a Google Ads account—Google's advertising platform. To understand how they work, you need to understand how Google Ads works.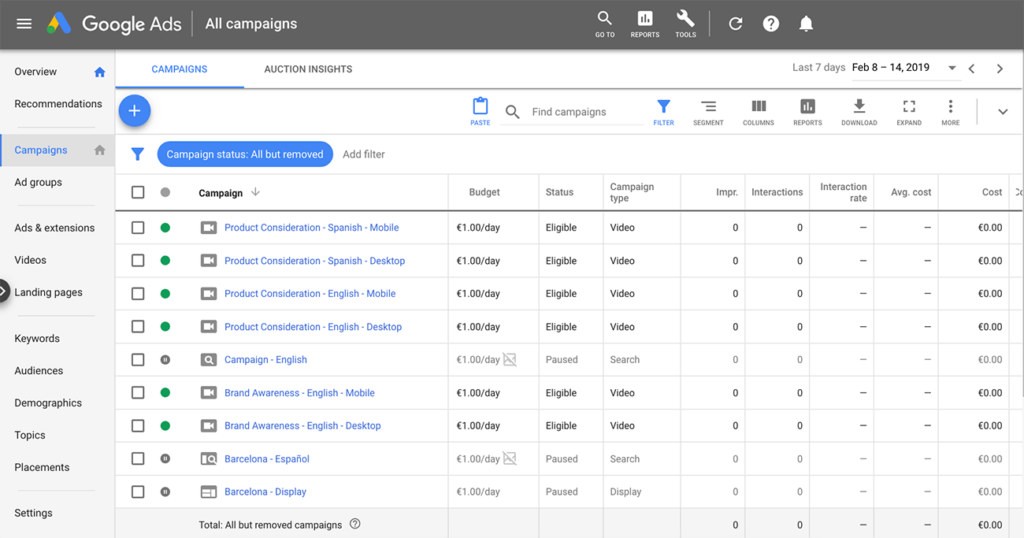 To summarize, online advertising is based on a pay-per-click basis, which is nothing more than a digital auction system in which each advertiser determines how much they're willing to pay for each click on their ad. From there Google decides which ads are shown first. You can also pay for every 1,000 impressions of an ad or for each video view, depending on the type of ad and the bidding system available.
However, several factors come into play in this auction and the advertiser who pays the most is not always the one that gets the best position. The quality of the ad, the experience of the landing page and the number of clicks the ad receives also influence the result of this auction. This means that if one ad has a higher quality score than another, it's likely that it gets better positions (or appears more times on a site) for a lower price.
Regarding video ads on YouTube, the main payment systems they use vary according to the type of video ad you use. Besides the aforementioned pay per click (PPC), there is also pay per view (PPV) and pay per thousand impressions (PPM).  
With the PPV system, you will only pay when someone shows interest in your video ad, (if the person sees 30 seconds of the video or if they watch the full video if it's shorter). With the PPM option, you will pay when your video ad has been shown 1,000 times.
If you notice, when a video ad is shown on YouTube before another video is played, there is sometimes a kind of interactive button in the bottom left-hand side of the video.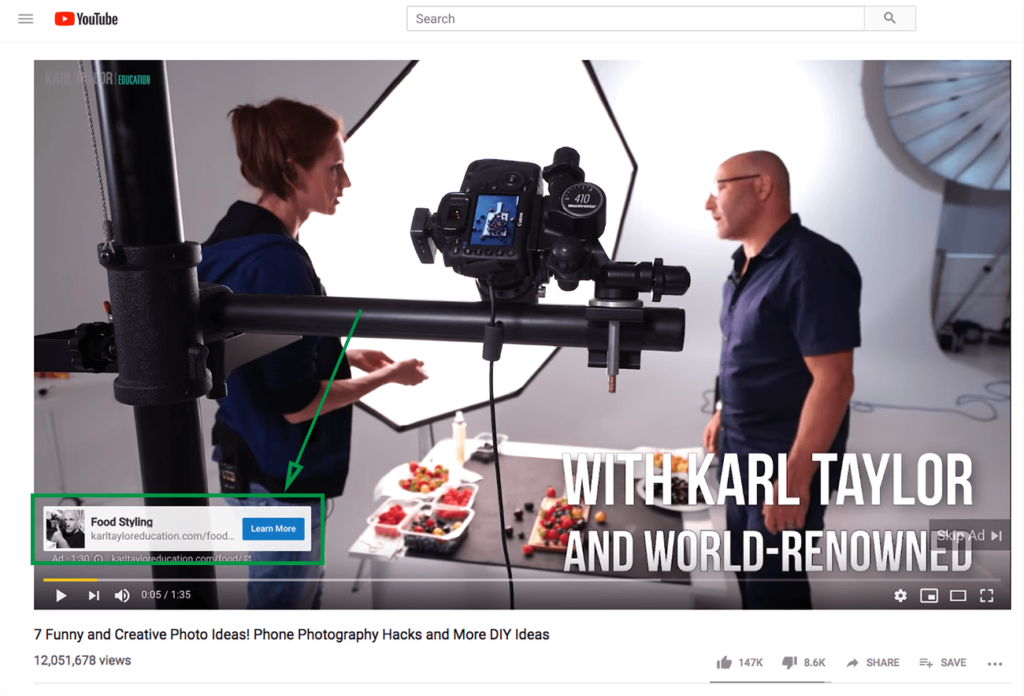 You can use interactive elements like this to include a call-to-action button with a link to your web page. This is a great way to get traffic to your eCommerce site or to your YouTube channel. You can also use this to gain subscribers and continue developing your video content strategy or to show tabs with details of your products.
Keep in mind that each time someone clicks on these interactive elements, you'll pay for the click, regardless of whether they've completed viewing the video or not. In other words, if they've seen 30 seconds of your video ad, you'll pay and if they click on an interactive element you will pay again.
Types of Video Ads on YouTube
There are two types of video ads that appear on YouTube that you can use to influence potential customers. These are TrueView Ads and Bumper Ads.
TrueView Ads
With TrueView ads, you can advertise on YouTube with videos longer than 30 seconds. There are two types of TrueView ads: in-stream and video discovery. Although it's always best to experiment to find out which is the most effective option, in-stream ads are usually more beneficial for promoting online stores.
# 1 TrueView In-Stream Ads
These are the infamous "skippable" video ads that appear before, in the middle or after a YouTube video. The user can choose to watch the ad or not by clicking the "Skip ad" button that activates after five seconds. This type of ad can be one of the most profitable due to the fact that you pay only when the user sees the full video or 30 seconds of it or when they click on an interactive element.
A Google study showed that users who see TrueView in-stream ads for more than 30 seconds are 23 times more likely to visit or subscribe to the channel, watch more videos or share the video of the brand. On the other hand, those who don't see 30 seconds of the video are still 10 times more likely to perform any of these actions.
In the case of an eCommerce business, in-stream ads can be very useful for attracting traffic to your website and generating sales opportunities since it's possible to include a customized call-to-action button that appears as a floating element over the video ad through the new TrueView for Action feature.
With this button you can get your potential customers to perform a specific action while viewing the video ad, such as buying something, getting a discount or discovering a new collection of products.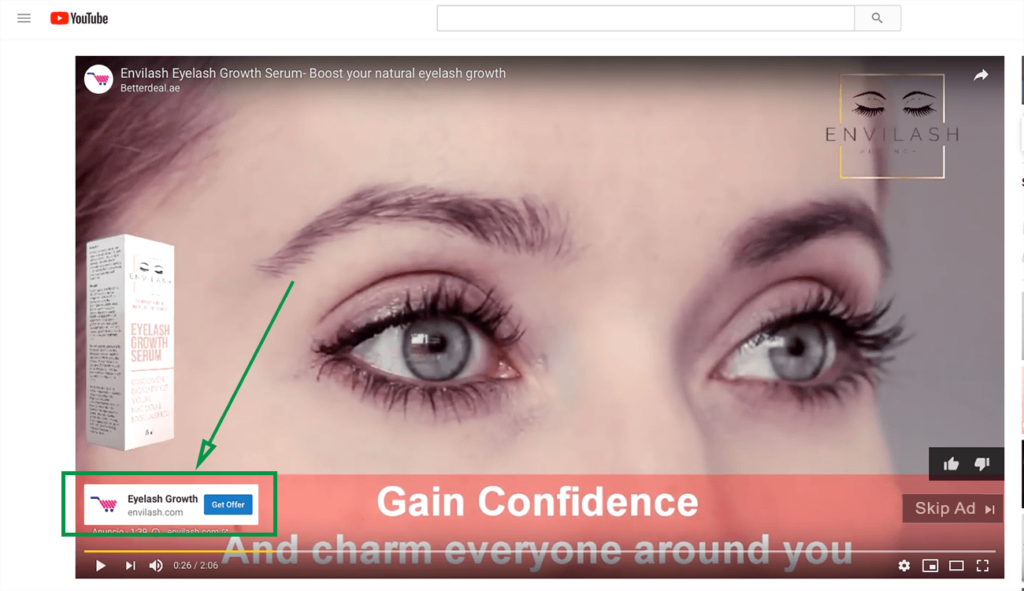 For example, this cosmetics brand used a TrueView one and a half minute in-stream ad to show the effect of its product, an eyelash extension serum. It also directs its potential customers to an offer page through the call-to-action button "Get offer."
In addition to the call-to-action button, there are also two other interactive elements that you can add to your in-stream ads that can increase traffic and sales opportunities in your online store. These are the purchase cards which allow you to display tabs with information about your products and the automatic end screens which allow a static image to be displayed for a few seconds once the video has finished. This can also have a button that invites users to take some kind of action.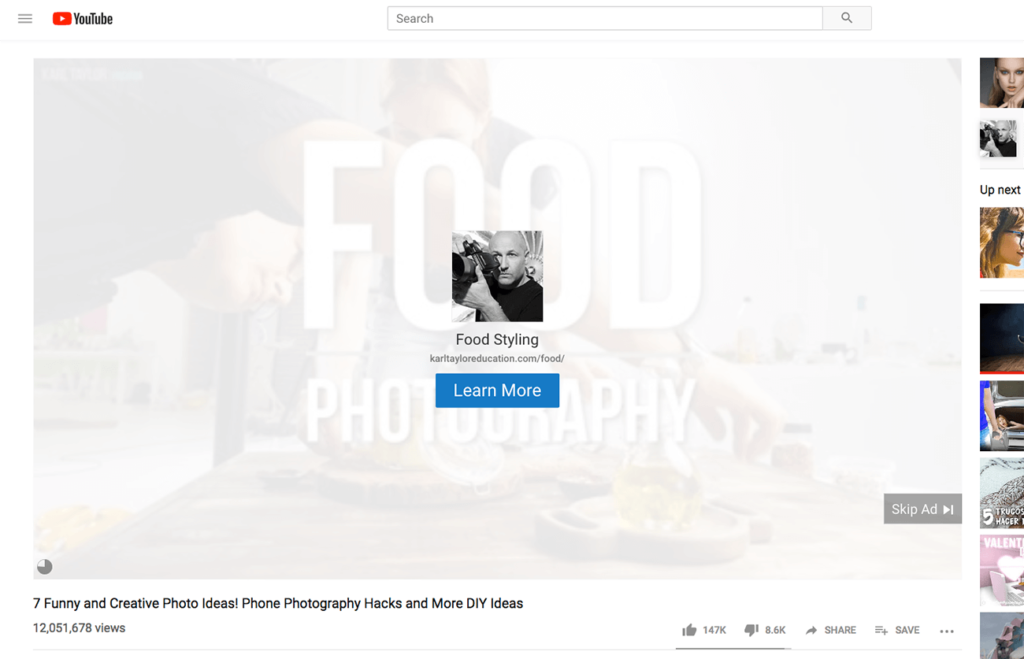 In order to use the purchase cards, you have to create a Google Merchant Center account and upload the images and information of the products you wish to advertise before creating the campaign. Then you must link your Merchant Center account to your video campaign in Google Ads.
Here is an example of an in-stream ad from a furniture store that uses purchase cards to show the different sofa models it sells and the prices.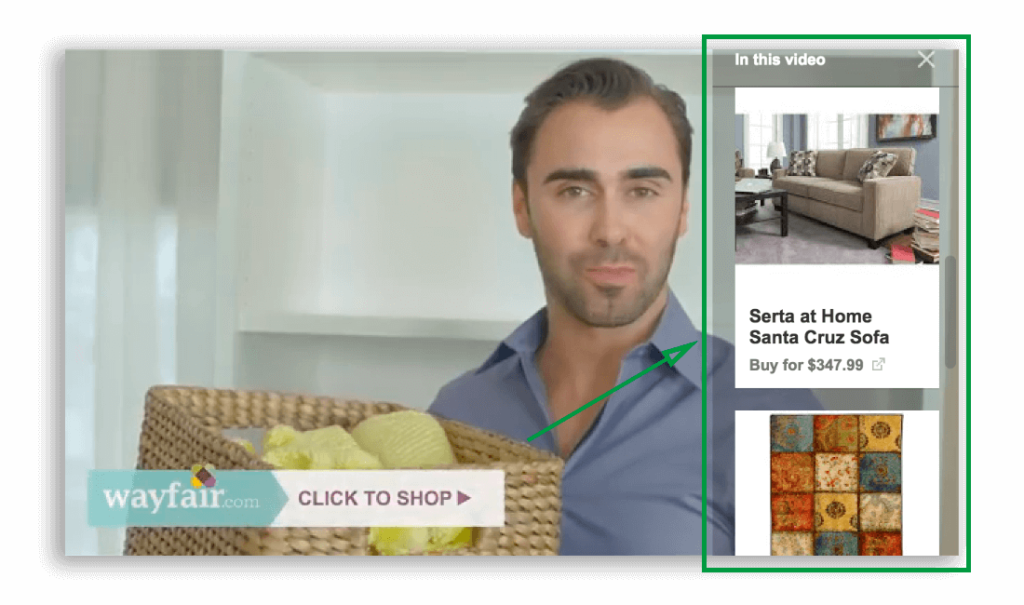 # 2 TrueView Video Discovery Ads
Video discovery ads show your video as if it were another video on YouTube's results pages or on the main page of the YouTube mobile app. It can also appear as a related video on the right side of the screen when a user is viewing a video on their computers.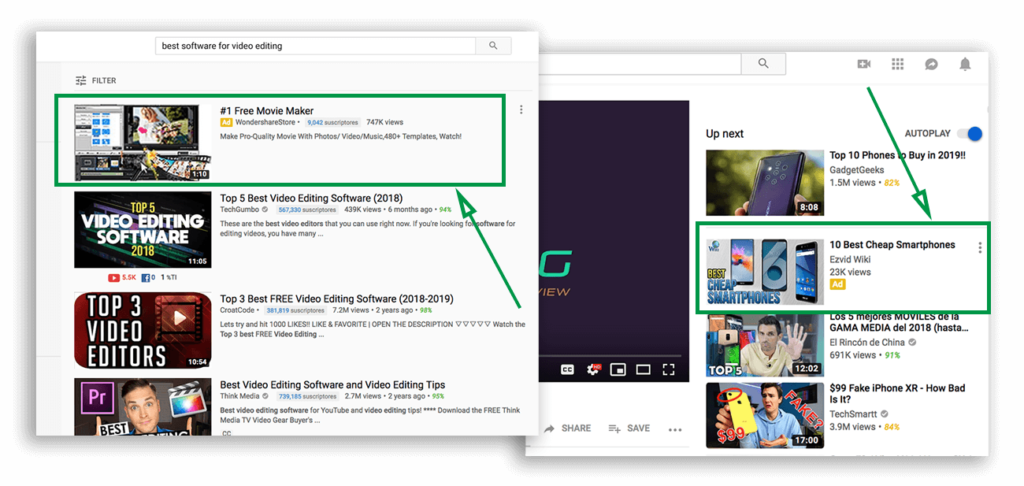 This type of ad works only through the pay-per-click system. Therefore, if your ad appears as the first result of a search on YouTube and someone clicks on it, you will pay for that click regardless of whether the user watches your video or not.
They are usually effective when used to promote longer videos such as how-to videos or product demos. It's not a type of advertisement designed to direct traffic to your website or to get direct sales. Instead, it's a way to increase your channel's visibility as well as your subscriber base.
If you are developing a video content strategy on YouTube (with videos that are not purely commercial and add value to your potential customers) and you want to create a community around this content, this type of ad is the most appropriate.
For example, the shoe brand Toms has developed a brilliant video content strategy on its YouTube channel. In the following image, you can see the themes sorted through playlists.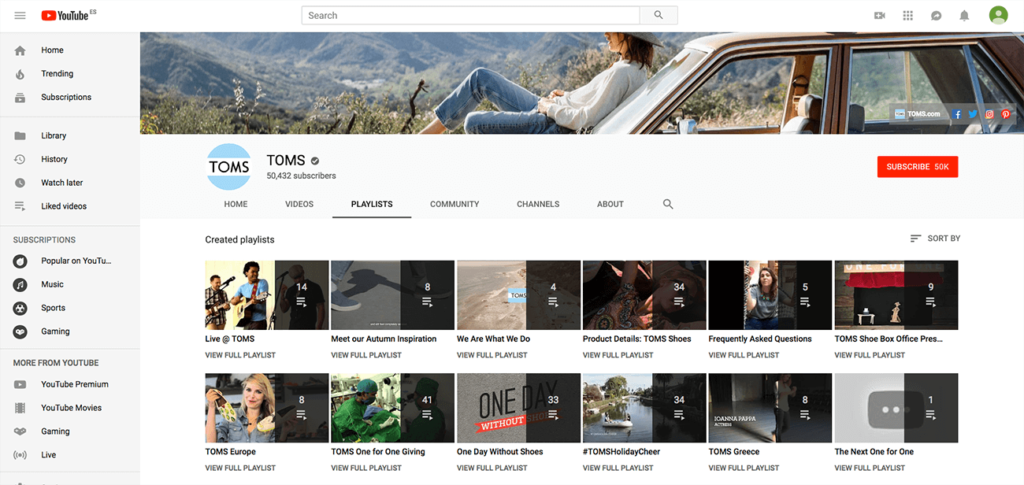 Toms could use TrueView Discovery ads to get more views and encourage the discovery of the brand through useful or entertaining content (not strictly commercial) with the goal of creating a community around them.
Bumper ads
Bumper ads are the shortest video ad with a maximum duration of six seconds. They are shown before, in the middle or after a YouTube video. Unlike TrueView in-stream ads, the user can't skip them, so they're forced to watch them until the end. According to Google, it's a perfect type of easy-to-remember ad to reach users who are watching videos through their smartphone. 
A study conducted by a partnership between YouTube and Netflix comparing the performance of different video ad lengths showed that:
bumper ads increase ad recall by 56 percent, brand awareness by 19 percent and interest in the product by 300 percent.  
They are especially useful for branding campaigns. If you are trying to bring more attention to your online store or to a new product, this format can work well. If your goal is to persuade your potential customers to make a purchase decision, then TrueView in-stream ads with longer videos will work better.
Below you can see a good example of a bumper ad for the English tea brand PG Tips.
The tea brand takes advantage of these short six seconds to provoke the desire to drink tea in a simple and brilliant way. For this, they use a funny mascot and a play on words that catches people's attention, "Tea-licious!" It makes the ad entertaining and easy to remember which can increase brand awareness. 
As you can see, a great part of the success of this type of advertising is to find a direct and striking way to transmit a single message in a very short time.
How to Create a Perfect Video Ad for eCommerce
Part of the success of a YouTube Ads campaign has to do with the targeting strategy you use to make your ads appear in front of the right people. The other part has to do with the content of the video or "how" you transmit the message through the images and the sound. Here are some tips so you know what your video ad should have in it to increase your chances of success.
Don't tell with words what you can tell with images:

The whole point of a video is transmitting a complete message through images. Try to make your ad as visual as possible and make sure it has an engaging narrative. For example, the multinational company specializing in DIY accessories and decorations, Leroy Merlin, created this silent video ad as a Valentine's Day campaign in which its protagonists create a narrative through their actions and gestures with the support of some text labels.
Use contrasts and include elements of surprise:

Try to use exaggerated color contrasts, movement and sound. For example, a sudden silence or a change of pace in the movement of the images can catch a viewer's attention. The Russian car company Opel used this shocking ad of a crash test based on a strong sound and visual contrast to catch users' attention.
Show the benefit of your product in the first five seconds:

If you use TrueView in-stream type ads, those first five seconds are crucial for a user to decide if they want to keep watching your ad or skip it. Develop your story quickly avoiding long and empty introductions to prove that your eCommerce business or your product is just what the viewer needs. For example, the insurance company King Price, aware that users could skip their ad easily, used a quick and eye-catching animation to communicate the benefit of their service in the first three seconds. This captures the attention of users before the real ad starts.  
Don't show your logo at the beginning of the video when you use TrueView in-stream ads:

According to a

Google study

, although adding your logo or mentioning your brand name audibly at the beginning may increase brand recall, it will increase the likelihood that users will skip your ad. On the other hand, the study shows that using a floating logo somewhere on the screen that isn't integrated with the product decreases the likelihood that users will notice and remember it. Therefore, try to show your brand logo naturally, either in the packaging or the body of your products.
Create your videos according to the profile of your target audience:

It's important that you know your objective clients perfectly. Know their gender, how old they are, what they do, what their interests are, their concerns, etc. To capture the attention of your potential customers, your video should relate to them and show the solution to their problem or fulfill a need. For example, if you have a sports equipment online shop and want to promote a new collection of running shoes for women, show the type of woman that would buy these shoes in your video ad. The well-known beverage brand Mountain Dew shows its different customer profiles in its advertisements including athletes, hip-hop stars, welders and construction professionals and teenagers.
Use humor to grab the audience and emotion to get them to remember your ad:

Selecting the right tone for your video ad can also influence its success. Google's studies show that humorous ads tend to be seen longer and get more engagement. On the other hand, ads with an "emotional" tone are associated with greater brand recall.
If you use TrueView in-stream ads, make sure that the videos are one minute long:

According to a

Wyzowl

survey, 50 percent of consumers believe that a minute is the ideal duration for an explanatory video while 33 percent chose between one and two minutes and 17 percent said less than one minute.
If you use a voice-over in your video, make it informal and have it match your audience

: The same Wyzowl survey reveals that 83 percent of consumers believe that a chatty

, relaxed and conversational voice that talks to them as if they were friends or family is more communicative and persuasive than a formal voice. More so, 69 percent believe that a female voice over is more effective for selling products aimed at women. In the case of a product aimed at men, the study shows that there is more flexibility in terms of effectiveness of the type of voice with 53 percent of consumers believing that a male voice over would be the most effective to sell a product for men.
Test with music:

Google data

shows that some genres work better than others to catch users' attention in the first five seconds but there is no formula for success. Google found that people are more likely to skip ads that feature calm, relaxing, or action-oriented music and instead tend to watch those that include comedy or funny music.
Use Google Brand Lift to measure the effectiveness of your campaigns and create your ads based on the results:

Knowing the preferences of your target audience is key to improving the effectiveness of your ads. Brand Lift allows you to conduct small surveys of users with a format similar to that of video ads, through which you can obtain data to measure brand recognition, ad recall, interest and purchase intention of your potential customers. You can use this data to create more effective ads.
How to Create a Video Campaign with Google Ads
Now that you know what you need to produce an effective video ad for your eCommerce site, think about how you have to set up the Google Ads campaign to get your ads displayed to the right people.
Keep in mind that to start the campaign you must upload the videos you want to use as an ad on your YouTube channel and link this channel with your Google Ads account.
# 1 Structure the campaigns according to your marketing goal, the language and the device where you want to show your ads
Once you've created your Google Ads account, add a different campaign for each goal. For example, you can create a campaign for brand awareness and another to create sales opportunities. You should also create individual campaigns for each type of device you want to show your ads on and, if you create video ads in different languages, you should also create a campaign for each language.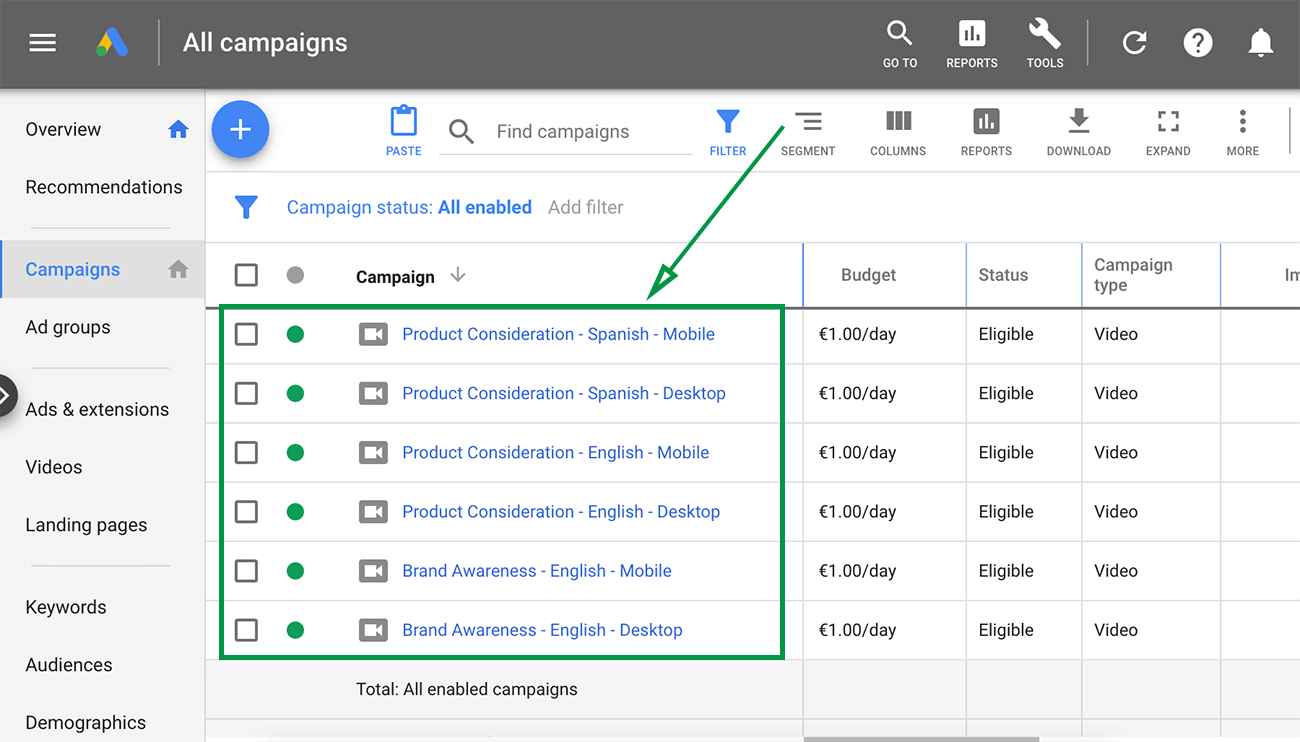 This way you can have absolute control over what is shown and where its shown for each campaign. For example, if you have campaigns separated by device you could optimize your ads by showing a video in a square or vertical format in mobile campaigns to gain more space on the screen instead of showing a standard horizontal video on all devices.
# 2 Choose a targeting method
Targeting methods let you tell Google what criteria it should follow to show your ads on one site or another or to some people or others. There are several options to target your campaigns that you can use depending on the knowledge you have of your potential customers, the type of products you sell or the type of strategy you want to use.
Here's a selection of the targeting methods that can be most effective in YouTube ad campaigns for eCommerce sites: 
Audiences based on intention:

This method has great potential because it allows you to show your ads to people who have conducted searches on Google with certain keywords. For example, if you have an online flower shop, And one of your potential customers searches for "where to buy a bouquet of roses" on Google and later decides to watch videos on YouTube, this targeting method with the defined keyword "buy a bouquet of roses" will trigger your video ad since this person has already shown interest in your product based on their Google search.
Video remarketing:

This is one of the most effective segmentation methods for eCommerce sites. It allows you to show your video ads to users who have interacted with your videos on YouTube or visited your online shop without completing a purchase. You can remind them of the benefit of your products through your video ads and persuade them to take another look at them. For example, two Google case studies about

Intel

and

Zendesk

demonstrate how these brands have achieved a 30 percent increase in their conversion rate and an ROI of 1,317 percent, respectively, through remarketing.
Select placements manually:

If you know exactly what videos your potential customers usually watch or the YouTube channels they follow, the most effective way to reach them is to add the URLs of these videos or channels manually to get your ads to appear there. This gives you maximum control over the sites where your ads will be displayed.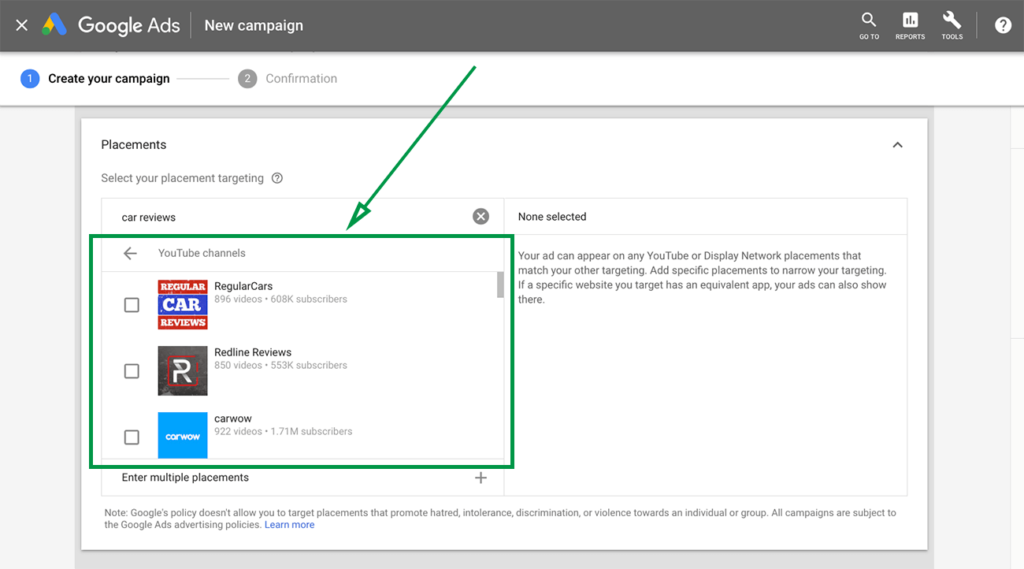 # 3 Set up your budget
When you set a budget in Google Ads, you can choose between defining a total budget for a specific period of time or defining a daily budget. If you plan to carry out a long campaign (more than a month) and you have not yet planned an end date, it's best to establish a daily budget.
In case it's a short campaign that lasts only a few days and you are clear about how much you want to spend, you can define the total budget for the campaign by establishing a start and end date for it. If you want to know more about how much to spend on Google Ads, check out our guide about how much does Google Ads cost.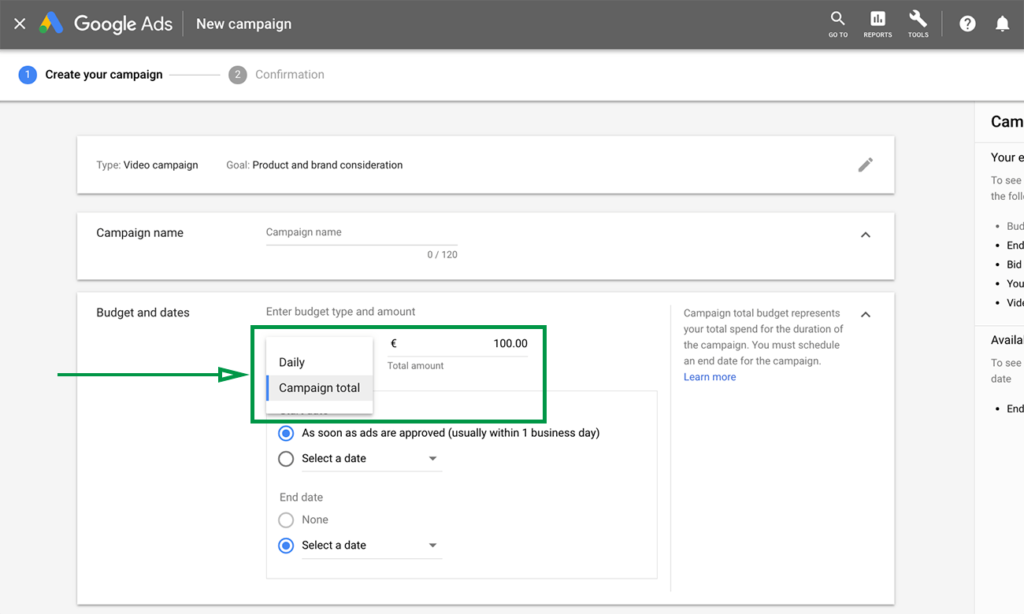 However, you can modify this budget whenever you wish. If you start your campaigns for the first time, you can define the same budget for all of them and later you can increase the budget for campaigns that have obtained a better click rate or have generated more conversions and decrease the budget of those that haven't worked so well. 
Now it's your turn. Create eye-catching videos that surprise and captivate your potential customers within the first seconds, choose the type of ad that best suits your marketing goals and take into account these tips to create an effective YouTube Ads campaign that allows you to boost sales in your eCommerce site.